We have great wines in every part of our great country, from one coast to another small and large producers are growing grapes on sturdy vines and processing them into the luscious juice so many of us love. I am partial to the wines of the Northwest, having spent much time in bothWashington and Oregon, and really understanding why their soils, climates and overall terroir are so ideally suited to grow high quality, elegant and varietally correct Pinot Noir, Cabernet Sauvignon, Syrah, Cabernet Franc and Merlot….just to name a few. Here are a few favorites I have tried recently. Some selections were sent for editorial consideration, all are delicious.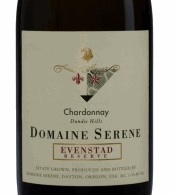 Domaine Serene is a powerhouse in the Dundee Hills of Oregon's Willamette Valley. Over the years they have become known for creating consistent, high quality Pinot Noir and Chardonnay. I have written about their Pinot Noir a few times, but recently had a chance to try their Evenstad Reserve Chardonnay for the first time. I have been a fan of several of the other Chardonnay selections produced by the winery, namely their toasted marshmallow filled Etoile, but this Reserve has been sold out when I had visited their gorgeous estate. As with the Pinot Noir, their goal for this Chardonnay is to present a consistent flavor profile every year with elegance, richness and balanced acidity and filled with layers of fresh citrus and honey suckle, ripe peaches and a touch of spice. $55 via their website.
Washington is best known for producing big reds, but they are do surprisingly well with dry Riesling.  The Long Shadows Collection brings together some of the finest winemakers in the world to create stellar wines from Oregon, including Michel Rolland, Philippe Melka, John Duval, Randy Dunn, and several more including Armin Diel, best known for his German Schlossgut Diel Riesling and the winemaker for Long Shadows Poet's Leap Riesling made from hand harvested grapes planted throughout the Columbia Valley.  This is the only white in the Long Shadows impressive portfolio, and was named the 7th best wine in best 100 in 2009 Wine Spectator.  Filled with a balance of white flowers, dried stone fruit, fresh citrus, honey and lots of minerality, this varietally correct wine shows how special Riesling can be.  $20 via their website.
Just 225 cases of Stoller Estate Tempranillo, Rose were produced this year at the LEED certified, sustainable Stoller Family Estate winery in Willamette, making this a very special wine for 2012 made by pressing whole clusters of fruit, leaving the juice on the skins for a short period of time to achieve the desired color in the wine with highly concentrated and balanced taste. I am always a fan of the Rose Stoller makes, mainly their Rose of Pinot Noir, and this Tempranillo Rose did not disappoint, with layers of white flowers and orange blossoms giving way to fresh wild strawberry and raspberry flavors. $25 via their website.
I have long been a fan of the wines produced by former East Coast, financial executives who threw caution to the wind to follow their passion for growing small lot, Burgundian style Pinot Noir in the volcanic soils of the Dundee Hills, highlighting this special place to well suited for Pinot. Winderlea Dundee Hills Pinot Noir maintains an impressively low alcohol percentage, right around 12.7%, making it ideal for pairing with food, with flavors of blackberry, black cherry and a hint of juicy tangerine, the 10 month French oak aged wine maintains freshness and character, creating a lush, full palate. $38 via their website.
If you think stellar Washington Merlot you will likely think of either Leonetti or Northstar , and both have proved just how special Merlot from Washington State can be. Northstar in particular has elevated this by focusing all of their efforts just on creating world class Merlot from Columbia Valley and Walla Walla. Their Columbia Valley Merlot leaps from the glass with aromas of violets, vanilla and ripe plum, leading to flavors blackberry, black plum, chocolate and a touch of spice $41 available at Pogo's or Sigel's Stores.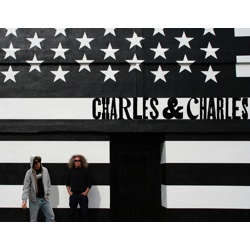 Charles & Charles Cabernet Sauvignon/Syrah blend brings two of the country's most unconventional winemakers together to create a wine that is all about great taste, while helping to promote thought,.  Winemakers Charles Smith and Charles Bieler source fruit from Washington's Wahluke Slope, one of the warmest spots in the state with mineral rich soils enhancing the blackberry, currant and mocha flavors in the wine.  The bottle packaging on this wine is especially unique, timely as we head into the fourth of July holiday.  The two men are standing in front of the American Legion Post No. 35 building in Waistburg, WA, which Smith purchased not long ago and painted it with a large American flag both to help provoke thought about the future, and honor the past.
I was visiting Woodinville, WA a few months ago and stepped into the old schoolhouse just off the square to visit the tasting room for Alexandria Nicole Cellars. The wines were as approachable and easy going as their staff, perfect for a casual day of tasting. Their Jet Black Syrah was a favorite, as were a few of their Rhone style wines. Syrah tends to do well in Washington as it is a variety that needs very warm days to ripen, but also cool nights to help maintain the acidity levels in the fruit,exactly how Eastern Washington is in the summertime. Filled with fresh berry and cherry with balanced tannin, a smooth, silky texture and a long finish. $22 via their website.
Chris Figgins has made a name for himself not only by producing the stellar wines for his family owned Leonetti Cellars that his parents started in 1977, as well as his own Figgins Wine. Driven, determined and incredibly respectful of both the generations who have come before him, as well as the load he has to bear to maintain the quality Leonetti is known for, Chris Figgins looks his challenges dead in the eye without a blink. The result, consistently delicious wine. His Figgins Walla Walla Estate Blend brings Cabernet Sauvignon, Petit Verdot and Merlot together in a robust, yet refined blend highlighting the earthiness of the land, and maintaining balanced acidity and tannin, with ripe black and red fruit, cedar and sandalwood. $99 via his website.
Get the SideDish Newsletter
Dallas' hottest dining news, recipes, and reviews served up fresh to your inbox each week.