We've all been waiting forever for The Joule Hotel finish its renovations, and now we can almost taste the day when we won't see ugly construction barring us from our downtown gem. The new Joule has expanded its lobby to provide entrances from Commerce and Main streets. If you enter from Main, you'll spot a familiar front desk in the lobby entrance, but look ahead past the bar and elevators, and you'll see a welcoming addition: Weekend Coffee.
Weekend Coffee is a bright and cheery coffee shop, brought to you by TenOverSix people, with friendly baristas and servers that open its doors to the public tomorrow (Wednesday).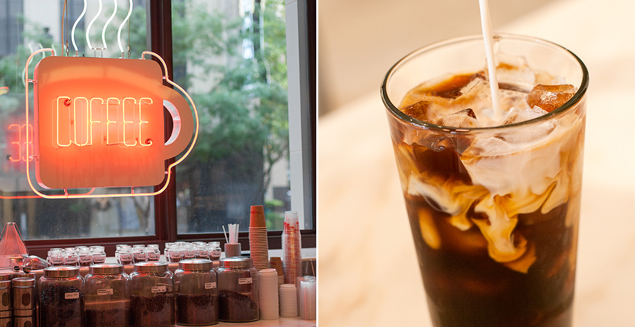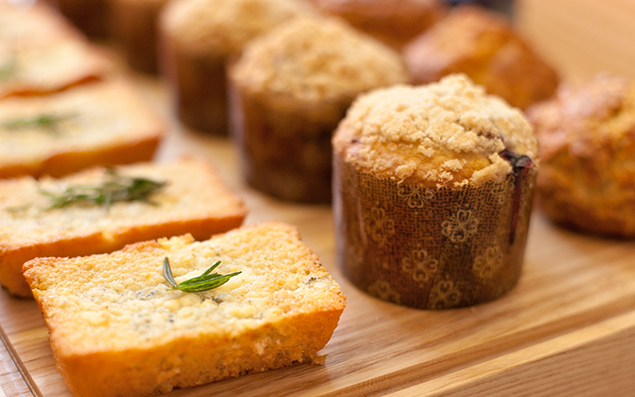 TenOverSix's creative team of owners – Joe Cole, Kristen Lee Cole, and Brady Cunningham – are based out of Los Angeles, and they worked together to bring a new look to the Joule lobby.
The team has not only brought Weekend Coffee – an open and bright coffee shop with friendly baristas and servers – to the hotel, but also to the surrounding neighborhood.
The ground floor allows visitors to pass through, relax, or work with coffee in hand, shop for home goods, and even peruse or purchase books in the Taschen Library. Weekend Coffee is an extension of their retail shop, and Joe Coles says the idea is to promote downtown Dallas as a place to be and serve as a cultural center for guests and residents.
"We want to engage with the customer and make sure that when they leave, they will have had a good time or maybe learn something about what we sell here and find something that they love," Cole said. "They can have a great cup of coffee, expand their knowledge about coffee – the different profiles of the roast and the brew methods – and, in general, it'll give people a place to call home."
Weekend Coffee offers fresh bean selections from Seattle-based Victrola roasters and sweet and savory bites baked in-house by Joule's head pastry chef Ruben Toraño.
Cole said the development of the menu started with the product itself : the bean. Weekend Coffee offers a range of brew methods and roast profiles, but doesn't have an overwhelming variety. Also, the well-trained and knowledgeable staff is available to help walk the customer through the process of selecting a coffee that suits him or her.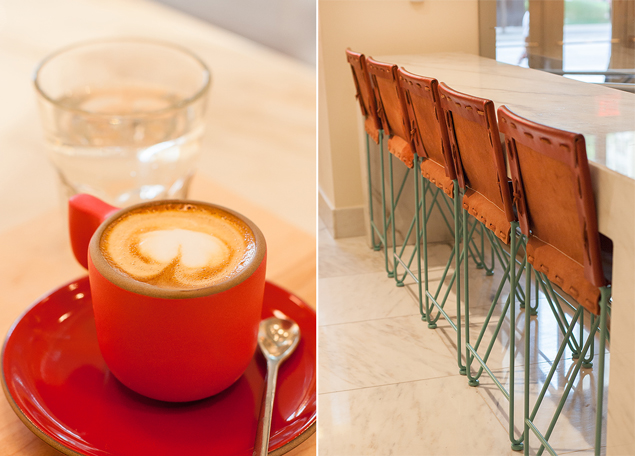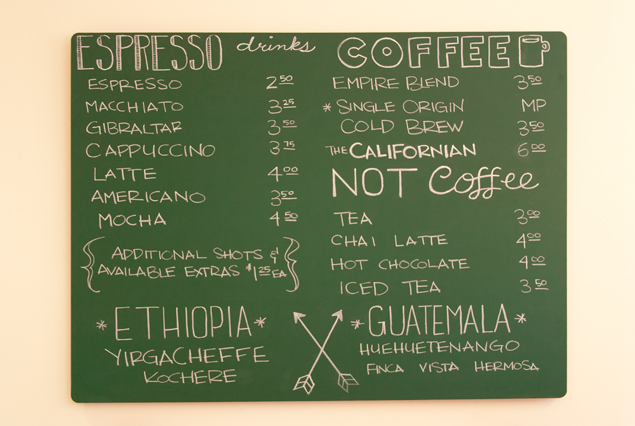 Weekend Coffee's pour-overs utilize Hario V60 drippers (this video shows how its done)  and a machine called the Trifecta (a single-serving automatic brewer recognized for its pressure chamber method of brewing). Espresso and espresso-based beverages require the use of the La Marzocco Stada coffee maker.
The Empire Blend, which Cole describes as a consistent-flavored blend, is always available at the shop. To mix it up, the shop rotates two single-origin coffees from two different parts of the world. Currently, the featured brews are from Ethiopia and Guatemala.
"They have very different profiles," Cole said. "The Guatemalan is much earthier and the Ethiopian has more fruity notes, so it's really interesting to learn and experience those to decide what it is that you like."
Standard espresso drinks, like the macchiato and cappuccino, are included on the menu. There are non-coffee drinks like chai tea and hot chocolate.
According to one of the baristas, the most popular pastries are the rosemary financiers (small French cakes) made from savory cornmeal and blue cheese, and the pop tarts (flavors change daily, but yesterday's was mango passion).
Weekend Coffee is open seven days a week, from 6:30 a.m. to 6 p.m.
Marley Dablo is the culinary intern at D Magazine. She will be an online journalism senior at the University of Oklahoma this coming fall. She plans to attend culinary school upon graduation in hopes of combining her writing and kitchen skills to ultimately have her own cooking show one day.
Get the SideDish Newsletter
Dallas' hottest dining news, recipes, and reviews served up fresh to your inbox each week.