Dad loves the traditional tie, grill accessories, Home Depot gift card or simply enjoying a home cooked meal with his kids, however….a nice bottle of wine or great bottle of scotch could also make dad a very happy man on his special day.  Show him you love him with one of these ideas, many just becoming available in Dallas now.  A few gift selections were sent for editorial consideration.
My dad is a tequila lover….pretty much any kind of tequila he will drink, whether he is sipping it slow or shooting it fast, a good tequila is hard to beat.  The nice thing is, especially in Dallas, our liquor stores are stocked with bottles of great silver or aged tequila like Herradura Seleccion Suprema Tequila Extra Anejo, Casa Noble Crytstal Tequila, and my favorite Reposado tequila from Milagro.  Milagro Select Barrel Reposado Tequila is triple distilled in small batched from 100% estate grown blue agave and then aged 10 months in French oak barrels creating a smooth spirit filled with notes of cinnamon, orange peel and vanilla.  A delicious tequila to sip on its own, maybe adding just a cube of ice or a touch of water to help round out the flavor.  The presentation is beautiful as well, perfect for gifting, as the bottle contains a glass agave plant inside, emphasizing the pure agave flavor contained in the spirit.  Retail price on the Reposado is around $55.
If dad enjoys a clean vodka and soda as his after work cocktail, consider Vikingfjord Vodka.  Made from drops of pure glacier water which flow into a natural spring as small amount of water escapes the frozen Jostedal Glacier in Norway, a glacier that has been frozen for over 5000 years.  The potato based vodka uses this water in their column distillers, distilling the spirit five times for a smooth and clean taste, ideal for sipping simply with club soda or tonic and a lime, or added to your favorite summer cocktails.
Another favorite clean, white spirit comes from Brugal Rum with their Especial Brugal Extra Dry.  The double distilled, 2-5 year white oak aged, sugar cane based rum is filtered three times after aging through a charcoal filtration system to create a completely clear and pure rum that is one of the cleanest, smoothest and driest spirits I have tasted.  Ideal served with a touch of club soda, a squeeze of lime and a leaf of mint.  The Especial Extra Dry retails for $19.99.  They just updated their packaging for a sleeker look, but you can always spot a bottle of Brugal by looking for the fishing net around it, a nod to the waters surrounding their home in the Dominican Republic.
Summer is barbeque season and if dad likes a hearty wine to pair with his 12 hour brisket or grilled ribeye steak make sure he has the proper glass to sip it out of.  Malbec is the perfect wine for hearty meat, lamb and game, but until now sipping your favorite Malbec had to be done out of your traditional Bordeaux/Cabernet glass.  However, Riedel just introduced their new line of Malbec glasses created out of a partnership with Argentine winery Bodegas Graffigna to ensure they created the best possible glass to highlight the true essence, aromas and flavors of the Malbec grape.  Taking over a year from idea to creation, the glass has a wide bowl which narrows slightly at the lip to ensure as much air gets into the wine as possible in the bowl enhancing the fruit forward profile many Malbec wines have.  The glasses are $11 each, sold in sets of 6 and are available here.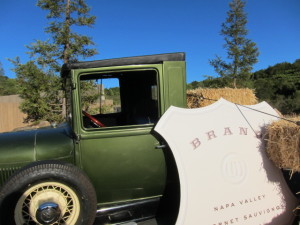 If a classic Cabernet fits dad's palate, consider one from a relatively new Napa Valley winery called Brand.  I had a chance to have dinner with assistant winemaker Reed Skupny and owners Ed Fitts and Deb Whitman while in Napa Valley for Auction Napa Valley.  Ed and Deb bought their Pritchard Hill property initially as a retirement residence (though there is nothing about these two that says retirement) after Ed fell in love with both the beauty of the region and the tasty wines while traveling to the area much of his career.  Though he and Deb still spend much of their time at their Florida home, leaving much of the work in the winery to head winemaker Philippe Melka with the help of Reed and vineyard manager Josh Clark, coming to their hillside home above Lake Hennessey is always a welcome retreat.  Their first release of 100% Cabernet Sauvignon was in 2009, and it is beautiful.  Luscious leather, red cherry and spice fill the glass mingled with hints of earthy espresso and chocolate notes.  A true expression of place from one of the finest winemakers in the valley and two of the most gracious owners. $225 a bottle, available by allocation via their website.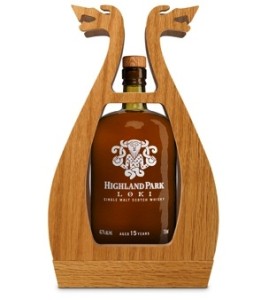 If dad is more of a scotch man there are several great gifts just becoming available in Dallas now.  Highland Park Scotch recently released the second scotch in their Valhalla Collection celebrating Nordic Gods.  Started last year with Thor, this year they feature their 15 year single malt Highland Park Scotch presented beautifully in a package designed to celebrate the Nordic God Loki, known for his ever-changing and teasing personality, which they have infused the spirit of into this batch of 15 year Highland Park.  Another package beautifully presented for gifting, retailing for $250.
If dad likes his scotch over ice, but hates when the ice waters down his drink consider giving him a "Dad Rocks" gift set from Dewar's.  Dewar's created a fun and festive gift package with their smooth, subtle and honey filled Dewar's 12 Blended Scotch Whisky packaged with a handful of ice cube shaped spheres you can put in the freezer then pop into your glass to chill it down without melting into the spirit, giving dad time to sit back and relax with a glass of perfectly chilled, yet never altered scotch.  The gift package retails for $29.99.  Make dad feel even more special by adding a bottle of Dewar's 18 as well.  The 18 year old blended scotch whisky is double barrel aged to create a robust, intense and creamy flavor, ideal for may scotch lovers, will layers of almond, spice and creamy caramel.
And if your dad is simply a dad who has everything, but still loves something unique that is a collectible, and a great glass of scotch, The Macallan Flask may be the perfect gift.  The Macallan, one of Scotland's premier single malt producers, teamed with Oakley earlier this year to produce a very limited edition flask (only 550 were made).  Clad in black anodized 5-axis machined aerospace grade aluminum The Flask is as aesthetically beautiful as it is durable, as style and refinement with ease of use was a focus in its production, along with the ability to protect the liquid gold included with the product, a bottle of 22 year Macallan Single Malt Scotch.  The extravagant product is in very limited supply, and available here for $950.
Get the SideDish Newsletter
Dallas' hottest dining news, recipes, and reviews served up fresh to your inbox each week.