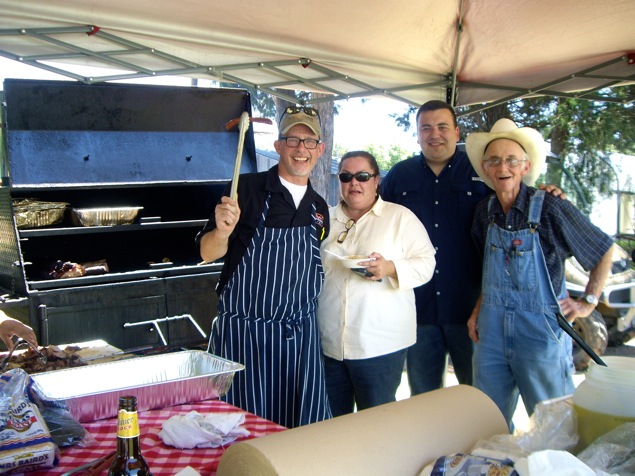 Yesterday morning, Dallas chefs filed into a bus for a field trip to Lemley's Produce and Plant Farm with Chefs' Produce, a Texas-based wholesaler of produce. I got lucky and tagged along.
J.T. Lemley – a long-time farmer who still loves his work even though it's taken a toll on his back– led us on a tour of his farm, which he's been operating for 40 years now. Wearing blue jean overalls and a white cowboy hat, Lemley said he was happy to personally give chefs a look-around so that they were able to see the origin of their produce.
Stuart Rackham (Tradition Senior Living Executive Chef), Johnny Iglinsky (KidKraft) Erin Fahner (KidKraft Sous Chef), Jon Stevens (Stock and Barrel), Dan Landsberg and Andrew McDonald (Hotel ZaZa), Rosanne Dileo (The Libertine Bar), Pablo Uruena (The Lakes of Castle Hills), Anastacia Quinones (Komali), and Matt McCallister (FT33) were just some of the chefs who accepted his offer. Some brought their friends, waiters, or family members to enjoy the tour as well.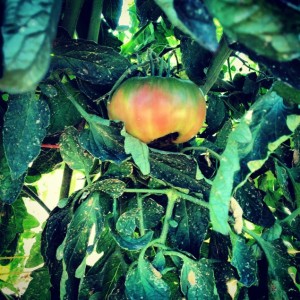 Mr. Lemley wholesales his produce exclusively to Chefs' Produce, but also has a long-standing post at the Dallas Farmers Market in Shed No. 1.
Lemley rode his mule (with his loyal farm dog, Lucy, right behind) to direct us through his fields of tomatoes, squash, zucchini, peppers, and peach orchards. Chefs were welcome to gather any produce they desired to take home, to their places of work, or to snack on during the tour. I brought home a jumbo jalapeno for my dad.
Chef Quinones took immediate notice of some squash blossoms that were left behind. She began gathering as many as she could while directing Komali waiter DeWaine Muzny to do the same. Muzny said they use the squash blossoms in the restaurant for two different menu items: the stuffed and tempura-fried squash blossoms and squash blossom quesadillas.
Quinones told Lemley he should start harvesting the blossoms because there's been a market for them. Lemley tried one of the blossoms right off the plant, dirt and all.
"I have never seen them so big," Quinones said.  She told us that the squash's flavor I really brought out when it's cooked, but the season is very short, so she collected as many as she could.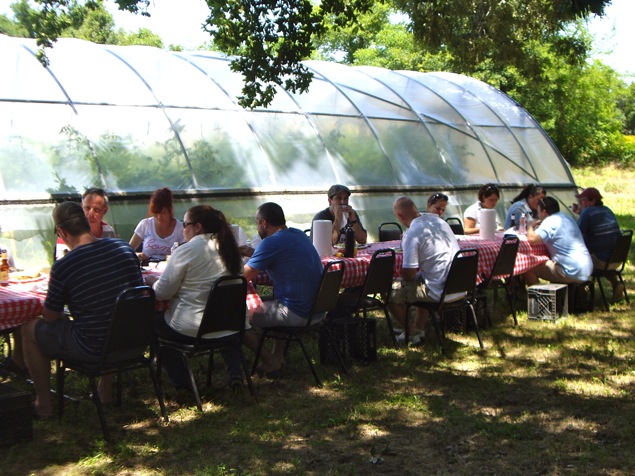 When we walked over to the pepper field, Lemley joked that we were welcome to sample as many jalapeno peppers as we wanted, but Chef Stuart Rackham was the only one (that I noticed) to try the jumbo jalapeno right off the vine. What a brave, brave man.
Rackham claimed, "It's like a bell pepper," after his first bite. But the second bite got him good. "Alright, yeah, it's pretty hot," he admitted.
For lunch, we walked back to the greenhouses where tables and chairs were set up. Chef-owner Brian Luscher of The Grape  prepared lunch for us with produce straight from the farm. He also smoked brisket and some sausages.
Mr. Lemley treated us to peach cobbler and some of his homemade peach ice cream made from the peaches in his orchard to end the day.
"If it's homegrown, it always makes everything taste better no matter what you do to it," said chef Erin Fahner of KidKraft. "I love it. It's cool to see where your produce comes from."
Marley Dablo is the culinary intern at D Magazine. She will be an online journalism senior at the University of Oklahoma this coming fall. She plans to attend culinary school upon graduation in hopes of combining her writing and kitchen skills to ultimately have her own cooking show one day.
Get the FrontRow Newsletter
Get a front row seat to the best shows, arts, and things to do across North Texas. Never miss a beat.