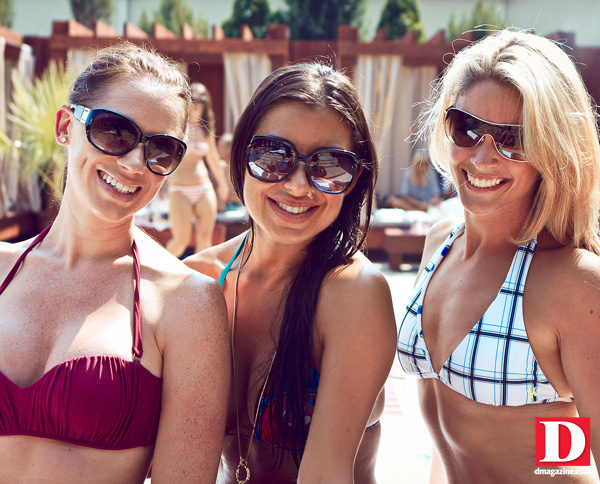 Since it's getting wickedly hot outside, let's face it: the best way to spend your weekend is by lounging at a pool with food and drinks. (And maybe some friends, but that's not  really as necessary.) These eight luxurious urban oases in Dallas offer some of the best family friendly activities, views of downtown Dallas, and bites to eat. Simply put, they're the perfect daytime and nighttime hangout spots this summer.
After a little investigating, we've pieced together these exceptional tips to help you navigate some of the most exclusive pools in Dallas. Check out our eating-and-drinking pool guide after the jump.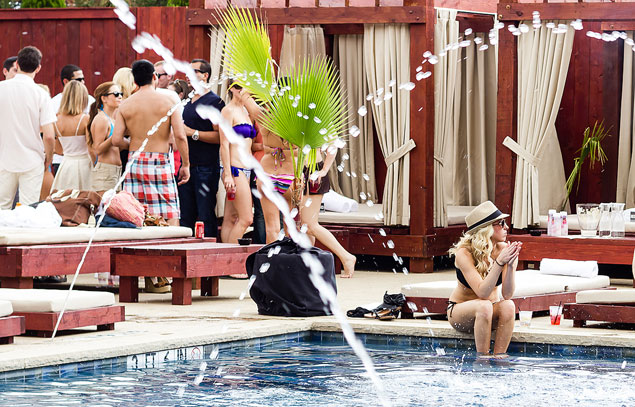 KU DE TA
The Perks: This is a see-and-be-seen kind of pool, where beautiful ladies wear Louis Vuitton headbands that are obviously not meant for swimming. White-draped cabanas surround the pool and provide a measure of shade.
How to get in: Since Ku is membership-driven, it's mostly the current members that will refer new ones. Another way to become a member is to attend on a regular Saturday or Sunday (when there isn't an event going on) as a guest of a current member. Pool memberships are awarded to friends that support the business on a regular basis.
Special events: Most of the events at Ku De Ta are themed parties and DJ performances.
What to eat and drink: Two of the popular poolside eats are the wraps and summer pizzas. The white sangria and their top shelf frozen margaritas are the go-to drinks.
Hours: The pool is open for members and their guests from 12:00 p.m. to 6:00 p.m. on Saturday and Sunday. Friday nights at Ku De Ta are open to the public, but not for swimming. Instead, you can mingle over cocktails with staff, management, and other members to potentially increase your chances of becoming a member. 3121 Ross Avenue
Fraternal Order of Eagles (FOE)
The Perks: This place is family oriented and open to the public. Get a load of the Olympic-sized pool, kiddie pool, two volleyball courts, playground and sandbox for the kids, two outdoor bars for the adults, and more.
You're guaranteed to keep the kids entertained while you get your drink on at this spot. It even gives back as a non-profit organization that supports 15 different charities so you can feel good about buying the $1 jello shots. It's certain that your money is going toward a good cause.
How to get in: Although becoming a member lowers the entry fee from $7 to $3, you don't have to be one to get in. (Children under five are $3.) It's first-come, first-serve and with increasing popularity, you'll want to get there before FOE opens to secure a spot in the parking lot. You'll have to wait if there's no parking spot. The city won't allow people to park outside of the lot either.
Special Events: The pool does a lot of volunteer work and this weekend that money is supporting an event called Girls Rock. Its purpose is to bring young girls out of their shells and teach them to be confident.
What to eat and drink: You can't bring coolers with any of your own drinks or snacks, but the bars and concessions stands will keep you covered. The have Shiner Ruby Redbird on tap and the perfect-for-summer and popular Absolut Ruby Red (grapefruit flavored vodka).
Hours: It opens at noon and can stay open as late as midnight. On Saturdays, closing time is 1 a.m. 8500 Arturo Drive; 214-327-9563.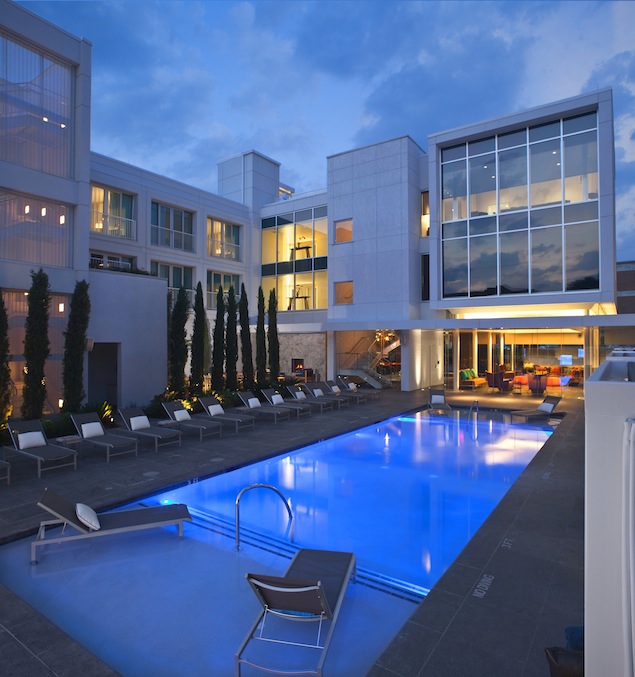 Hotel Lumen
The Perks: This guest-exclusive pool, which is surrounded by comfortable lounge chairs and a few cabanas, is opens its doors to the public once a week. Plus, there's a lounge next door where you can kick up your feet.
How to get in: Public entry for the family fun pool party on Sundays is $8 per person. Not only do you get access to a pool that is normally guests-only, but also valet parking, water, lemonade, and snacks. Space is limited so you'll want to get there early to claim the lounging areas and cabanas.
Special Events: The courtyard pool at the hotel opened to the public this past Sunday and will be open from 12 p.m. to 6 p.m. every Sunday during the summer until August 18 for "Lumen Family Fun Days of Summer." There are water toys for kids, food, cocktails, and music.
What to eat and drink: The Front Room: A Park Cities Diner provides a poolside menu with specialties like country ham biscuit bites, poolside burger, and fish tacos with cilantro queso fresco. A walk-up cash bar and cocktail service is available, too.
Hours: For hotel guests, pool hours are 6 a.m. to 10 p.m. every day. The pool is only open to the public from 12 p.m. to 6 p.m. on Sundays through August 18. Reservations are required, so call 214-219-8282. 6101 Hillcrest Avenue.
The W's WET Deck
The Perks: The W's infinity pool on the 16th floor leaves guests with a breathtaking, panoramic view of downtown Dallas. The WET Deck, as the pool is called, is where some of Dallas' most happening parties take place. There are events throughout the weekend and it's open to the public all days except Saturday.
How to get in/special events: The WET Deck is only open to the public on Wednesdays for "Wine Down" on the desk from 6 p.m. to 10 p.m. All vino is half off and there's jazz music from Grammy-nominated Russ Hewitt to soothe and relax you. The WET Deck is also open to the public on Saturdays for PIYO (a workout class that combines pilates and yoga) on the WET Deck.
What to eat and drink: Drink the State of Bliss (Ketel One Citroen Vodka, fresh mint, muddled lemon and cucumber, gomme syrup). The most popular food items are the chicken Gouda flatbread and the tomato basil flatbread.
Hours: Open from dawn to dusk, the WET Deck has several events to celebrate summer. The pool is open from Sunday through Friday. 2440 Victory Park Lane; 214-397-4100.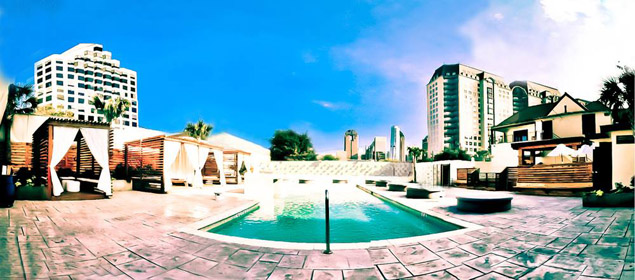 SISU
The Perks: The pool is relatively small, but the venue has a lot more to offer than just a place to swim and lounge around. It's where you should go when you're looking for a nightlife scene. It'sbasically a rooftop club, day and night.
Special events: On Sunday, the pool is open from 11 a.m. to 7 p.m. for its AQUA series, a ticket event with different DJs each week. Jump Smokers performed last Sunday at the day club event. Call SISU or go here to get tickets.
How to get in: Whether or not you get in is up to the SISU employees, but there is a dress code at night (i.e. club attire) so you probably shouldn't wear neon orange floaties with your swimsuit.
What to eat and drink: SISU's specialty cocktail is the Detoxtini. Popular food items include the Angus beef sliders, pork belly sliders, and the pork chop entrée.
Hours: The restaurant and poolside area are open to the public until 10 p.m. on Tuesday through Friday nights. Around 10 o' clock each night, SISU turns into a nightclub. On Saturdays, it's a club day and night. The day club lasts from 11 a.m. to 7 p.m. when the setup for the nighttime begins. 2508 Maple Avenue; 214-871-2888.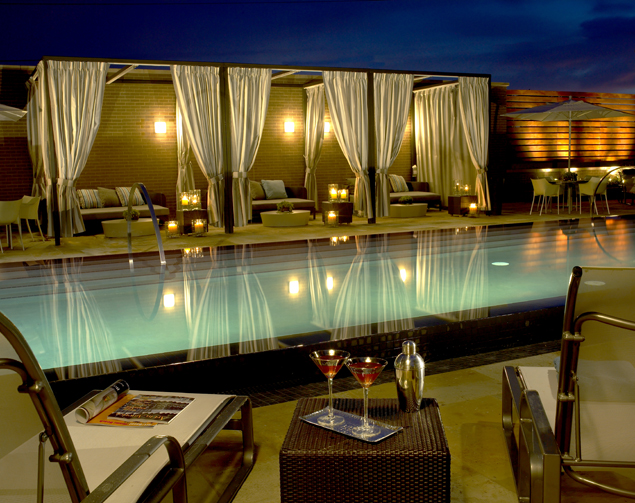 Hotel Palomar
The Perks: This pool may not be open to the public, but it is available for booking special events and private parties. They are updating the cabanas and patio furniture at the pool this summer to reflect a more relaxed and peaceful urban oasis feel.
How to get in/special events:  There are occasional poolside parties and events like the annual Wellness WINEdown, which took place in May and benefitted Attitudes and Attire.
Exhale Dallas, the hotel spa, offers poolside yoga classes.
What to eat and drink: Central 214's Chef Graham Dodds has created a special menu for the pool. It follows the farm-to-table idea with popular items like the BBQ chicken sandwich with horsey pickles and slaw, the Windy Meadows chicken quesadilla, and his famous triple-cooked fries.
Mixologist Amber West's cocktails are included on the menu. The pool also serves wine and beer.
Hours: 7:00 a.m. to 10:00 p.m. seven days a week. 5300 E Mockingbird Lane; 214-520-7969.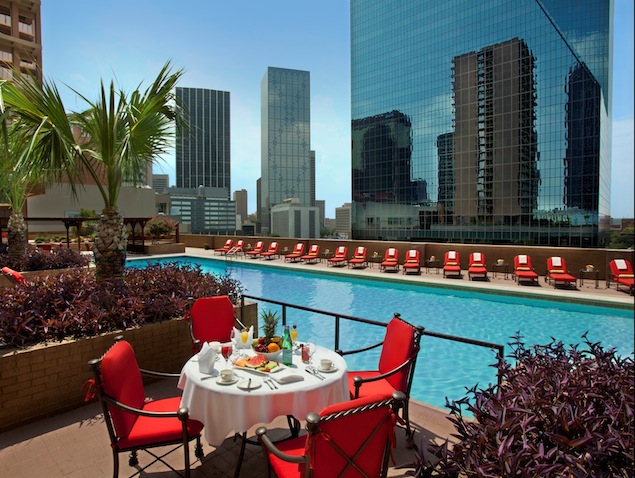 The Fairmont
The Perks: The junior Olympic-sized pool is located on the terrace level of the Fairmont, providing quite the view.
How to get in: If you buy one of the Fairmont's travel packages, you can enjoy a staycation that includes access to the pool.
Special events: They do offer a summer Dive-In Movie series that features a film screening on the rooftop every Saturday evening. This year, it runs until August 31. The full summer movie schedule is available here.
What to eat and drink: The pool menu has variety of options, including items that incorporate ingredients from the hotel's 3000 square feet herb and vegetable garden that is also located on the terrace.
Hours: The pool is open from 6:00 a.m. to 11:00 p.m. seven days a week. Best time to visit? Sunset. The pool's view of downtown is spectacular. 1717 N Akard Street; 214-720-2020.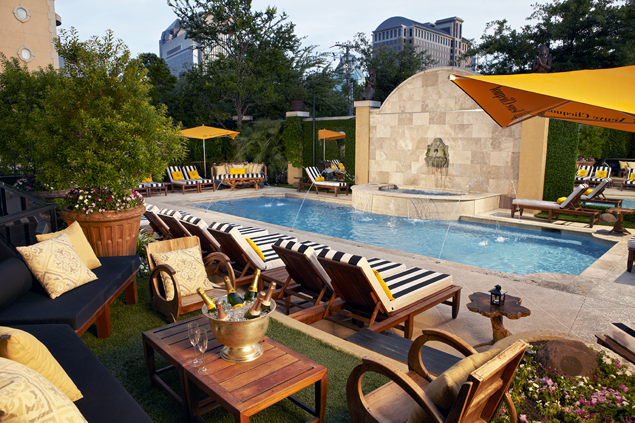 Hotel ZaZa
The Perks: This pool is quiiite exclusive in the sense that it is only available to hotel guests and Blackcard members. What the heck is a Blackcard member? Someone who has been invited by the ZaZa executive team. But – and heavy stress on the but – there's hope.
How to get in: Yes, there's a way that you can enjoy this sophisticated venue. You can attain access through ZaSpa, which is the concealed treat that no one really knows about. You can choose to be pampered at the spa with any of the following: manicure ($45), pedicure ($70), or massage (50 minutes is $150 and 80 minutes is $200). The best part is that it can all be done while you're relaxing by the pool, but you better have some money to spend.
Special events: Hotel ZaZa hosts exclusive events such as season kick-off parties, but not much in particular for the public.
What to eat and drink: If you get the chance, some of the hotel specialty cocktails served are Za Lemonade, Skinny Berry Mojito, and Bubble Berry. Food favorites include the hot chick wrap, tuna tacos, and the crudité.
Hours: 10 a.m. to 6 p.m. (Spa hours are: Monday through Thursday, 10 a.m. to 8 p.m.; Friday and Saturday, 9 a.m. to 8 p.m.; and Sunday, 9 a.m. to 7 p.m.) 2332 Leonard Street; 214-468-8399.
Marley Dablo is a D Magazine intern and will be an online journalism senior at the University of Oklahoma in the fall. She plans to attend culinary school upon graduation in hopes of combining her writing and culinary skills to ultimately have her own cooking show one day.
Get the SideDish Newsletter
Dallas' hottest dining news, recipes, and reviews served up fresh to your inbox each week.