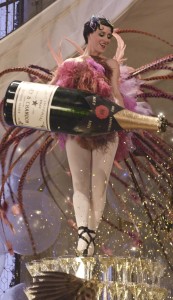 Classic style, impeccable taste, elegance and grace – many iconic brands could fall into this category… Chanel, Aston Martin, Cartier, Chateau Margaux, and for the bubbly lovers, Moet & Chandon. Since 1743 the Champagne house has been producing its rich, robust, layered and lovely Champagne in its Epernay, France home including their Imperial Brut, Imperial Brut Rose and, in very special years, their vintage designate sparklers. This year marks two special occasions for Moet, both the recent release of their 2004 Grand Vintage Brut Champagne and involvement with a classic, releasing in theaters this May, The Great Gatsby.  Moet is the featured sparkler in the beloved and tragic Fitzgerald story staring Leonardo DiCaprio and Carey Mulligan.  As much as I am eagerly anticipating the release, tasting the 2004 a few weeks ago with Moet winemaker Elise Losfelt proved to have immense immediate satisfaction. I had a chance to visit and taste with Elise at The Crescent Club while she was visiting town a few weeks ago.
One of ten winemakers on staff this third generation winemaker knew early on that making bubbly was her calling. Both her grandmother and mother were also winemakers, impressive in what was typically a male dominated profession…luckily that is not as typical now, and Elise speaks with much admiration and appreciation for the influence her mother and grandmother had on her.  Though she always had an interest in wine due to her family influence, she did not know Champagne making was in her future.  Then, at a young age, she tried her first glass and knew that was a the path this twenty-something would follow for her career.
We started our tasting with the Imperial Brut, the crisp, light and refreshing everyday bubbly of the portfolio. I have never met a winemaker that didn't believe that a good bottle of bubbly was meant to be enjoyed as often as possible, and though not completely inexpensive, not outrageous either, retailing for roughly $35 a bottle. (And, though I typically have a hard time with day old wine, investing in a Champagne stopper actually works to keep your bubbly bubbly for an extra day.)
Then we moved on to try a vertical of the Grand Vintage Brut, starting with the 2004. Moet only produces their Grand Vintage in special years when the fruit is especially stellar, this one including all three Champagne grapes, 38% Chardonnay, 33% Pinot Noir and 29% Pinot Meunier.  It is then fermented and aged for 7 years in the cellar and another 6 months at minimum after disgorgement. The result when released will be a creamy, complex wine with texture and structure and a nice bit of austerity. This one fulfilled its goal, opening with toasted almond and brioche notes leading to lemon, crisp apple and honey with a long finish.
To show how this wine will fare with additional aging I was able to try two other vintages from previous years, a 20 year old 1993 and…to my delight…a 1973, 40 years old and still fresh and vibrant with rich honey and dried fruit characteristics, still with bright, balanced acidity and, though not as vivacious, lots of tiny bubbles, proving that 40 is fabulous.
The progression of all of the wines showed how you could also pair Champagne throughout the course of a meal, with the Imperial Brut opening as an ideal, light aperitif, moving through the 3 vintages getting richer and heavier as they aged, much as the courses of a meal would go from lighter to heavier.  Though the 1993 and 1973 are only available to special guests visiting the winery, the 2004 is available now and can be found at Sigel's retailing for around $70 a bottle.  If it is anything like its predecessors, it will age nicely for many years.
Get the SideDish Newsletter
Dallas' hottest dining news, recipes, and reviews served up fresh to your inbox each week.