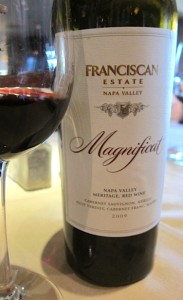 Winemaker Janet Myers is a busy woman. Not only does she oversee the 300,000+ case production for Franciscan Estates Winery in Napa Valley, but also the 30,000 case production for their sister winery Mount Veeder, started in 1973 before the area had become a designated AVA and purchased by Franciscan in 1989. You would think that with that much wine to manage things would get a little muddled and indistinct. Lucky for both Janet and us, the consumer, they don't as both wineries are known for producing quality wines from grapes grown on their estate vineyards as well as sourced fruit grown to their rigorous specifications. I had a chance to visit with Janet this week as her guest at a small trade lunch.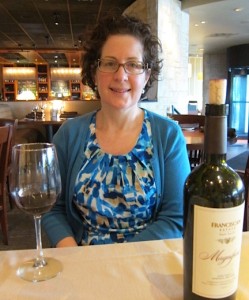 The path Janet took to wine wasn't one I hear of a lot, as many winemakers either grew up with wine making relatives or were a part of the wine community at a young age. This Midwesterner who graduated from The University of Illinois with a degree in Biology thought she would go on to become a professor after first taking a break after getting her degree to travel abroad (one of her favorite pastimes.) Her few week trip turned into a few months, which turned into four years.  She was living in London and hopping over to Europe at a moments notice, visiting the classic wine regions of the world, falling most in love with Italy. When she returned to the U.S. she got her Enology Degree from U.C. Davis and began her impressive career in wine, starting out at Mondavi then BV, Stag's Leap Wine Cellars and Louis M. Martini, settling in to Franciscan in 2003.
Like many winemakers, she talks of letting the fruit shine, with the carefully managed vineyards carrying the load to ensure the wine meets the high expectations she has. Since joining Franciscan she has adopted their style of crafting wine in small lots then blending them together to create intense character.  Janet added her special touch bringing her adventurous personality into each bottle.  This is most obvious in the two signature wines of Franciscan, both celebrating their 25th vintage anniversary this year, the Cuvee Sauvage Chardonnay and Magnificat Bordeaux blend.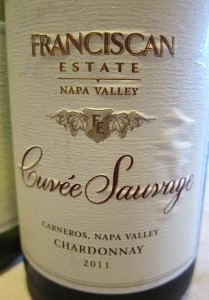 The Cuvee Sauvage was the first Chardonnay in Napa in 1987 to use 100% wild, native yeasts in the fermentation allowing it to start naturally by allowing the native yeast strains that live on the grapes and in the vineyard to ferment the grapes in relay with one starting as another stops, giving complexity and character to the wine. Made from specially selected Carneros grown, Dijon clone Chardonnay, barrel fermented then aged for 14 months in predominantly new French oak the wine maintains a Burgundian-Chablis style without the heaviness that some Napa Chardonnay can have.  Baked golden apple and pear aromas marry with lemon, honeysuckle and minerality with a long, luxurious finish requiring a revisit over and over again.
Magnificat is one of the original Meritage wines in Napa Valley, blending all 5 of the classic Bordeaux varieties into one wine, however each year the blend changes slightly depending on what Mother Nature has provided. 1985 was the first vintage for this wine, and each year the focus is on making the best blend possible from grapes selected from over 200 small lots of wine.  Each lot is monitored during barrel aging to decide what the blend will be, always with Cabernet Sauvignon as the base.  Lush, structured and bold with a completely Napa quality of richness married with elegance. Slight herbal notes intertwine with black cherry, leather, dark chocolate and tobacco finishing with mocha and spice.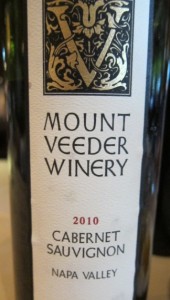 The 2010 Mount Veeder Cabernet Sauvignon sources fruit from all over Napa Valley as well as its late ripening mountain top with elevations between 1000 to 1600 feet.  The wine brings more lush, ripe cherry, plum and anise to the flavor profile, blending predominately Cabernet Sauvignon with 17% Merlot and a touch of Petit Verdot and Malbec.  Aged 20 months in partially new French oak the enhancing the flavor with toasted caramel and vanilla.
Mount Veeder Reserve is made completely from their mountain vineyards, highlighting the difference between valley floor and mountain fruit in a region like Napa Valley.  Mountain fruit, specifically Mt. Veeder, benefits from sitting above the fog line with cool nights, sunny mornings and shade in the afternoon during the hottest part of the day, giving grapes a very long, slow ripening season with extra hang time before harvest to fully develop deep concentrated flavors.  This then creates richness and texture in the wines with very pronounced herbal, spice and fruit aromas, and a huge palate.  Mount Veeder also makes a Cabernet Franc from their expressive mountain fruit then aged 20 months in 100% new French oak showing how special Cab Franc can be when made well.
Get the SideDish Newsletter
Dallas' hottest dining news, recipes, and reviews served up fresh to your inbox each week.