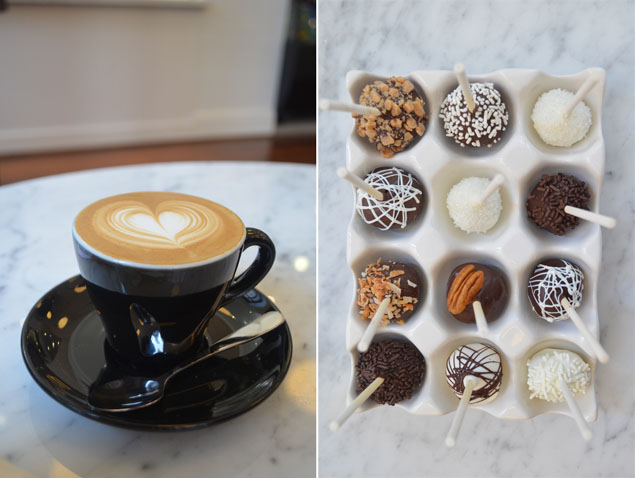 Man, if I could marry Meghan Adams' strata, I would. The first time I ate that breakfast egg strata with brie, bell peppers, and potatoes, I had three whole helpings . We were at a D Academy class day, and I barely listened to the speakers that morning because I was so focused on all the food Adams was providing for us. (The strata, in particular.)
I'm excited (giddy, really) to announce that The Hospitality Sweet, Meghan Adams' storefront, is opening inside the historic Post Office at 400 N. Ervay St. on Monday. Most of you who don't live or work downtown probably don't know the dearth of good, inexpensive food we have in this section of the city. If you want a quick, cheap meal, you're forced to go into the tunnels for junky stuff like Kuai Dumplings. But now, downtown workers, you can say, "Screw the tunnels! I'm going to The Hospitality Sweet."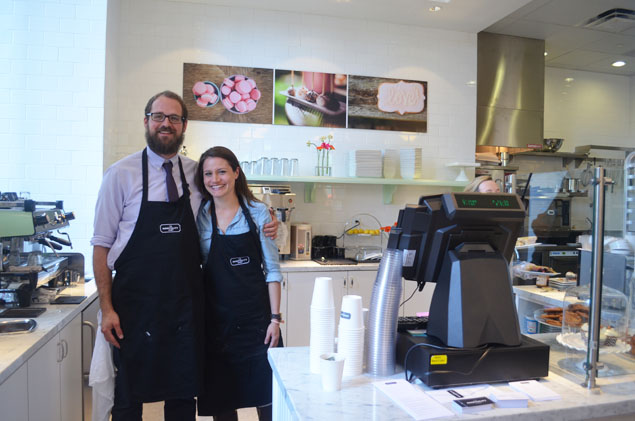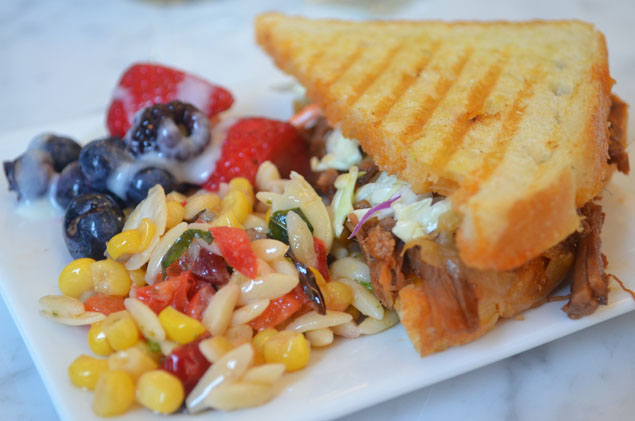 A quick word about Meghan Adams' background: She grew up in Lake Highlands and that's where she still lives right now. First she attended Baylor, then transferred to American University because she wanted to do broadcast journalism. Thank goodness (on behalf of my stomach) that didn't work out. "I always really liked baking and my grandma baked a lot," she says. "I took a cake class and loved the idea of having a bakery. It was something that sounded like a neat idea, but I didn't know if it was going to happen."
Adams started small. She made casseroles for people, she catered baby showers, and made wedding cakes. As her skills grew, so did her desire to open a store. Timothy Oulton, a vintage furniture designer store, is where she opened her first space, but it's not somewhere people can sit down for a meal. Customers can pick up sweets and boxed lunches and look at furniture while they're waiting. That's about it.
The Hospitality Sweet inside the historic Post Office is itty bitty, but Adams plans to put extra tables outside of her bakery for more seating possibilities. My friend Lesley, who y'all know as the Happy Hostess, went with me and said Adams "had good taste." Everything inside the bakery was pastel-colored and exuded the same kind of personal warmth as Adams. She also did a business-savvy move by hiring a barista, Kevin, who previously worked at Crooked Tree Coffeehouse, so the coffee program is solid. Very solid. "He knows everything about everything," says Adams. "He is a gem to find."
The Hospitality Sweet serves breakfast and lunch from 7 a.m. to 3 p.m., Monday through Friday. Adams hopes to open on the weekends, too, once business gets rolling. (Downtown residents really need a coffee/breakfast place open on weekends. There's only one option these days: Starbucks.) You can pick up pre-made salads and sandwiches, or hot ones right off the presser. Everything is tasty and priced at $9 or less. The sweets include cake pops, drop cookies, turtle brownies, macarons, and a delightful humming bird cupcake. It's banana, pineapple, nutmeg, cinnamon, and cream cheese frosting. I tried one, and it definitely won't be my last.
Get the SideDish Newsletter
Dallas' hottest dining news, recipes, and reviews served up fresh to your inbox each week.