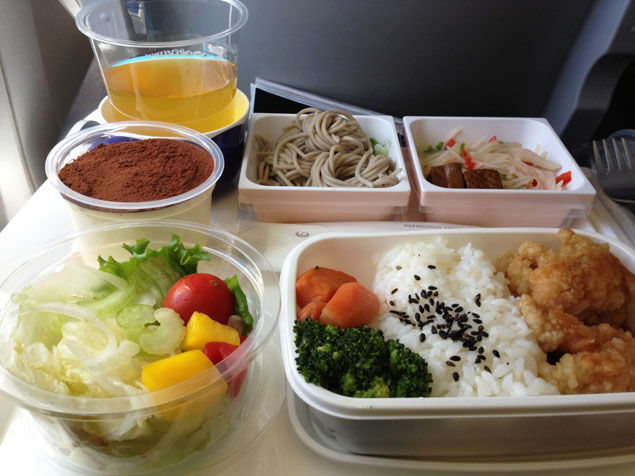 Like I said yesterday, I was stuck in Vancouver because of American Airlines' system failure on Tuesday, but at least I'd had a good meal on Japan Airlines before I landed in Canada. It helped tide me over.
During those waiting hours, I glanced down at my passport and determined that I've been to Taiwan six times in the last 4.5 years. And if you include those trips to Brazil, Russia, China, Estonia, and Japan in between – that's a lot of international flights. Heck, that's a lot of airplane food.
Over the years, I can't remember all meals I've eaten above the clouds, but I do know that American Airlines serves the absolute worst food. They used to give you a free instant noodle cup in the middle of your journey from LAX to Taipei (which was really its only redeemable feature), but they've cut that service out in that last few years or so. Those cheapos. This time, on my way to Taiwan, I flew American and received a deep dish pizza an hour or two before arriving in Japan, and it was basically just a circular brick of baked dough with some tomato sauce on top. Lovely.
Out of all the airlines I've flown on, Japan Airlines is my hands-down favorite. The service is A+ and they even give you little Haagen-Dazs ice cream cups after dinner. I. Love. Those. Haagen-Dazs. Ice cream cups. Every meal is something that I'd be okay actually paying for if I found it at a kiosk. In the above photo, you can see cold soba noodles, a tofu salad, a tiramisu/pudding dessert, and a chicken karage with sushi rice entree. The rice even had sesame seeds on it! American Airlines would never put sesame seeds on top of its rice, are you kidding?
China Airlines and EVA are tied as a close second for me, right behind Japan Airlines. So if you're ever heading to East Asia, SideDishers, now you know which airlines to book.
But what about other parts of the world? What airline do you guys use to reach other parts of the globe? I'm thinking Dubai next year. Or France. Or maybe even Greece. There's no way I'm using American Airlines again. The food's too crappy and I'm tired of the small leg space and worse-than-frozen-food frozen food.
Get the D CEO Newsletter
Stay up to speed on DFW's fast-moving business community with weekly news reports, interviews, and insights.