As I was leaving my favorite salon yesterday, I noticed a new coffee shop called Origin Natural Food across the street. I was intrigued by its window displaying terms like "healthy, preservative-free, chef-prepared, and hand crafted coffee." I thought we would be getting another genuine, craft coffee shop with handmade goodies to go with. But then I saw some dreaded terms that I despise: gluten-free and natural. Natural is one of the most cheaply, sold out terms that's confusing and dismantling the health food community today. It has no real meaning. It has no regulatory oversight whatsoever and can be plastered across virtually any product with impunity. Also, as Nancy mentioned the other day, gluten-free is only useful for those people whose bodies cannot tolerate it. It has no health effects – good or bad – for anyone else. Ever since fat-free products starting making us the most obese nation in the world, any new supposed healthy "term" gets pasted across products from cereal to soda, claiming its promise of making you a better human with a smaller waist. Ok, ok, I will chill out and get off my home-grown, herbal garden stool. Fortunately, I consulted with my dear friend, Raya, and she calmed me down (a little); however, this is not going to end well.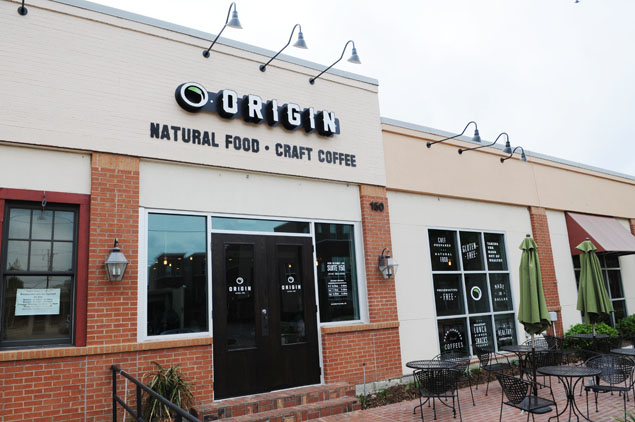 Origin Natural Food has some things going for it. It's in a great location, and the coffee is good, but that's all. I parked the scooter, locked up my helmet, and moved inside with a morning fogginess that I soon hoped to dispel with some good coffee and clean eating. The place has a post-modernist, college café feel with lots of clean, empty space and monotone textures. The concrete minimalism is consistent throughout, with a large square coffee bar in the center. There is plenty of seating, a butcher paper menu, and a "prepare your own" salad bar. It's hit several décor trends all pieced together in sterile fashion. There are tiny succulents, hand written menus, mason jars for water, and black and white photos of Dallas (which were actually pretty nice). The food is all prepared by a Chef Jeff Smith's hands and stored away in compostable containers inside the refrigerators in the back. It can stay there for up to three days. I was immediately turned off by the hospital-style selection, for it didn't seem like fitting food for craft coffee, but Raya again reminded me of its purpose. Much like My Fit Foods, it's a convenient, healthy take-out style establishment for the Uptown Fitness Brigade on-the-go. If only it were just that. You can also dine in, but I don't recommend it.
I looked over the stacked dishes in the cooler and found the breakfast section. I decided on the apple cinnamon pancakes made with fuji apples, cinnamon, vital farms eggs, Madagascar vanilla, honey, sea salt, coconut oil, coconut milk, and maple syrup. I also tried my hand at the Jess Special, which is a gruel-type blend of egg whites, almond butter, nutmeg and some other indiscernible ingredients I don't care to remember. On the surface, they seem exciting, healthy and clean, but then you realize that if you want to eat them with your coffee, you have to put them in a effin' microwave. No matter how chef-inspired, gluten-free, grain-free, organic, local, farm raised, and cage-free the dishes are, as soon as you put it in the microwave, the flavor and substance of the food dies a fast, radiation-induced death. Using a microwave to cook food is about as unnatural as it gets. The pancakes became lumps of sweaty dough that turned to mush. The flavors quickly deteriorated and no amount of their thin maple syrup could resuscitate it. The Jess Special felt wrong in my mouth as well and remained flat on flavor. Don't get me wrong, I love a good steel cut oat, almond, pumpkin seed honey sweetened breakfast, but this slop was just unpleasant, and I couldn't finish either dish. I also completely disagree with using egg whites only. They should have included the yolks, which are full of nutrients and good cholesterol (my opinion).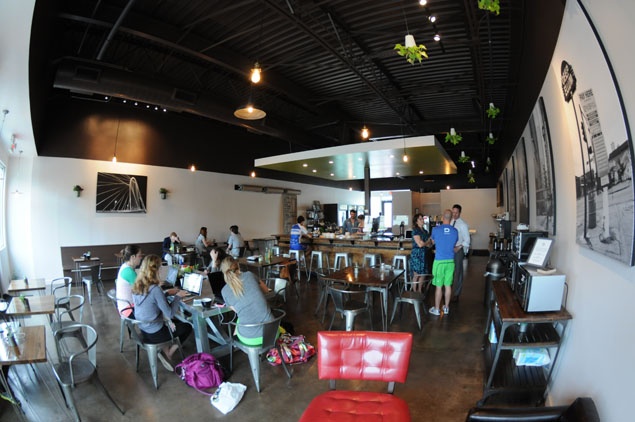 Fortunately, my cappuccino was well-balanced and smooth. I very much enjoyed it. Unfortunately, I will not be going back. Origin's motto reads: "Taking the hard out of healthy." No. Stop pandering to laziness and respect the fact that healthy is not easy. It takes patience and effort. It's like McDonald's offering a healthy breakfast option. It just isn't possible. I can understand the efforts of Origin to accommodate its audience of the yoga-pants-everywhere/protein shake-diet soda-energy drink-skim milk-egg white crowd, but that just perpetuates the unreasonable idea that healthy can be easy. Perhaps its lunch and dinner options reheat well, but I'll just have to hope on that one. I would love to try Mr. Smith's food directly out of the kitchen, and I'll keep my fingers crossed for that day to come.