Dallas has been a buzz this week with an influx of Sonoma winemakers. From Alexander Valley with their hearty, dense Cabernet, to Russian River with their mineral rich and incredibly distinct Pinot Noir and Chardonnay, to Chalk Hill and Carneros, with their fresh, bright and crisp Chardonnay, to Dry Creek, with their juicy, jammy, old vine Zinfandel, Sonoma Valley truly has it all for wine lovers, often presenting itself in a very casual and laid back environment. Though the saying "you have to start with a large fortune to make a small fortune in wine" is true in any part of the country, I have often found winemakers and winery owners (many who are on in the same) are very salt of the earth types who aren't afraid to get their hands dirty. Though the round about ways many got into the business is different from winery to winery, the consistent theme that runs true for all is passion.
I was a guest at several tastings with winemakers throughout the week. Here are a few old and new favorites, as well as some that were sent for editorial consideration.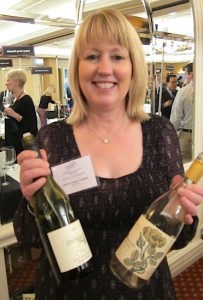 Kathleen Inman's life would seem to be a bit of a fairy tale as how she got to where she is happens more in movies than reality.  The Napa native was working in a tasting room one summer while home from college when an English gentleman paid a visit and did a tasting.  A few weeks later a letter arrived at the winery simply addressed to the "pretty blond assistant." From there the two began corresponding, eventually leading to a romance and Kathleen moving to England and marrying Simon while entering into the world of finance.  Years later the two threw caution to the wind and moved back to California to allow Kathleen to follow a dream and a passion she had had her entire life, eventually creating Inman Family Wines from her organically farmed Russian River vineyards in 2000. In honor of her husband she created her Endless Crush Rose of Pinot Noir on their anniversary and produces it every other year, with the 2012 just released this month.  I love a good Rose, especially from Pinot Noir grapes, with a delicate salmon pink color and layers of fresh ruby red grapefruit, watermelon and strawberry filling the palate.
Benovia Winery "eats, drinks and breaths a lifelong passion for wine" by making organically farmed Chardonnay, Pinot Noir and Zinfandel in their Russian River Valley winery.  The volcanic soils and maritime temperatures are so distinct that the flavor profile of Russian River fruit is easily identifiable, especially when done well.  Winemaker Mike Sullivan hand crafts these small production wines to capture the nuances of the region with great quality and finesse.  Benovia Russian River Valley Pinot Noir is filled with ripe cherry, raspberry, tea and Asian spice notes, all typical for the region, but elevated with luscious texture and elegance.
Gary Farrell Russian River Valley Chardonnay shows why Russian River Valley is ideal for growing Chardonnay. Cool nights with foggy mornings protect and cool the grapes at night, yet high temperatures and heat spikes allow grapes to develop great acidity resulting in wines that are expressive and impeccably balanced, this one filled with juicy citrus, green apple and tropical pineapple.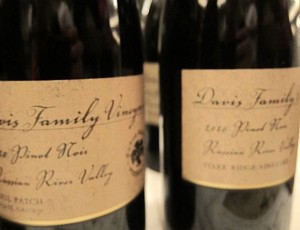 I like that Guy Davis, founder & winemaker for Davis Family Vineyards, also calls himself a farmer, as farmers truly understand the need to give respect to Mother Nature and understand that what nature gives you in each given year is completely out of your control.  Yes, there are many tools that a winemaker can use when they get their grapes to the winery, but it all starts in the vineyard, his in Russian River.  His 2010 Soul Patch Reserve Pinot Noir opens with aromas of violets and lilac with ripe red berry and pomegranate followed by sweet spice, a touch of oak and food friendly acidity.
When I think Alexander Valley I immediately think Cabernet, however the varying elevations, temperatures and soils make Alexander Valley an ideal spot for growing even the most temperamental of grapes, like Pinot Noir.  Breggo Alexander Valley Pinot Noir thrives in the cool evening/warm afternoon, maritime temperatures of the mid-Anderson Valley AVA creating bright, fruit forward cranberry, cherry and pomegranate filled Pinot.  Breggo is the sister winery to Napa Valley's Cliff Lede, started in 2005 and aquired by Cliff Lede in 2009 making everything from Reisling and Gewürztraminer to Syrah and Pinot in Alexander Valley.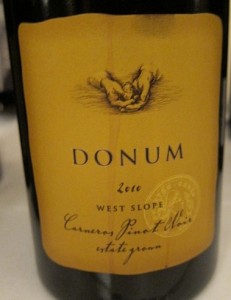 Carneros sits at the base of Sonoma Valley, the southern most AVA shared with Napa Valley, though there is a distinct difference between Carneros Napa fruit and Sonoma, though both focus on the best varieties for the area – Chardonnay and Pinot Noir, which can thrive in the cool, windy conditions.  Donum Estate, meaning "gift of the land," sits within 147-acre Donum Ranch, of which 45 acres are vineyards, which spread from Carneros to Russian River to Alexander Valley.  Their Carneros West Slope Pinot Noir displays the complex, intense, rustic nature of Carneros fruit with character and depth from start to finish.  Opening with earthy, dried fruit and sandalwood aromas which flow into layers of cherry, ripe raspberry, balsamic roasted mushroom and spice. Luscious, lingering and lovely, a gorgeous small production wine that is highly allocated, but worth it to sign up through their website to receive information on availability.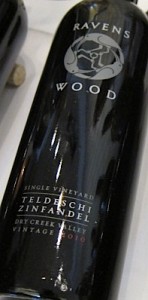 A good Sonoma tasting isn't complete with out a few lush, jammy and explosive Zinfandels and seeing the Sonoma Grandfather of Zin, Joel Peterson of Ravenswood, will put a smile on any Zin lovers face.  Especially when he is pouring his stellar single vineyard Teldeschi Zinfandel from Dry Creek Valley and made up of 77% old vine Zinfandel with a touch of Carignane, and Petite Sirah, and aged 20 months in partially new French oak, to create a powerful wine filled with juicy cherry and cassis, black plum, vanilla and spice.
Also from Dry Creek, best known for their Zinfandel, is an 30 year old vine, small production Estate Zinfandel from Fritz Winery.  Aged 9 months in American Oak, not the norm for many in Sonoma, this Zin leaps from the glass with aromas of blackberry, black cherry, anise and just a touch of earthiness making it a good wine to pair with braised lamb or beef and grilled game.
Get the SideDish Newsletter
Dallas' hottest dining news, recipes, and reviews served up fresh to your inbox each week.