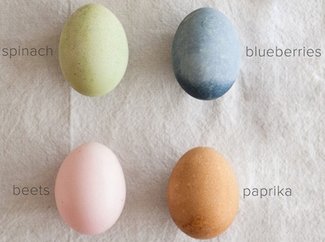 First up, the pressing matter of dye for Easter eggs…After posting Holly Davis' piece on the dangers of artificial colors, I've gotten several e-mails asking about safe options for dyeing said eggs.
I did a little sleuthing and turns out  all manner of readily-available natural alternatives, from coffee to cranberries, will safely do the trick.
But the best DIY for natural egg coloring I found was on photographer Kaley Ann's blog. She gives "recipes" and step-by-step instructions for creating a myriad of lovely hues (like the four above). Visit her blog for the full details.
Ok, now onto our weekend agenda. In lieu of running around town, I thought it would be fun to get a few gal pals and their littles together for a "Spring Celebration." Nothing fancy or formal, mind you…just some libations, a low-key lunch, and an easy craft for the kiddos.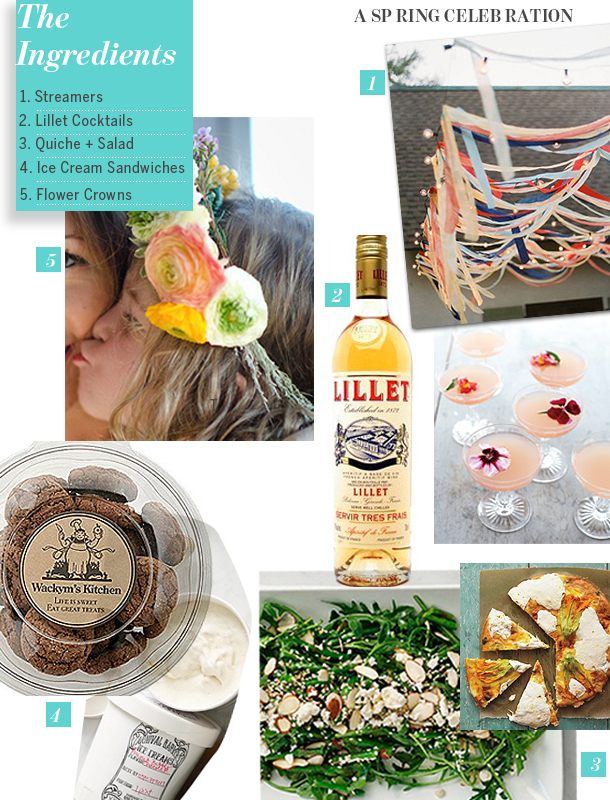 (The elements of a Spring Celebration: 1/ Streamers from Style Me Pretty 2/ Martha Stewart's Lillet Rose Spring Cocktail 3/Martha Stewart's Squash Blossom Frittata and a Toasted Sesame & Almond Asparagus Salad from Love and Lemons 4/Wackym's Kitchen cookies and Carnival Barker's ice cream 5/ Byrd Collective flower crowns via Camille Styles)  
Get the full party breakdown after the jump.
The Decor
Weather permitting, we'll dine al fresco, but even if we're forced to celebrate indoors, I'll be hanging some crepe paper streamers to kick things up a notch. I'm crazy about Carte Fini's gorgeous Italian crepe paper (holy cow, the colors), but in the interest of time, I'll pop by Party City and grab a few rolls in varying shades of pink and blue.
The Libations
I love Lillet Blanc (an aperitif made from a blend of white wine, orange brandy, herbs, and fruits) served on the rocks with a splash of soda and a slice of orange à la my friend Jora. It's also quite tasty mixed with grapefruit juice and gin. For the kiddos, we'll do mock-cocktails with just the juice and soda water.
The Eats
My go-to menu for an easy weekend lunch or brunch is a quiche or fritatta and a big salad. I typically make one quiche filled with yummy bits like caramelized onion, roasted asparagus, and goat cheese and then another simpler one (i.e. cheese only) for any less adventurous eaters (i.e. the littles). I'm dying to try out this Squash Blossom Frittata via Martha Stewart. And for the salad I'm leaning toward this Toasted Sesame & Almond Asparagus Salad from Love and Lemons, but I'll serve it with extra arugula. I'll also offer a big bowl of mixed berries and, for dessert, mini ice cream sandwiches made with Wackym's Kitchen cookies and Carnival Barker's ice cream that I'll grab at the new Green Grocer on Greenville.
The Activity
Every celebration needs a little fun DIY project that you can do while you sip your drinks and chat. In honor of spring, we'll be making pretty flower crowns for the mamas and the kiddos. These are easy to whip out with floral tape and wire (available at Michaels), cuttings from your yard, and a few grocery store buds. But if you're more comfortable with step-by-step instructions, there's a good flower crown tutorial on my friend Camille's blog.
Happy Spring!
Get the D Brief Newsletter
Dallas' most important news stories of the week, delivered to your inbox each Sunday.