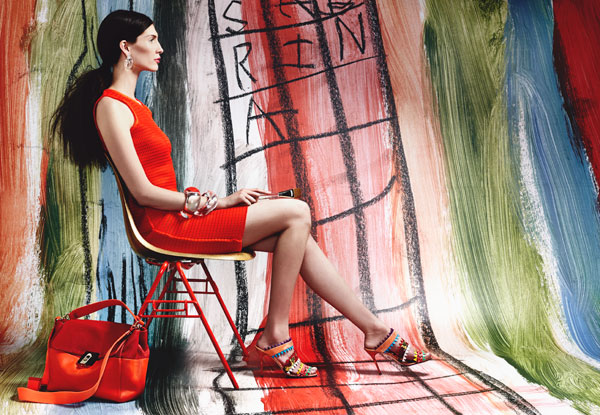 By Dawn Mellon.
'I don't have a thing to wear!'  If these words resonate with you, you're not alone.  Sadly, this statement is often made in a closet full of clothes. In most cases, the frustration doesn't stem from a lack of clothes. Instead, it typically stems from  not knowing how to turn separates into an ensemble or from not planning ahead.  Hence, active wear, is now considered by many a casual outfit suitable for running errands or meeting a friend for coffee. Yet, no one would wear jeans and a sweater to a spin class; no one would wear a bathing suit to a black-tie dinner; and no one would wear a formal gown to the beach. Absurd, right?  Absolutely!
So, how do we keep active wear in the gym?
Create a 'Go To' section in your closet.
We all have 'go to' people, places and things that make our lives easier…the colleague who always gets the job done, the restaurant that always prepares a great meal, and the hostess gift that always brings a smile to its recipient.
The 'Go To' section of your closet consists of outfits you've put together in advance. It's really a very simple concept. But, most women will retaliate by saying they don't have time to put together outfits in advance. Truthfully, however, it SAVES time. Case in point: how many times have you come home after work, after a special event, or after something as simple as lunch with your girlfriends to find a piles of clothes, shoes and accessories strewn about the floor after you've tried on one thing after another until you finally settled on something?  When you think about how much time you spent coming up with an outfit (not to mention how frazzled you felt in the process) and how much time you spent cleaning up when you got home, it's hard to argue that putting together outfits in advance is too time consuming.
Having a 'pre-assembled' outfits also, in many cases, addresses the "I don't have a thing to wear!" complaint.  You may, for example, realize you actually have more options than you imagined. Plus, you may find that you really don't have the right pair of shoes to wear with your favorite dress, and you'll now know what to buy on your next shopping trip instead of picking up the same dress over and over again and, subsequently, hanging it up over and over again, without ever wearing it.
Try it.  Take 30 minutes this Sunday night to put together 5 outfits.
After checking your calendar and checking the weather, if you work outside of your home,
begin by pulling out 5 different-colored pieces (a red dress, a pair of navy slacks, a brown skirt, a black jacket and an off-white blouse, for example);
take each garment and transform it from a piece to an outfit (take the navy slacks, for example, pair them up with your favorite blouse, which will dictate the shoe color you choose, pick out some accessories-a pair of earrings, a necklace and a bracelet- and you're done!);
hang each ensemble together, put the accessories in a jewelry bag (or even a plastic bag) and hang them with your outfit, set the shoes by the outfit or make a note of it; and
If you work inside your home (i.e. CEO of your household),
begin by pulling out 5 bottoms because it always seems harder to find bottoms that fit than tops (2 pairs of jeans, a pair of colored jeans or cords, a pair of leggings and a casual dress, for example);
again, take each garment and transform it from a single piece into an outfit (pair the colored jeans with a crisp white blouse, your favorite booties, a necklace and earrings that complement the color of the jeans-and, you're done! If the weather forecast calls for colder temperatures, throw on a coordinating wrap or jacket.); and
Now, here are some additional thoughts and tips that may be helpful:
If you take a few minutes to photograph each of the outfits you like, you can create your own Look Book.
The two most important 'staples' in your closet are white blouses and a little black dress. A crisp white blouse can be paired with everything from jeans to a formal skirt and always make you look fresh and 'put together.' As for the LBD, you know the drill….dress it up, dress it down, it never goes out of style, thank you CoCo Chanel.
Always have one never-fails, always-fits, could-put-it-on-in-your-sleep casual outfit and work outfit for those days you oversleep, I mean for those days when "the alarm doesn't go off."
Separate your two-piece outfits whether it's a matching top and skirt or a suit because you'll get more use out of the pieces if you were them individually and/or together. For example, you may be able to wear a suit jacket with your favorite pair of jeans. Or, find that wearing a simple, form-fitting turtleneck sweater with the skirt from your favorite top/skirt combo gives you a new, fun look without much effort.
Don't be afraid to mix expensive clothes and inexpensive clothes.  (Last week, I wore a Missoni dress with a beautiful one-of-a-kind statement necklace, total cost = can't say because my husband reads my column.  I also wore a pair of earrings from Sam Moon. Total cost = $6.95 plus tax.  Sad fact:  I received as many-or more-compliments on my earrings than I did on the rest of my ensemble!).
Changing handbags always seems to be an issue.  But, if you go to the trouble of putting together a great outfit, you don't want your mismatched handbag to ruin the whole look.  I suggest consolidating everything that's not in your wallet or your make-up case into another case (i.e. keys, glasses, paper, pen, tissues, hand sanitizer, bandages, etc.). Then, switching handbags means moving only 3 pieces.
I will leave you with some final thoughts: Ugly clothes don't go on any faster than cute clothes (I've timed it, I know.). Life is too short – or, perhaps, too long – to wear ugly clothes. When you look good, you feel good, and feeling good never goes out of style. No outfit is complete without a smile.
Dawn Mellon is a Dallas-based fashion stylist and mother of two teenagers, Andrew and Erica, known for effortlessly dressing some of our fair city's loveliest ladies for all manner of tony appearances. Over the next few months, the fashion maestro will be joining us here on D Moms daily to share her expertise on how to build a killer wardrobe and don it with confidence.
Get our weekly recap
Brings new meaning to the phrase Sunday Funday. No spam, ever.