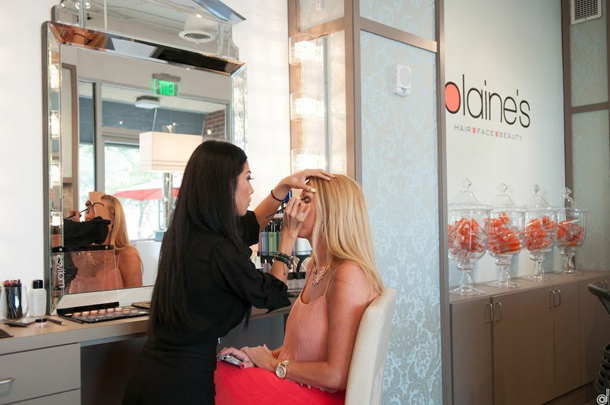 By Dawn Mellon
Whether your next party invitation calls for formal attire or a more relaxed business casual ensemble (see last column), your look would certainly not be complete without a fabulous hairstyle and flawlessly applied make-up, which is easier than ever to achieve thanks to Blaine's newly-opened, full-service Uptown salon.
From the moment the complementary valet opens your door to the first step you take into the modern, signature orange-hued salon warmly lit with a stunning crystal chandelier, you're greeted by a friendly smile. The stress of the day behind you (or the anxiety of the night before you) suddenly melts away.
Blaine Schlaudt, the name behind the brand, opened his first studio in Lubbock in 1994.  Earlier this year, the 28-year veteran and his wife, Sharon, moved to Uptown because they wanted to broaden their service offering. In addition to a plethora of hair care services, the salon also features make-up application, eye lash extensions, facials, tanning and waxing services, as well as Botox and/or Juvederm injections.
Blaine's advice to 'party goers' as they prepare for a night out on the town is: "Pamper yourself! Let us handle your hair and makeup the day of the event. Instead of running around town to multiple appointments, sit back, relax and we'll take care of you."
With 11 licensed professionals who collectively have more than a century and a half of experience, you can be sure you're in good hands.  "We don't have hair feelings," Blaine claims. "Each one of our clients is different, and each one will receive an individual consultation with one of our experienced professionals.  Our goal is to achieve your goal, not the one we desire.

"The trust women instill in me and in my staff is something we take very seriously," explains Blaine, which is particularly important when it comes to hair color, one of the services he is most proud to offer.  "We use Schwarzkopf Professional," he explains, "which means we can turn a mature woman's grey hair to vibrant red in 30 to 45 minutes flat.
"Something as simple as a change in hair color can empower a woman and can brighten her whole outlook," he attests and adds, "I love when I run into one of my clients after I've colored her hair, and they still have the warmth and glow of happiness they had when they left my chair."
A single destination for all your hair and skin care needs is one of the salon's competitive advantages, and another is its exclusive hair care line. Blaine's motivation: To create a line of high-quality products that's affordable and easy to use.
"The most significant difference between our line and others is that we use pharmaceutical grade water in our products," he elaborates. "All beauty products are made from water, and most companies don't even use distilled water, which means there is a certain measure of minerals in the product. The reason for washing your hair is to remove minerals, but if you're using products with harmful minerals, it defeats the whole point of washing your hair."
"The basis of all Blaine's products is to help protect the integrity of the hair," he summarizes.  "I want women to walk out of my salon with great hair, and, most important, a new-found freedom and confidence.  I want them to leave feeling even more beautiful than they did the moment they walked in the salon."
If you have your hair blown dry and styled on or before Saturday, Blaine's will donate half the proceeds of that service to the Susan G. Komen Foundation, in support of Breast Cancer Awareness Month and just in time for the big walk. The salon also welcomes you to enjoy a complementary glass of bubbly to make the whole experience even more special.
To learn more about the many services offered at Blaine's, go to www.blainesdallas.com or call 214-378-5150.
Dawn Mellon is a Dallas-based fashion stylist and mother of two teenagers, Andrew and Erica, known for effortlessly dressing some of our fair city's loveliest ladies for all manner of tony appearances. Over the next few months, the fashion maestro will be joining us here on D Moms daily to share her expertise on how to build a killer wardrobe and don it with confidence.

Get our weekly recap
Brings new meaning to the phrase Sunday Funday. No spam, ever.