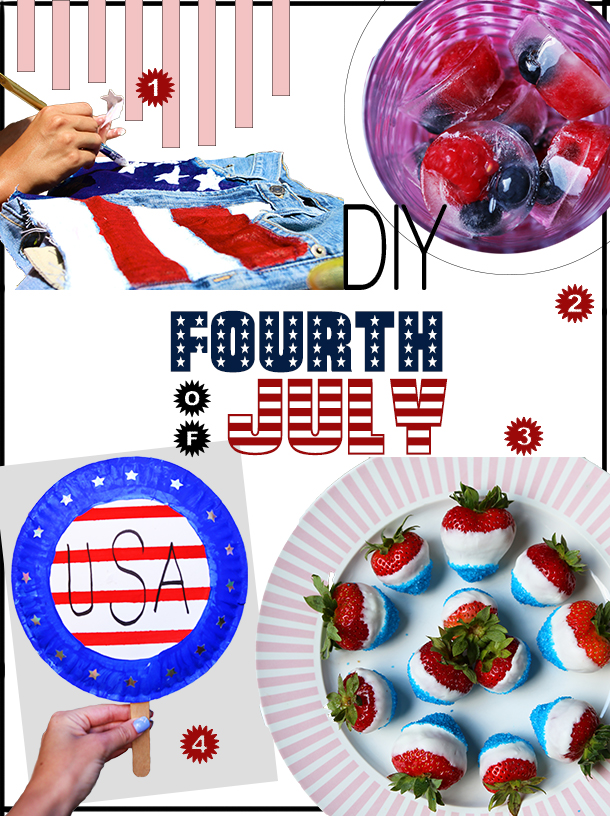 By Monica Lake
*******
The Fourth is tomorrow, and its time to get all red white and blue-d up! Even if you didn't make the annual Michael's run for all the patriotic décor, there's still time to save face. The best part: you and your littles can do it all with things you already have at home.
Have a go at these fun and easy DIY projects (that you'll actually want to partake in, too) and add some flair to your Fourth. Don't worry, the mess is minimal (I did them all in my stark white apartment without any mishaps), and I thoroughly enjoyed creating them. Jump for the details.
1) Flag Shorts: The best way to make these is to use men's jeans (i.e. your son or husband's ratty ones that you've been trying to get rid of), and then cut them off to the proper length (be sure to measure this first!). Paint the front left blue, and then mark off the right side with painter's tape to do the stripes (only use one color at a time). Once the blue has dried, go back and paint the white stars over (or you can do what I did and cut a star out of cardboard to use as a stamp). Let them dry and then voila! You've got a sweet pair of shorts.

2) Red White and Blue Cubes: Okay, this is probably the easiest thing in the world and it looks gorgeous. Take an ice cube tray (I used a mini-muffin baking pan for larger cubes) and place a raspberry and a couple blueberries in each section. Fill it with hot water (helps the ice cubes to freeze clearly) and stick in the freezer. In two hours, you're going to have some fancy (and tasty) drink accessories!

3) Patriotic Strawberries: Take white melting chocolate and follow the instructions on the bag to melt it. Dip the strawberries in the white chocolate, and then immediately dip the bottom half in a small bowl of blue sugar sprinkles. Let dry on wax paper and then serve as a tasty Independence Day snack! (So delicious that some of mine didn't even make it to the wax paper.)

4) America's Biggest Fan: (See what I did there?) Decorate a paper plate however the kids see fit, and when the plate is dried (if you use glitter glue or paint) hot glue a large popsicle stick to the back. Take it to the parade tomorrow and keep cool while showing your patriotic spirit.
Enjoy your Fourth!
Get the D Brief Newsletter
Dallas' most important news stories of the week, delivered to your inbox each Sunday.