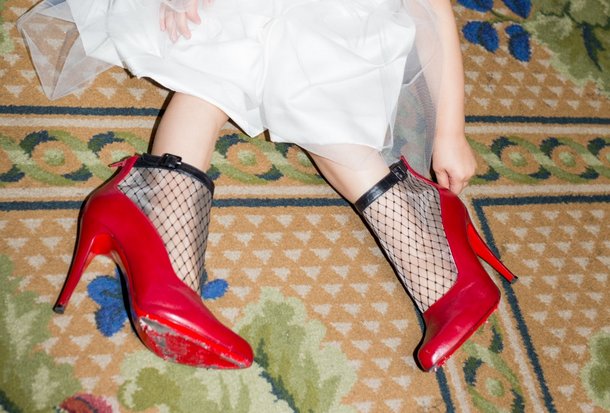 I ask a lot of the pieces in my wardrobe: that they're lasting, well-made, flattering, versatile. I want dresses that make my bum look small, my IQ higher, and take me from school drop to power meeting to after-work party, without missing a beat. (I have high hopes, I realize). Given my seemingly unrealistic expectations, I figured we needed an expert sartorial voice around here to guide us a bit.
Enter Dawn Mellon
The Dallas-based fashion stylist and mother of two teenagers, Andrew and Erica, effortlessly dresses some of our fair city's loveliest ladies for all manner of tony appearances . Over the next few months, the fashion maestro will be joining us here on D Moms daily to share her expertise on how to build a killer wardrobe and don it with confidence. She'll also take us on (virtual) tour of some awesome fashion-related local philanthropic agencies and give us an inside look at the tremendous and varied talent here in Dallas.
Welcome Dawn! I'll let you take things from here — Joslyn

*******
By Dawn Marie Mellon
"You can't judge a book by its cover."
"Perception is reality."
"You only get one chance to make a first impression."
"Beauty is only skin deep."
"Clothes make the (wo)man."
Truth be told, we all draw conclusions about people based upon the way they're dressed. (We don't like to admit it, but we do.)
Why?
Because, without saying a word, your appearance speaks volumes.
The way you look on the outside is often an indication to others of what you're like on the inside.
Your appearance is believed by many to be an outward expression of your personality – you're fun, you're serious, your're confident, or, conversely, you're dull, you're careless, you lack self-esteem. In fact, research shows that 97% of the first impression a person forms of you is based upon your appearance and other non-verbal attributes, while only 7 % is based on what you say. And, first impressions are formed within 17 seconds. Changing first impressions is difficult (at best), so it's critical to get it right from the beginning.
People's actions are often a reaction to the way you look.
In the business world, for example, your appearance can immediately set the tone for how you will be received by a prospective employer; be the reason your boss takes you more seriously that your colleagues; play a factor in customers believing you are successful, and, therefore, place their confidence in you.
Your appearance tells people what you think about them.
When you take the time to care about how you look before meeting someone, it shows that person you care about him or her. Whether it's as simple as a lunch date or as elaborate as a wedding, dressing appropriately is an indication of your respect, not only for the occasion, but, in particular, for the individual(s) with whom you're spending your time.
When you look good, you feel good.
The way you look affects your attitude, your self-esteem and, at times, your actions. You walk taller. You draw others toward you. You proceed with an air of confidence. Most important, you FEEL your best!
Get the D Brief Newsletter
Dallas' most important news stories of the week, delivered to your inbox each Sunday.