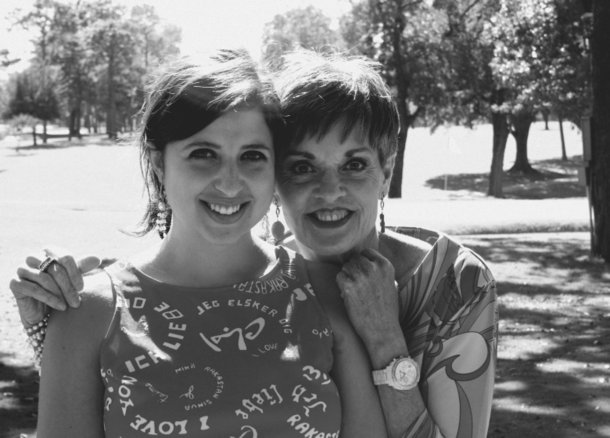 By Margaux Anbouba
*******
While running through the airport this weekend my attention was grabbed by the latest cover of Time, emblazoned with Angelina Jolie and the title "The Angelina Effect." I had read her piece in the New York Times ("My Medical Choice"), which started out with a phrase that I was all too familiar with.
"My mother fought cancer for almost a decade and died at 56."
I'll have my own version of this phase in eight years – my mother fought cancer for two and a half years and died at 55. Much like Jolie's mother, who died of breast cancer, there were medical procedures that could have detected and prevented my mother from having to fight a losing battle to colon cancer. And much like Jolie, I am now living with the hyper-awareness of my genetic disposition to the disease.
The reactions to Jolie's choice to undergo a preventative mastectomy have been full range — some people think she was being too extreme, others, not extreme enough. But it's Jolie's bravery to come out and speak about something that is innately tied to her womanhood that has been applauded across the board. She has brought awareness to a surgery that before seemed to be swept under the rug — it was an option for women with a disposition to breast cancer, but was something rarely talked about.
There isn't a doubt in my mind, that if my mother had had any inkling of her future disease, that she would have undergone anything and everything to be able to see my brother and I graduate from school, get married, and have children. But the reality is that she won't be here — and no matter how hard I wish that was different, it won't change.
But instead of being sad about the situation, I am going to try to make the best of it. Before the Jolie effect, I had been thinking of a way to share my mother's story and prevent other families from having to go through the same thing. After the Jolie effect, my ideas have finally come into coherence. I want to start a charitable foundation in her name — telling people not only of my mother and her fight, but also how they can prevent falling victim to the same disease.
During my mother's treatment, she spoke with me of her hope to start a colon cancer fundraiser once she was in remission – a dream that slipped from her fingers the more sick she became. While the disease and procedure are not glamorous, a colonoscopy can easily detect colorectal cancer, and in early stages, lead to a 100% cure of the disease. It's this information that I'll be building the foundation of my awareness campaign on.
I want to take an unusual route on getting the word out about colonoscopies — through educating teenagers and young adults about their parent's health. The idea behind it would be that teenagers would hold their parents accountable for their having the procedure, almost "peer pressuring" (for lack of a better word) them into taking care of themselves for the benefit of the whole family.
Eventually, I would love for this campaign to branch out to other forms of cancer, becoming an educational tool in communities that would help with early detection and prevention of a variety of cancers.
Because of my mother, I've become a crusader for women's health. I do it for my future, for my friends' futures, and for the future of everybody I love. Because of Angelina Jolie, I'm now brave enough to talk about it, become emotional about it, and share my story.