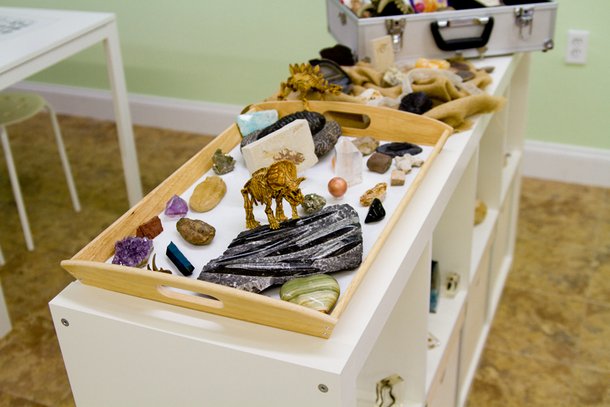 This is my frequent quandary: The hubs and I are in need of an impromptu date night, say 15 minutes of uninterrupted conversation, a meal not involving crayons, or the viewing of a movie filmed in this decade (we're not picky), but finding a sitter is akin to scoring tickets to Mumford and Sons (sold out in 5 minutes). So what's a desperate couple to do?
Enter two highly intriguing (and marriage enhancing) options.
Boredom Busters at The Lab at Lakewood
The folks at The Lab at Lakewood have launched June "Friday Night Block Parties" to keep the littles occupied while you get some much needed couple time. Dubbed as part camp, part party, part parent's nights out, school-age kids will be able to partake in three hours of good old fashion "loose-parts play" (think Big Blocks, life-sized Angry Birds, building with cardboard, Marble Run, Tinker Toys, and Lego sets galore).
Boredom Buster events are held on June 7, 14, 21, and 28 from  7-10 p.m. The cost is $ 30 per kid and includes dinner or $100/kid for all four nights. As availability is very limited, you must pre-pay to reserve a spot and there are no refunds or credits for missed event nights.
Call The Lab at Lakewood 214-901-4280 or email [email protected] to reserve a spot.
(Laura's outfit designed to disguise an exercise-free winter is speaking my language.)
The Style Sitter
Your next totally genius date night solution is a bit of a hybrid situation — care for your kiddos + a little sartorial support for you. Personal stylist Laura Ernst of Cotton Glitter has combined her tenure with top fashion retailers and her years working as a nanny into a new venture dubbed The Style Sitter. Per Laura, here's how it works:
Mom calls and makes an appointment.
The Style Sitter comes an hour early and sorts through mom's wardrobe, helping her pull together the perfect look for her night or day out.
The Style Sitter stays and babysits.
As a bonus, The Style Sitter will stop and pick up food for the kids on the way to your house, allowing more time for your style session.
Full details are available at Cotton Glitter. You can contact Laura directly at 917-846-6387 or drop her an email at [email protected].
Happy date night!
Get the D Brief Newsletter
Dallas' most important news stories of the week, delivered to your inbox each Sunday.