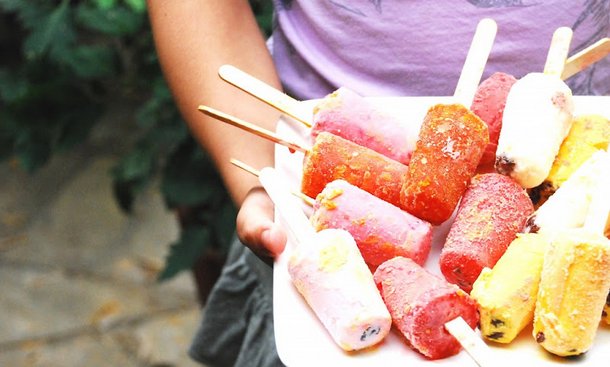 I had a chance to chat with the lovely folks from Lake Austin Spa Resort recently, and let me just say that a few nights of rejuvenation at the 19-acre lakeside retreat in the Texas Hill Country is most definitely on my bucket list. Until that day comes, I'm going to try and recreate some of the resort's vibe at home by whipping up a few homemade ice pops courtesy of their Director of Flora and Fauna (best. job. title. ever.) Trisha Shirey. Hang with me here…
Trisha has created six healthy spa popsicle recipes inspired by the property's award-winning organic gardens, and she's kindly allowed us to share them here on D Moms daily. The tasty frozen treats (and you know we're a fan of the frozen treats) include her favorite summertime ingredients of fresh herbs, yogurt, fruit, coffee, and avocados. They're also super simple to make and significantly healthier than the store-bought version (i.e. no high fructose corn syrup, artificial flavors, or dyes). To further raise the health factor, Trisha recommends sourcing BPA-free popsicle molds (I nabbed a fab set at Whole Foods recently) or using paper cups covered with foil and then adding a spoon to act as the popsicle holder.
Herewith Trisha's killer recipes…
Watermelon Berry Pops
2 cups seeded watermelon, cut into chunks
½ cup fresh or frozen strawberries
1 tablespoon lemon juice
2 tablespoons organic sugar, honey or agave nectar (or to taste)
Peppermint or cinnamon basil sprigs

Place all ingredients in the blender and blend until smooth. Pour into molds and freeze overnight.
Yogurt Berry Pops
1 cup of fresh or frozen berries – strawberry, blueberry, blackberry, raspberry, cherry or any combination
1 cup low fat vanilla Greek style yogurt
2 tablespoons honey or agave nectar
Fresh mint

Process berries until smooth in a blender or food processor. Add remaining ingredients and process until well blended. Pour into molds and freeze overnight.
Vary the flavors of yogurt and fruits. Try coconut Greek yogurt with fresh pineapple chunks, strawberry yogurt with fresh bananas.
Tropical Popsicles
1 cup fresh squeezed orange or pineapple juice
Several pieces of fresh lemon verbena and lemon balm
1 large ripe mango, peeled and diced or 2 cups frozen mango chunks

Crush the herbs and stir into the juice and refrigerate overnight. Strain and discard the herbs and add the mango pieces in a blender container. Blend ingredients until smooth and pour into molds. Freeze overnight.
Substitute persimmon pulp, guava or banana for the mango for a different tropical flavor.
Get Trisha's adult-only (i.e. think caffeine and booze) recipes after the jump…

Coffee Pops
Get an afternoon energy boost with a coffee popsicle. Substitute chai or black tea for the coffee if desired. Caramel coffee and almond milk are my favorite combination.
1 cup strong coffee (flavored coffee if you like)
2 tablespoons organic sugar, honey or agave nectar
1 cup 2 percent or whole milk or light cream or almond milk

Mix sweetener with coffee after brewing. Allow to cool. Add milk and pour into molds. Freeze overnight.
Avocado Mint Creamsicles
1 large ripe avocado
½ cup light cream
¼ cup milk
1 to 2 sprigs of fresh mint
2 tablespoons organic sugar, agave nectar or honey (or to taste)
Dash of salt

Cut the avocado into chunks and scoop from the peel into a blender. Add remaining ingredients and process on low speed until smooth. Pour into molds and freeze for at least 6 hours.
Pina Colada Popsicles
1 cup canned crushed pineapple, packed in juice
1 cup canned low fat coconut milk
2 tablespoons agave nectar
2 tablespoons unsweetened shredded coconut
Fresh mint or chopped pineapple sage flowers

Mix all ingredients and pour into molds. Freeze several hours or overnight.
Get the D Brief Newsletter
Dallas' most important news stories of the week, delivered to your inbox each Sunday.