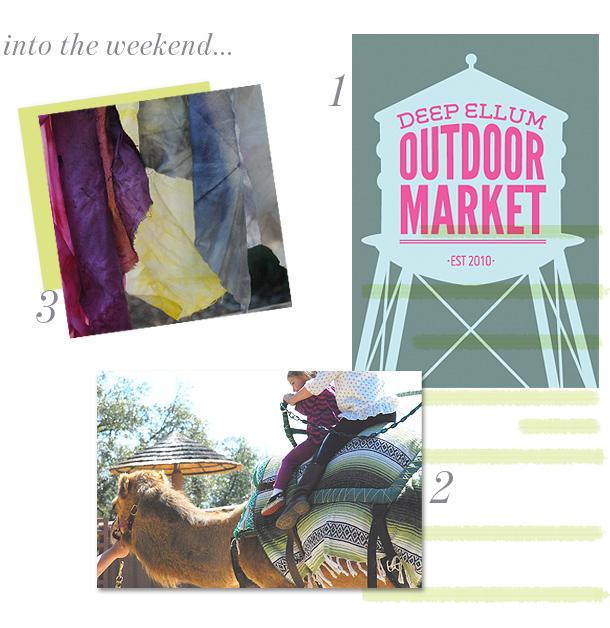 My crew is getting out of dodge later today to partake in a little Father's Day celebrating in Austin (think: tacos, Barton Springs, perhaps some live music, Amy's Mexican Vanilla…you get the idea).
However, if we were staying in town, there would be no shortage of fab activities to keep us busy. Herewith a few of our picks for weekend fun in Dallas.
The Shops at Park Lane Movies Under the Moon — The Lorax
Pack up some eats and take your crew to catch a free 8 p.m. screening of The Lorax tonight at The shops at Park Lane. Then pay homage to the Dr. Seuss classic by heading to North Haven Gardens tomorrow and snapping up a few lovely green things to plant in your yard.
Dr. Kate Naumes Holistic Wellness Walking Group
But before you hit North Haven (and before the temps hit 95) on Saturday, grab the littles (or a girlfriend) and get thee to Dr. Kate Naumes, ND's Holistic Wellness office (3110 Webb Ave) at 8 a.m. to join in on her new complimentary, weekly walking group as they hoof it on the Katy Trail. It's the prefect chance to do a little socializing while you knock out your workout. Drop an e-mail to [email protected].com to sign up!
Fabric Dying at Oil and Cotton
I've been itching to revamp the stack of sad white cloth napkins taking up residence in my pantry, so if I were in town this weekend, I'd definitely be attending Sarah Westrup's natural dyeing workshop at Oil and Cotton. In the four hour class, which runs from 10 a.m.-2 p.m., participants will learn how to make natural dye, modify dye colors, and employ surface design techniques. The class is $45 and includes swatches and dye recipes to take home to use as a reference for future natural dyeing adventures. Get more information and register on Oil and Cotton's website.
Deep Ellum Outdoor Market
On Saturday you can also pop down to Deep Ellum between 11 a.m. and 5 p.m. for some open-air shopping goodness. The free monthly market is full of local, handmade goods ranging from soap to art, making it the perfect opportunity to nab a lovely and meaningful gift for all those summer weddings on your calendar.
Safari Nights at The Dallas Zoo
Then tomorrow night make a beeline for The Dallas Zoo for their Safari Nights event, where you can ogle the elephants, let the kiddos ride a camel, and enjoy the musical stylings of Tom Petty tribute band Petty Theft. The action goes down from 5-9 p.m., and tickets are $12 at dallaszoo.com.
Fathers Day
Last but not least on Sunday celebrate your partner/better half/love of your life/baby daddy with breakfast in bed, the gift of his choice, and letting him play guitar all day without  once asking him to "put the freakin' thing down and help you with the kids" (that's my plan at least).
Have a splendid weekend!
Get our weekly recap
Brings new meaning to the phrase Sunday Funday. No spam, ever.