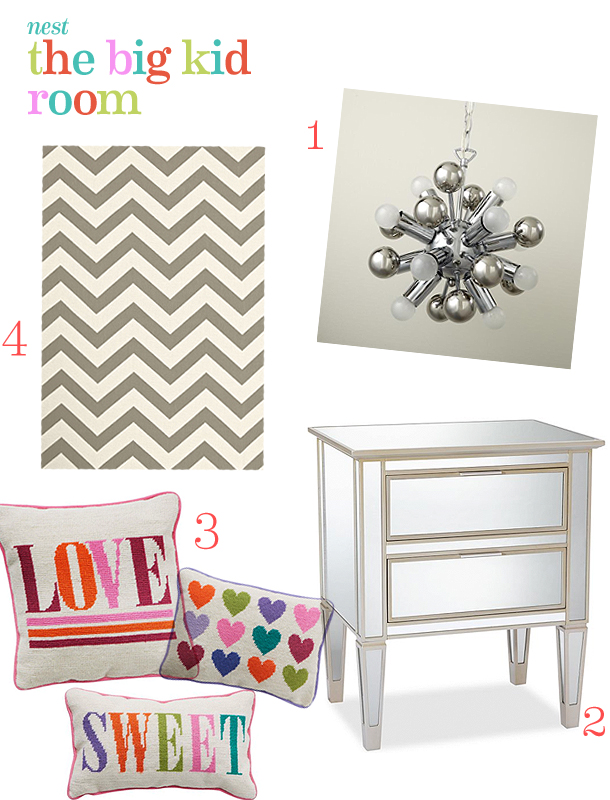 (Tracy's go-to pieces: 1. Bold lighting 2. Sleek furniture 3. Colorful pillows 4. Chevron)
By Tracy Martin Taylor
*******
When a little one is on the way, mamas love nothing more than to obsess over how to make the new addition's room just perfect. If you've had a child already, you look back and realize that with the first one, you likely over thought it a bit, procuring many things that turned out to be unnecessary. When I was working on my own daughter's room, I "over lamped" (big time) in an attempt to offset the fact that it was in a relatively dark space with only one window. I was convinced it would be a cave if a lamp wasn't strategically placed on every available surface in the room. In a shocking turn of events, I quickly realized that a tiny one doesn't really need stage lighting (I exaggerate…or do I?) to comfortably exist in their space. Lesson learned.
Another thing you quickly realize is that they don't stay little very long. You hear your friends say that and you think you get it but until you watch your little one go from sweet and smiley to asking questions like "how old do I have to be to start driving?" you think they are going to stay in that crib forever. So, strategic nursery decorating is key. Nurseries should grow with the kid. Be strategic with the big stuff and know you can tweak accessories, bedding, drapes, etc. to change the feel. Here are two of my key strategies…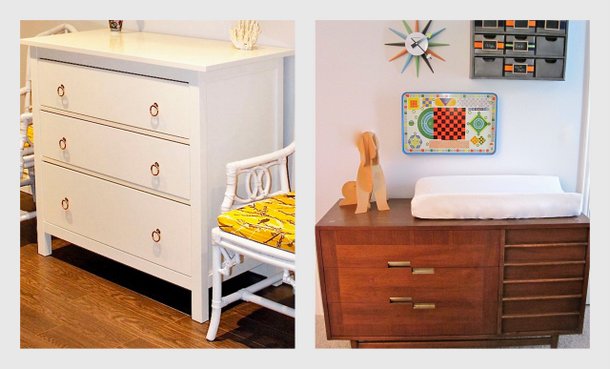 1. Dresser/changing table: Go simple
I usually go one of two routes. Either a simple white dresser like IKEA's Hemnes line is perfect. It's strong, inexpensive and I change the knobs to cute porcelain hand-painted animal ones for the newborn and when they grow, I switch to a classic ring pull. My second choice is to get a vintage (or new) piece that you know will work either in their room forever or somewhere else in the house. A mid century console that you obsess over will work perfectly and you can move it into the living once you want to make a change.
2. Paint: Think long term
When my wee one asked for a pink and purple room I will be honest…I showed her a "approved by me" palette of choices. The purple is more of a Violet and the Pink is well…a white with a pink tint. I knew that the colors would last for a bit as we evolved from toddler to tween. She's 6 ½ so we'll see how long this lasts. The tip here is to do one accent wall (the purple or even a pattern like a chevron) and keep the rest somewhat pale. That way if a change is coming, the only wall at risk is the one accent.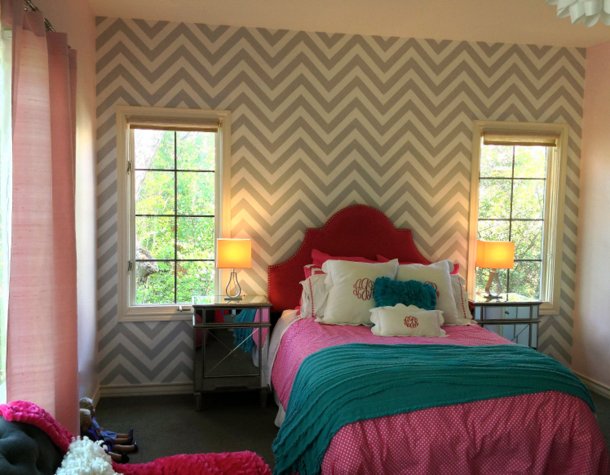 Speaking of pattern, I love going a little grown up balanced with childish accents. Then as you lose the stuffed animals, the barbies roll right along with it. A chevron wall with mirrored side tables are softened by tons of pink plush. When the tweens hit, these will become very grown up with a change in bedding.
The key is to choose the standard pieces (dresser, side tables, bed) with the future in mind. It's a savior for the pocketbook (so you can buy more pocketbooks!) and makes re-designing something fun for you and your kiddo.
(P.S.  I'd love to see your baby/kid room pics. Drop me a line at [email protected] if you have something fun to share!)
Love your space,
TMT
Get the D Brief Newsletter
Dallas' most important news stories of the week, delivered to your inbox each Sunday.