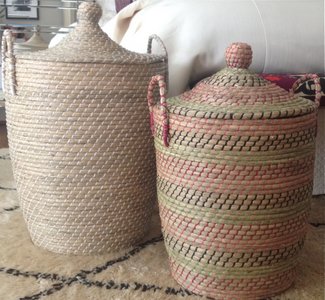 Remember the Land of Nod African-inspired storage baskets of my dreams? Well, I was at my friend Brittany's house recently and she immediately showed me those beauties to the right that she had recently acquired.
They're just as cool/sturdy/big as the Land of Nod numbers, but they ring in at a mere $20. That's less than I paid for much lunch today friends. (I spend way too much on lunch…for the record).
She snapped hers up at HomeGoods on MacArthur Blvd. in Irving (the best location according to Brittany, and she knows her stuff).
I feel a road trip to Irving in my future… Just saying.