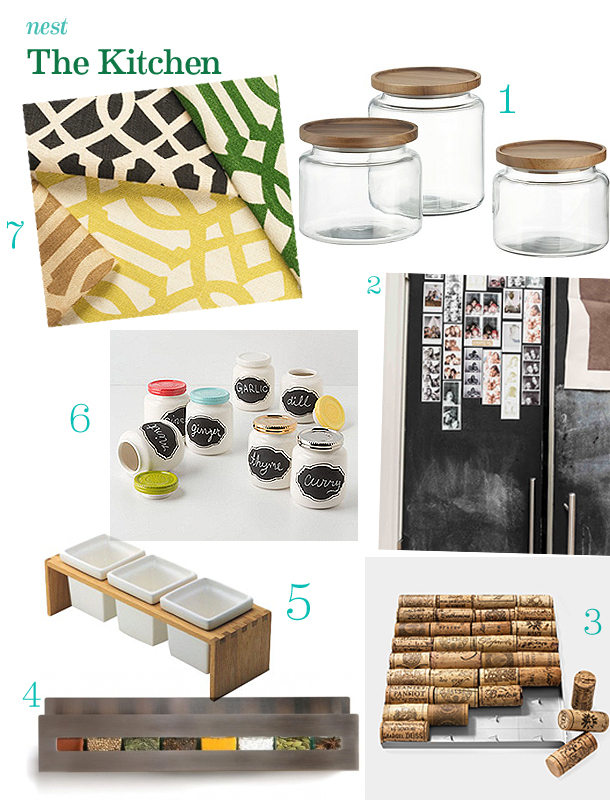 (tracy's kitchen favorites: 1. montana wood and glass jars 2. chalkboard paint 3. wine cork trivet 4. steel spice rack 5.herb pot/condiment holder 6.chalkboard jars 7. kelly wearstler imperial trellis wallpaper)
Our fearless home beautifier, Tracy Martin Taylor, is here to talk everyone's favorite room (yep, the kitchen). Turns out making the space stylish and functional isn't so hard. Herewith her favorite strategies, tips, and resources.
*******
By Tracy Martin Taylor
Have you ever noticed that no matter what you do, where you put the appetizers, where you set up the bar, when you have a party big or small, everyone crams into the kitchen. You can't avoid it. Don't even try. The key is to make the space worthy of hanging out in (i.e. organized/pretty/chic).
Organization in the kitchen is very key. We spend much of our lives there so, just like your office, we might as well make it functional and inspiring. Order is what all of us moms crave right? Here are some of my fave items to keep your kitchen organized behind (and in front of) the scenes.
I love the clean-lined Scandinavian design of this rustic wood meets cool white ceramic herb pot/condiment holder.
This DIY trivet from the MOMA store is a super cool way to make use of all those wine corks you have piling up. (You know who you are.)
Keep your most-used spices close at hand with this sleek and sculptural rack.
For those of you with open shelving in your kitchen (you are better people than me. I rely on my cabinet doors to ensure that my plates and pans can have their privacy), dress up the inside of your pantry with wallpaper to create a lovely surprise every time you open the door. Graphic, symmetrical prints like trellis or stripes can create organization where there isn't so much.
I do love chalkboard paint in the kitchen. It's a fun way to have a huge notepad that you can jot everything from "cookies-350 degrees" to  "Soccer at 6 pm." It's also great to use on jars to help identify the contents.
Use IKEA, Crate and Barrel, Container Store to snag many of the same jars, canisters etc. If everything is in matching containers, it always looks good right? After you org, accessorize just like you would your living room or outfit and you will create a space that makes your time in it lovely.
Love your space,
TMT
For more design inspiration from Tracy, be sure to check out her blog.