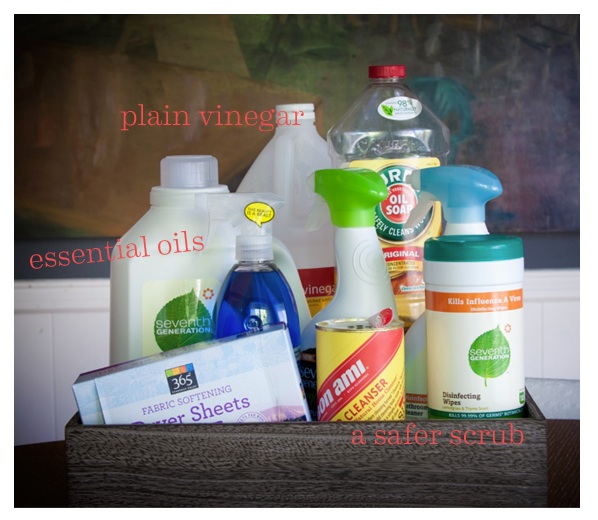 My girlies are on spring break next week, and I'm trying to keep the plans to a minimum and the vibe spontaneous, mellow, and low-key (i.e. I am way behind and have no freakin' clue what we're going to do). Regardless of how the week shapes up, there is one thing I am determined to accomplish — some big time spring cleaning. My sights are set on the closet and the den with a little girl's room action thrown in for fun. It'll be purging and polishing galore, and I'm pretty darn excited about the whole enterprise.
However, before I get to work, I'll be partaking in a little "What Would Holly Do" (WWHD if you will) by giving my cleaning supplies a makeover. Luckily, Holly's made my task easy by tackling the subject of cleaning products in her post this week, outlining what we should ditch (and why) and suggesting a slew of safe and effective replacement products.
Happy cleaning.
*******
By Holly Pellham Davis
Just saying the word, "March" fills my mind with thoughts of tearing through every room in the house and doing a complete clean out. By the time the dust settles, I have to confess, there is not much left on the shelves, countertops, or in the drawers. It's all morphed into a sea of bags labeled "donations" and "re-sell," which makes me feel so much lighter, refreshed, and cleansed… It's almost as good as I imagine I would feel after a We Care Spa retreat. (Okay, maybe that's a stretch.)
I love downsizing, detoxing, reducing, reusing, repurposing, simplifying "things" in life. One of my favorite places to "clean out" is the cleaning bucket. Seems kinda strange doesn't it? … cleaning out the cleaning bucket. But it makes me nuts to have 5,000 products to clean the bathtub. Do we really need all that? And, in the quest for a streak-free mirror, should our health be at risk from the toxic fumes that most conventional cleaning products contain?
In a past post I discussed the importance of clean air indoors on overall health. Products that mask, fragrance and/or chemically disinfect our air, clean, polish and wax surfaces, retard bacteria, and remove mold off-gas or evaporate into the air we breathe effecting our both our short and long-term health. Further, exposures to these type of products can leave chemicals lingering in our bodies for decades with potentially devastating effects.
There are a number of potential health issues linked to cleaning products, including.
Toxicity in the body through inhalation and skin contact.
Skin irritations, allergies
Cancer (especially blood cancer i.e.: Leukemia)
Asthma
Burns and Poisoning
Add to that list the fact that over half of all cleaning products contain chemicals that harm the lungs (what about the brain and liver?), the stats of increased respiratory allergies almost tripling in 2008-2010, and the findings that people who used spray cleaners to clean their homes at least once per week have a 30-50% increased risk of asthma, and I'm left, well…breathless.
But there is an alternative… Let's put on some gloves, a white mask (if needed), a cute apron, and get to work!
1. Get Organized. Grab a container that will hold "toxic" products. It's so important that we dispose of them (you don't want to be drinking it down the road. It all goes somewhere, right?). Visit the Dallas County website for disposal locations and directions
2. Review. Do an thorough assessment of all the products you have on hand. The majority of cleaning products do not list the complete ingredients on the label. Luckily, we can usually discern for ourselves if a product has a high probability of containing toxic substances. If in question, toss it properly (see below). Most people have house cleaning products, kitchen cleaning products, laundry products, and garage type (lawn and auto) products. Hit all areas separately, and dispose of any product that contains the following:
 All products listed on the Environmental Working Group (EWG) "List of Shame," as well as the EWG's list of products that release formaldehyde
Ammonia
Chlorine/bleach
Petroleum derivatives (ie: mineral oil, wax)
2-butoxyethanol (2-BE) carcinogen, respiratory irritant
Phthalates (ie: Butyl Benzyl Phthalate)
Toluene
Acetone
Dioxane 1,4, Ethylene Oxide
Phosphates
Alcohol Ethoxylates
Laureth-1, Sulfates
Fragrance
Citrus and Pine Cleaners
All Paints, solvents, and thinners. (Fuels should be stored safely away from the house.)
Pesticides, baits, herbicides, weed killer, Round-up, and ant killer
Aerosol with fluorocarbon containers
Trisoclan
Deodorizing agent
Any Chemical Listed in California's Prop 65 list of chemicals known to be carcinogens and cause reproductive toxicity
Laundry dryer sheets, petroleum-based and scented candles, air refreshers, deodorizers, and "Fabreeze type" products
3. Replace with Clean" DIY Alternatives:
Vinegar & Water — Vinegar is my favorite cleaning product. I mix 1-part vinegar to about 3-parts water in a spray bottle to clean bathtubs and showers. You can also mix with baking soda and Dr. Bronner's soap for a mild abrasive that makes a great tile and porcelain cleaner. For mold removal, spray hydrogen peroxide after the vinegar spray. Add a spray of peroxide anytime you need antibacterial or extra germ fighting action — perfect for the toilet bowl. Add vinegar to the rinse cycle of the laundry for extra brightening, softening, and freshness. You can also use it to clean your counter tops, granite, marble, and sinks. Just spray and wipe with clean re-usable cleaning towels. And for a true air refresher, place a small bowl of white vinegar on the counter top.
Hydrogen Peroxide in a spray bottle — Use hydrogen peroxide for mold and anti-bacterial uses in the bathroom, kitchen, and laundry. Spot testing is always recommended. Hydrogen peroxide in a spray bottle is a great way to clean fruits and vegetables and disinfect cutting boards. Be sure to rinse food dry prior to consumption. Gloves are strongly suggested, as the peroxide can burn your hands.
Baking Soda — Baking soda is fantastic for deodorizing carpets and pet areas. Just sprinkle prior to vacuuming. Baking soda can be easily mixed with an acid such as vinegar or lemon juice to increase cleaning power. It can also be mixed with water and liquid dish soap, to create a cleanser for tile or other non-porous surfaces including sinks and ovens.
Hot Water — Nothing can take the place of good-ole hot water. One of the best perks of under-the-counter instant hot water is the ability to put it on a clean cloth and use it to clean and naturally kill germs. Bonus: hot water cuts grease and gets the shine on!
Plant Oils: Olive Oil, Lemon Oil — Furniture polish tends to be one of the most toxic cleaning products. Opt for a non-toxic, do it yourself concoction of olive oil, a squeeze of lemon juice, and lemon oil instead. Spot test first. Apply to clean dry cloth, then furniture. For best results, use microfiber cleaning towels to remove toxic dust prior to oil.
4. Supplement with Safe Store-Bought Supplies. The EWG has a list of products they approve on their website (although I don't agree on all their inclusions.) Following is a list of some of my favorite safe cleaning products:
Seventh Generation Toilet Bowl Cleaner
Seventh Generation Laundry Detergent
Seventh Generation Liquid dish soap
Seventh Generation Disinfecting Wipes
Method Glass Cleaner
Method Almond Wood Cleaner
Bona Hardwood Floor Cleaner
Beyond discarding all the toxic stuff and building your arsenal of clean, healthy supplies, here are some other Clean Fresh Living cleaning tips:
Protect Yourself. Dust particles can contain toxic contaminants such as formaldehyde, lead, mercury, arsenic, pesticides, and flame retardants. Be sure to use gloves and a white mask while dusting.
Pre-Clean. I recommend going over furniture, blinds, and other dust collecting objects with a microfiber cloth prior to using a furniture cleaner or oil.
Conserve. Use washable cleaning or automotive towels to replace paper towel waste. Lint-free linen drying towels are great for glass and mirrors.
Bare feet rule. Ask people to remove their shoes prior to entering your home. This greatly reduces the dirt and dust accumulations. Frequently vacuum the carpeted areas of your home using a HEPA filter. Replace air filters often.
Keep it movin.' Keep air circulating in your house at all times. Open doors and windows when possible and get the flow going. Add fans if necessary.
Give a Green 411 to the housekeeper. If  you have a housekeeper on the scene, make sure you teach then how to and what goes where. Label with areas of use (ie: bathtub, sink, etc.). Remember, even if you aren't home while your house is being cleaned, cleaning products make it into the air, into the dust, and, eventually, into you.
Now that we have cleared the air with healthy cleaning products for our home, whataya say we use some of our leftover supplies for a refreshing glass of water… squeeze the lemon, hold the olive oil.
Cheers to Clean Fresh Living!
Holly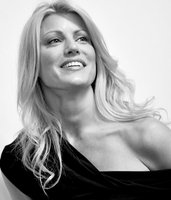 Holly Pellham Davis is the founder of Clean Fresh Living, Inc., a service focused on educating consumers and families on the importance of healthy, organic, sustainable living for life and generations to come. You can hear more from Holly on her Clean Fresh Living blog, twitter, and Facebook.