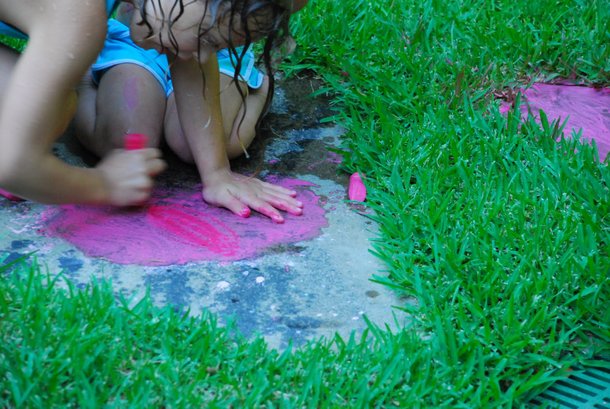 As you're reading this, I am in Florida with my family, unplugged (don't worry I set it to automatically post) and perhaps partaking in a margarita or two. I'm pretty good at eschewing screens in favor of good old fashioned fun when I'm on holiday. When I'm at home…well, that's an entirely different enterprise. So this post from our D Moms contributor, parent coach Galit Birk, PhD, couldn't have come at a better time. I'll be using every one of her (excellent) suggestions the minute I arrive back in Dallas. In the meantime, I'll be having another margarita.
Herewith her words of wisdom.
*******
By Galit Birk, PhD
You get home after a long day, the kids are all wound up, and you need to make dinner…what do you do? Perhaps you turn on the TV or give your child the Leap Pad or the iPad in order to get some quiet time of your own? Don't worry – I do it too! The trick is to use media consciously as a family, to get smart on media, to use it in moderation, and to create and stick to family boundaries around screen time.
Use Media Consciously: When was the last time you thought about the incredible advancement in screen technology and the way in which it has both changed and shaped (and continuously reshapes) our parenting? Have you thought about the pros and cons of these gadgets that permeate our daily lives and what they both contribute to us as well as keep us from? Using media consciously begins with asking yourself these questions, looking at media's role in your life (the good, bad, and the ugly), and then making choices for you and your family accordingly. Using media consciously requires us to get smart on media so that we can live our values and consciously utilize media in our lives rather than allow it to passively consume us.
Get Smart on Media: Read the literature and keep the research in mind as you design your family rules around media and go through your day with your kids. Research shows that by the time they are in kindergarten, the average American five year old will have consumed between 5000 and 6000 hours of television – time that could have been spent playing, exploring, and creating. Research shows that the more TV watched, the more it influences our kids' attitudes and values than our parenting does. (Scary!) Do your research; as parents in today's digital age, we must take on this responsibility and get smart on media for the sake of our kids and our families.
I highly recommend the following resources: The excellent books Parenting Well in a Media Age by Gloria DeGaetano and Talking Back to Facebook by James P. Steyer and the websites Center on Media and Child Health and Common Sense Media.
Everything in moderation: Media both connects and disconnects us. It connects us to friends, family, and current events around the world, yet it keeps us from being relational and present with our families and friends. Screens can certainly teach us about life (math and reading too!) but they can also hinder us from actually experiencing life and exploring the environment around us, especially important for kids. Additionally, often consuming someone else's creativity, kids today don't get nearly enough time to explore and develop their own ideas. Studies have shown that kids today have difficulty making up stories that do not involve a television character or a story line they saw on TV. The trick of course lies in creating balance both for our kids and for their parents! Yes, we have to model media moderation too. We can also model creativity to our kids by making up as opposed to reading a bedtime story and/or encouraging kids to participate in the story by asking, "what happens next?" Use technology in moderation in your home. Model moderation and create more opportunities for creativity with your children.
Screen-time boundaries: What rules do you have in your home around screen time? We never watch TV or play with other screens before school and we reserve weekend mornings for watching TV in bed together as a family. We have recently been working on not bringing smart phones or iPads to the table when we eat (no texting during meals) and bringing crayons and coloring books to restaurants with us as opposed to offering the iPhone to our three and a half year old so that he can use his own creativity rather than consume someone else's and so that we can all be more present with one another as a family over dinner. Have you ever observed your child after a period of watching television and after playing outside or doing a creative activity? I invite you to try it and then to determine what house rules and boundaries you are willing to create and stand by with your family for it's own sake. Create those boundaries and your kids will follow suit.
Do not let media consume you and your family. Find a way to utilize it and to appreciate it while being mindful as opposed to unconscious of your use of it. Stay connected through media but do not allow it to rob you and your family of quality time together in the here and now. Be together without your screens every day. Be fully present with one another and live your lives together in real time; exploring, experiencing, being, playing and creating…making those memories together!
Happy Parenting,
Galit Birk, PhD
Galit Birk, PhD is a PCI Certified Parent Coach® who walks folks through parenting with wisdom and grace in her private practice CORE Parent Coaching.
Get the D Brief Newsletter
Dallas' most important news stories of the week, delivered to your inbox each Sunday.