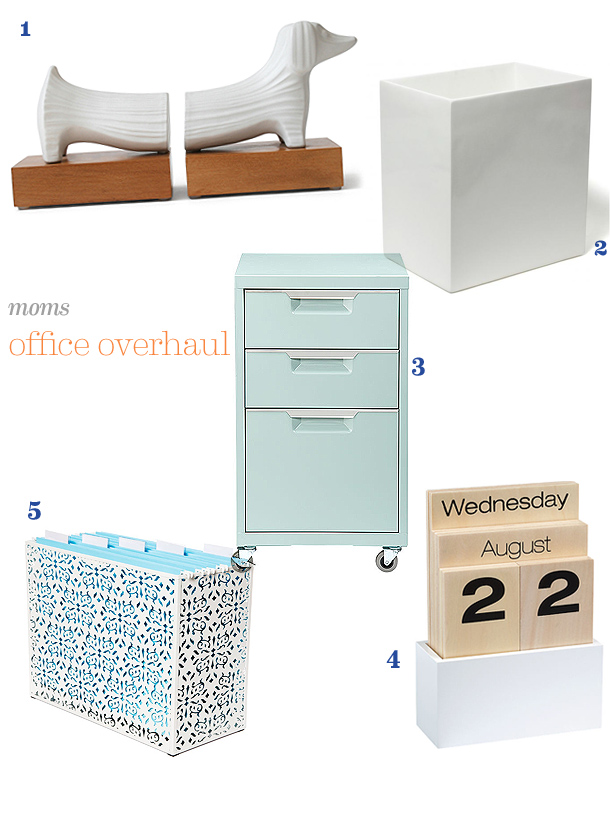 (Tracy's formula for an outstanding office: 1. Jonathan Adler Dachshund bookends 2. Jonathan Adler lacquer wastebasket 3. CB2 mint filing cabinet 4. CB2 Shuffle Calendar 5. Container Store desktop file)
I've previously mentioned by deep and abiding love for the office supply, so I'm pretty excited about having our D Moms Daily design maven, the lovely Tracy Martin Taylor of Eleven 11 Design, here sharing some of her faves this week. That wastebasket and shuffle calendar is calling my name…just sayin'.
Take it away Tracy.
*******
By Tracy Martin Taylor
I know an office needs to contain things that are actually, well… functional (i.e. paper clips and binders and files and the like), but who says those things have to be boring? When I started a job at a downtown company years back, (I am proud to say) in that mostly gray building, I think I had the only pair of drapes on the windows. Yes, others thought I was crazy (in their boring gray offices), but my reasoning was simple: I can't work in a place where I'm not inspired. So I challenge you to look around your desk, office, or cube and see if you feel comfortable and fabulous. If not, use some of these ideas to make your space functional and,most of all, yours.
I have only one rule when it comes to office organization (or any organization for that matter): Know thyself. What I mean is, know what you will maintain and don't try to suddenly become a binder person when you are a file person. Embrace your tendencies and just make them prettier. You will end up with unused tools if you try to change too drastically.
Here are five of my favorite strategies for making your office lovelier:
Embrace color — Either go multi or color blocked and stick with it. Don't let a manila-colored paper good cross your path. See Jane Work is a favorite resource for brightly-hued office goods.
Add a touch of vintage — Bring a little retro to your world. My sis insists on a crank pencil sharpener instead of battery operated. They are super cool looking, work very well, and are a definite conversation starter.
Grab a chic calendar — I'm obsessed with perpetual calendars. They are functional, graphic, and always cool.
Organize it — Make sure the items you need to touch the most are close. If you have to get up to access a file, you'll end up with a pile at the end of the day. I use filing carts under my desk to keep my current projects at my finger tips. I also love pretty metal desktop files for keeping urgent things handy and adding a touch of fancy amidst all the mundane.
Add in fun extras — Since you may have decor limitations in your office, try to sneak in some creativity in the extras… I love colorful frames for your kiddo pics, a glass instead of the usual white dry erase board and even a cool lacquer trash can. I'm also a big fan of fun bookends — obviously they're great for books, but I also use them to corral folders and binders. They keep things in place while adding some fab.
So take a little inventory of your work world and see if you you can add some bright spots. The reality is that many of us are at work for a majority of our waking hours (sad but true), so it just makes sense to surround yourself with a wee bit more happy.
Love your space,
TMT
For more design inspiration from Tracy, be sure to check out her blog.