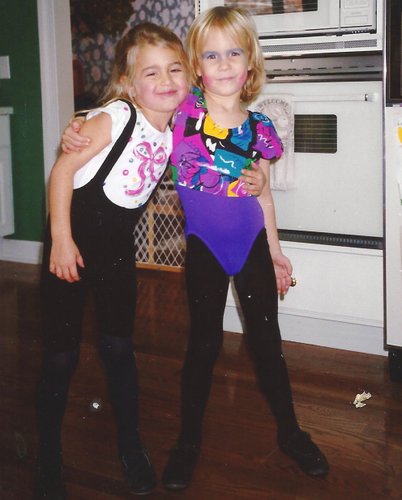 Our lovely intern Caitlin Adams is back with another installment of her "Lessons from My Mom" column. This week she extols the benefits of sartorial freedom for the pint-size set.
*****
By Caitlin Adams
When I was little, my parents let me dress myself. Actually, I'm not certain whether it was a conscious decision on their part or that they simply tired of my inevitable temper tantrums. (I was the only girl of four kids… I had an excuse to be a diva, right?) My daily uniform typically consisted of purple sweatshirts with dancing elephants and stirrup leggings. I might have even worn a diaper bag as my backpack through my preschool years…talk about catching onto the whole "oversize tote" trend early.
My mom had this idea that allowing me to dress myself was a way for me to express my individual style and creativity. I know it sounds kind of whacky — surely a seven year old donning a multicolor leotard doesn't say much about who they are — but I think there is something to this thinking.
Youngsters are constantly faced with pressures to fit the mold of every other child in their class/play group/social circle. All their friends are taking ballet? Go buy a tutu. The neighborhood kids are signing up for the local theater? Better start taking voice lessons! It can be overwhelming for a little one to find their own voice when others are constantly telling them what to do.
Enter, clothes. Picking out outfits is such a fun, easy way for children to express their unique style. Think of it as just another art project, but this time they are the canvas. Does your daughter want to wear her favorite neon romper to piano lessons? How about your son's insistence on wearing his shin guards to the mall? I say let them do it. After all, what does it really hurt to let them pick out their outfits for life's simple activities? Not to mention it will give you some hilarious pictures to look back on.
Don't get me wrong, I'm not saying clothing as a material item is important to one's character, but rather, it's the way in which it is worn. Giving children this outlet to express their individuality might just make them more confident in other choices they make later.
So thanks mom, for giving me the reins on my daily uniform as a child. I now have the guts to rock my favorite pair of leopard parachute pants without any concern for what others may think. I might look like Mick Jagger's body double, but at least I can be confident that it is my personal style. After all, isn't dressing meant to be fun?
(Ed. Note: Caitlin, I want to see those leopard parachute pants!) 
Get the D Brief Newsletter
Dallas' most important news stories of the week, delivered to your inbox each Sunday.