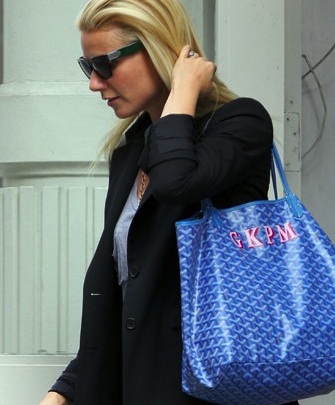 I am in constant search of a big "schlepper" bag that still manages to look chic (without costing me more than my first car). It's an elusive enterprise, but I'm not giving up. I am determined… I know it's out there.
My holy grail is a big monogrammed (I am obsessed with the monogram) Goyard tote, à la Gwyneth's number to the right… One of my very stylish co-workers carries a giant Emerald green one that manages to look cool even when it's brimming with work files and pacifiers and baby gadgets (and given that said co-worker is also the mom of a toddler, it is usually is). The true mark of a bag's chicness is, after all, its ability to stand-up against lovies and goldfish crackers and plastic toys, yes?
Sadly, the Goyard is decidedly out of my price range, but the replicating my beloved monogram *might* just be doable.
I snapped up that exact roomy camel leather tote below from Banana Republic last year, and it's proved a perfectly good bag — it's functional; it sports buttery leather; it's ideal for schlepping — but otherwise it's a pretty basic enterprise. There's nothing especially chic about it.
Enter operation "paint my own Goyard-esque monogram". (I know, I know, that's an awfully long name for an operation.)
I spotted a tutorial for adding a stripe and monogram to an existing bag here, and it's possible that (with a little help from my artistic husband) I might actually be able to pull this off. A chic, schlepping tote could very well be in my future.
I'm headed to Michaels for leather paint this weekend…I'll let you know how it goes!
Get the D Brief Newsletter
Dallas' most important news stories of the week, delivered to your inbox each Sunday.