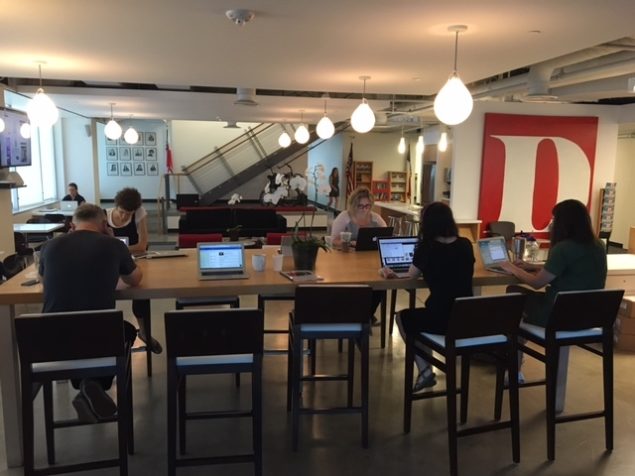 When we got to work this morning at D Magazine world headquarters, in beautiful downtown Dallas, we learned the AC is out in our building, St. Paul Place. The editorial crew all sits on the east side of the office. That would be the side of the building that is currently under assault from the sun. I'm guessing, but it's probably 87 degrees at my desk, which sits right by a window.
To survive, many of us have moved our computers into our lobby, which is on the west side of the building. We are sitting at the table you see here, elbow to elbow. We aren't exactly sweating. But we are all sticky. At least I am sticky. I haven't taken a survey. Zac (far left in the pic) is on edge. I made an innocuous comment earlier about the movie London Has Fallen, and he threw a coffee mug at me. Then the Spirit Father came to see me, and I sprouted wings, and I flew with him high above our hunting grounds, admiring the herds of buffalo that have sustained our people for generations. Do you hear that noise, my brother?
I am now naked save for my loincloth. I am lashing myself with the sage branch. An intern is pouring water on the stones that still glow red from the fire, and the steam is cleansing my MacBook Air. We are working on the August issue. It will be an inspired document, if not error free.
Get the D Brief Newsletter
Dallas' most important news stories of the week, delivered to your inbox each Sunday.