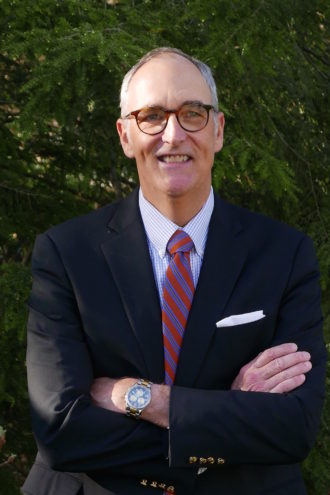 In his first 44 days on the job, Matthew Myers has spent time meeting with executives from Dallas-Fort Worth companies, getting the lay of the land, and understanding what role Southern Methodist University's Cox School of Business should play in the development of tomorrow's workforce. His conclusion: The region's workforce, corporate demography, and business needs are becoming more tech- and innovation-driven. Therefore, the business school is going to have to adjust the way it approaches education.
"In the business community, expectations are high, so the expectations on us are high," Myers said over breakfast Wednesday. "A lot of this is figuring out new ways to compete … and tech [is a] big part of that."
Many companies, big and small, are looking at new ways to innovate, and that means hiring people with multidisciplinary backgrounds, Myers agreed. Both the trend and the need are growing in that direction as big corporations like Toyota make their way into North Texas. With Amazon searching for a landing spot for a second headquarters, local talent could tip the scales for the winning city.
SMU's business school plans to answer the needs of these companies by offering much more diverse curricula and degrees. This could mean having departments partner in specialty or undergraduate degrees, Myers said. So instead of getting a degree that is heavily based on curriculum from the business school, a Cox degree could cross with training from the Lyle School of Engineering, the Dedman School of Law, or Perkins' School of Theology, Myers said.
The demand from the students also seems to support Myers' direction, as more students are interested in one-year specialty master programs than they are MBAs. Employers seem to prefer those degrees over MBAs, too, he added. One of the specialty master programs currently in high demand is a Master of Science in business analytics. That program is three times the size it was in 2014 and has doubled since last year. "The placement of these graduates is tremendous," Myers said. "It's been a real shift in the way companies are looking for talent."
Myers said he'll need some time to fully develop the plans for some of these new interdisciplinary programs. But it's one of his top priorities that he believes will help the university compete. "SMU is a special cat," he said. "What we can do is different, and we need to capitalize on it."
Meanwhile, as Myers settles into the region as an Ohio transplant, he's already revving up a friendly rivalry with Texas Christian University. Myers is planning to make a wager with O. Homer Erekson, dean of TCU's Neely School of Business, for this year's Battle of the Iron Skillet, which refers to the schools' football rivalry dating back to 1946. They're still discussing the terms of the wager. But so far it looks like the loser may end up wearing some regalia or spirit items from the winning team. It may not be a fair wager, as TCU, ranked No. 20 in the Big 12, is favored to win. But Myers doesn't care. He's going all in for his new school, hoping Erekson will soon be sporting some pony pride.
Get the D CEO Newsletter
Stay up to speed on DFW's fast-moving business community with weekly news reports, interviews, and insights.