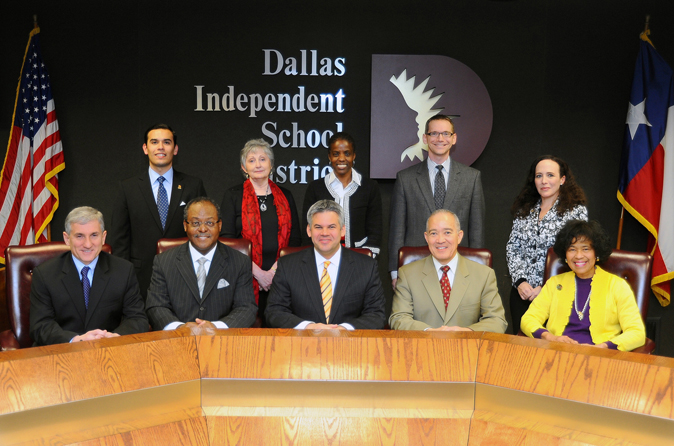 The DISD board meeting to discuss revising Mike Miles' contract has been moved from this Saturday to July 21. The reason, according to board president Miguel Solis: He wants all the board members there.
The meeting originally set for the 12th (Saturday), according to Solis, was likely to only see five board members present because of vacation and other commitments. Miles' biggest critics — Bernadette Nutall, Joyce Foreman, and Lew Blackburn — would not have been present. He says he wanted to find a date that everyone could make, at least in theory.
"I asked folks if they could attend if they could attend a meeting then [on the 21st]," Solis says. "Some said they could, and some said they didn't think July made sense, because they think we should not be discussing his contract until September. But they didn't say that they could not attend."
For Solis, the newly elected board president, it's vital that as many trustees as possible take part in an open discussion on Miles' contract.
"For me, no doubt that this will be most important decision we make this year," he says. "One of the largest decisions we make. We're talking about the CEO of the school system."
Solis says he rejects the idea that the board shouldn't consider Miles' contract now, saying that waiting until September, once the year begins, means they will probably end up putting it off for months, then to the holidays, then suddenly you're deep into the school year.
"There is no reason not to engage in meaningful conversations with the superintendent regarding the future of our leadership," he says. "It allows us to address the future of leadership. It allows us clarity. Also provides entire community an understanding as to what they should expect from leadership this year.
"For the past 20 years, we've seen superintendent churn," he continues. "That instability has had a impact on schools and community. Wen need to change our approach and solidify leadership at an earlier moment. … Starting these conversations now sends a message to our staff and the city about our leadership. It allows the board to set goals early. If we happened to part ways with [Miles], it allows to start searching for a replacement in advance and have a transfer-of-leadership plan in place. Plus, it's only fair to staff.  They need to know of they are managing on Miles' plan going forward, or a new plan coming with next superintendent. If we wait, won't get those answers until late in the year."
What about the notion that there is more data to come in August-September that will help better evaluate Miles' record so far? "One more round of data isn't necessary for us to ask, 'Should we continue with this leader's vision, or choose another?' " Solis says. "I believe each trustee has the answer to that decision now."