Raymond Sedey took over as McCarthy Holdings' CEO at the start of 2020. Today the organization—which is 100 percent employee-owned—has more than 6,500 employees. In 2022, McCarthy reported $4.4 billion in revenue.
In Sedey's extended 2023 Dallas 500 Q&A, he talks about learning through the pandemic, who his go-to adviser is, and his key leadership strategy.
Birthplace: Rock Springs, Wyoming
Education: Montana State University (BS – Construction Engineering)
First Job: "Beyond mowing lawns and shoveling walks, my first paycheck came from McDonald's in Anancortes, Washington. Their motto was, 'If you have time to lean, you have time to clean,' which is a good reminder that there is always something that needs to be done when you pay attention to your surroundings."
Best Advice: "Always keep working on becoming the best version of yourself, learn from your mistakes, and develop those around you. Your last, and most important, job is to find your replacement who will be better than you."
Destinations of Choice: "I love both the mountains and the ocean. When my family goes up to the mountains our favorite place is Montana. I still have family in different parts of the state and it's wonderful to spend time together in those surroundings. Regarding the ocean, it is really hard to beat Maui."
Nonprofit Cause: "The American Heart Association is an organization McCarthy is involved with both locally and nationwide. Their mission is also near and dear to me, as McCarthy participates in many ways nationally, including employees walking in community AHA Heart Walks across the nation. Additionally, I serve on the board of the Dallas Regional Chamber as the Chair of the Economic Development Council, and in this role, I'm actively collaborating with others to bring economic development and growth to the Dallas region, to make Dallas the best place for people to live, work, and do business."
Hobby/Passion: "I absolutely love my job, but you need to have an outlet beyond your career. Whether it be coaching my boys' soccer team, cooking, woodworking, or fishing (on a river or in the ocean)—these all allow a great outlet."
Industry Change: "The construction industry is actively evolving in many areas through the use of technology and an effort to attract the best talent to the industry. However, if I could change it immediately, it would be better representing the communities we serve and attract the best talent around regardless of sex, color of their skin, orientation, etc.—and making this shift more quickly. Construction offers so many rewarding opportunities and we are making good progress, but we have more work to do."
Fun Fact: "Over the course of my life, I've moved 18 times. Twelve of these moves were based on my dad's career, and we were able to live all over the country, from Alaska to Florida and everywhere in between. The remaining six moves came over 19 years as a result of construction project demands and as new career opportunities opened up for me with McCarthy. My family and I relocated to DFW in September 2015, and it's currently the second longest I've ever lived in one place aside from a decade in Las Vegas. I couldn't have achieved any of my success without a great support structure at home—my wife, Amy, and two boys."
Go-to Adviser: "My predecessor, Mike Bolen, led our organization for more than 20 years and continues to serve on our board. He is an amazing advisor and am fortunate to be able to talk to him when needed."
Toughest Business Challenge: "My tenure as CEO started on January 1, 2020, and the outlook for the next few years looked very good. Then in March 2020 the entire world changed with the pandemic. Leading our company through the pandemic was a tremendous challenge but also very rewarding as we saw our employee owners and craft professionals come together in a big way to support each other, their friends and families, our trade partners, clients, and the communities we serve."
First Car: "I bought a 1983 Ford F150 from a rancher in Bozeman, Montana, when I started at Montana State in 1995 for $900. It burned more oil than fuel, but I was able to learn a lot about fixing engines (you could still get your hands in there and work on it)."
Must-read: "Two books: Good to Great by Jim Collins and The Advantage by Patrick Lencioni. Both of these books, read together, provide some great ideas on how to develop a high performing organization and help them become the best version they can be."
Alternate Reality: "It is hard to imagine doing anything but construction, but if I wasn't doing this anymore, I'd want to teach young people about our industry at Montana State."
Bucket List: "Fly fishing in New Zealand"
Key Leadership Strategy: "In order to create a perpetual organization, you need to not only develop yourself to be the best version of yourself possible but develop those around you to be better than you."
Future Forecast: "The continued evolution of the construction industry, helping our folks grow and take on increasingly difficult challenges and watching them thrive."
Get the D CEO Real Estate Newsletter
Get weekly updates on breaking commercial real estate news and relevant industry reports.
Author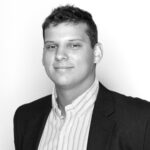 Ben Swanger is the managing editor for D CEO, the business title for D Magazine. Ben manages the Dallas 500, monthly…