When Sarah Kennington was growing up, her favorite NBA player was Charles Barkley. Fast forward a couple decades and Kennington started Thirty-Four Commercial, a full-service brokerage platform, and says Barkley was one inspiration behind the brokerage's name.
Thirty-Four's portfolio includes the 250,000-square-foot Epsilon's Dallas Headquarters, Gartner, Inc.'s 204,000-square-foot offices, and the disposition of 104,000 square feet in Advancial Tower.
In Kennington's extended 2023 Dallas 500 Q&A, Thirty-Four's president talks about Dallas being on the cusp of an urban revolution, the moment in her life she would re-do, and much more.
Birthplace: Columbus, Ohio
Education: Miami University (BS)
First Job: "My first paid job was at Graeter's Ice Cream. I tore my ACL the summer I worked there, so I couldn't scoop ice cream due to being on crutches. Instead they had me sit at the register and check out our long line of customers. Just because I wasn't able to perform at my best, didn't mean I couldn't participate as team member. I learned to always show up and give everything you can, even if it isn't what you anticipated."
Best Advice: "Trust your gut. If it doesn't feel right, it's because it isn't!"
Dinner Party: "Ray Hunt and Elaine Agather. I would love to talk to Ray Hunt about his prospective on the evolution of Dallas—including his recent blockbuster real estate deals—and Elaine because she's a female icon in DFW."
Destinations of Choice: "Telluride, Colorado, and Pebble Beach, California"
Nonprofit Cause: "St. Philip's School and Community Center: Dr. Terry Flowers and his team have transformed that area of Dallas through the impact the school has on the surrounding community."
Hobby/Passion: "Yoga and traveling"
Industry Change: "The path to success. While the barrier to entry is low, the path to success is steep. Commercial real estate is relationship based and at times exclusive. My hope is that more people enter the industry from varying backgrounds and don't face challenges simply for being different."
Local Fare: "Le Bibloquet's cajun chicken"
Do-over: "I would have entered into college as a business major and not pre-med, which was clearly not my path in life."
Fun Fact: "I was an avid NBA fan as a little girl and Charles Barkley was my favorite player. He wore no. 34, which is the first part of the story behind Thirty-Four Commercial."
Go-to Adviser: "Bill Cawley has been a friend and mentor for years and I respect his opinion."
Toughest Challenge: "Moving to Dallas knowing no one and getting plugged in to the business community was a very hard and lengthy process. I'm not known for patience, but I'm glad I hung in there!"
First Car: "My mom's Jeep Cherokee was handed down to me when I was 16."
Proud Moment: "Over the last year, we've hired several outstanding people that have added a lot of value to our company's culture."
A Better DFW: "Can we cool it down a bit? I already think Dallas has the best quality of life, but July and August would be a lot more fun if it was a little less hot! I spent last summer at home with a newborn and was not able to travel with 100+ temperature days."
Pivotal Moment: "In less than 5 years, I went from zero to five children. They make life very busy and rewarding, but we have a lot of help with logistics to make our house run smoothly."
Walk-up Song: "Those who know me know my favorite song ever is by Juvenile. The beat is captivating and you can't help but be excited about what's to come, wherever you are!"
Must-Read: "The Alchemist, because you already have everting you need!"
Spirit Animal: "I googled which animal has the most grit and apparently it's a honey badger. They are known to be unwavering."
Alternate Reality: "I'm a competitor by nature, so my dream would be a professional sand volleyball player. In reality, I would be an attorney."
Biggest Risk: "Starting Thirty-Four Commercial"
Bucket List: "Traveling to all seven continents"
Key Leadership Strategy: "Vulnerability, communication, and action"
Future Forecast: "We are at the cusp of a revolution for Dallas' urban core. I'm excited to see Dallas 'grow up' and become an international destination with new development, green space, and density."
Get the D CEO Real Estate Newsletter
Get weekly updates on breaking commercial real estate news and relevant industry reports.
Author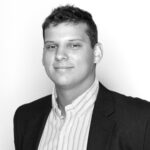 Ben Swanger is the managing editor for D CEO, the business title for D Magazine. Ben manages the Dallas 500, monthly…