Commercial real estate veteran Diane Butler sold her regional valuation company, Butler Burgher, bought it back for pennies on the dollar, then sold it again six years later for 150 percent more than the original sale price. When it comes to making deals, and when it comes to working her way around the golf course, Butler is savvy.
Old American Golf Club in The Colony played host to the Ascendant LPGA benefiting Volunteers of America Pro-Am experience where Butler—the former national president of CREW (Commercial Real Estate Women Network)—and I put our skills to the test. For the front 9, our scramble team of four amateurs was paired up with LPGA pro Maude-Aimee Leblanc. Butler stepped right up, with the sun rising behind the tee box, and striped her drive right down the middle of the fairway. My drive found the right rough but was position A about 80 yards from the pin.
Our approach shot landed us within six feet, and we knocked in our first birdie of the day to go to 1-under through one hole. Walking over the bridge on our way to the second tee box, Butler and I talked about the experience of selling her company.
"In 2005, we received an unsolicited offer from a Fortune 500 firm to buy our company, completely out of the blue," Butler remembers. But she and her team were not prepared to sell, yet. "So, we just realized that we had something unique that the market wanted and we put a bunch of new processes in place.
We carded another birdie on the 539-yard par 5. After three straight pars, our scramble team locked in for the final four holes of the front nine.
Butler's swing is loose. It's smooth. It's short and simple. It's everything a golfer wants in a swing—and by golfer, I mean me. She has teed it up with legends like Kathy Whitworth, who witnessed Butler break 80 for the first time, and Sugar Ray Leonard, in honor of the 25th anniversary of The Real Estate Council's Fight Night.
A year after LandAmerica acquired Butler Burgher, the financial crisis wrecked LandAmerica's core business in the residential and commercial title industry, and because Butler Burgher was operating as a subsidiary, Butler and her team were left to navigate the turbulence. "I didn't know what to do," she says. "I felt a personal responsibility to take care of the people in our business and our clients."
As a result of the financial crash, LandAmerica went bankrupt at the start of 2009. In May of that same year, Butler bought Butler Burgher back at a fraction of what LandAmerica had paid for it. "It took me a while to figure out if I wanted to do this all again," Butler says. "But being able to buy it back for pennies on the dollar was so fortunate."
She thought about relaunching the company under a new name: Alliance Advisors. But they thought better of it. "We had to go back to a name the market knew and respected," Butler says. So, she went with Butler Burgher Group.
The sixth hole was a 496-yard par 5. A great tee shot set us up and our approach landed us close enough for an easy up-and-down birdie to get to 3-under. On the seventh, we went to 4-under. And on the eighth, we climbed to 5-under.
By 2013, Butler Burgher Group quadrupled its business, upped its employee count from 62 to 200, had 25 offices nationwide, and became known as the fastest-growing independent commercial real estate valuation and consulting firm in the nation.
Two years later, another buyer emerged: private equity firm Silver Oak. The Illinois based firm, which has more than $1.1 billion assets under management, invests in companies that generate between $15 million and $150 million in revenue. It payed 150 percent more than LandAmerica did to acquire the Butler Burgher Group.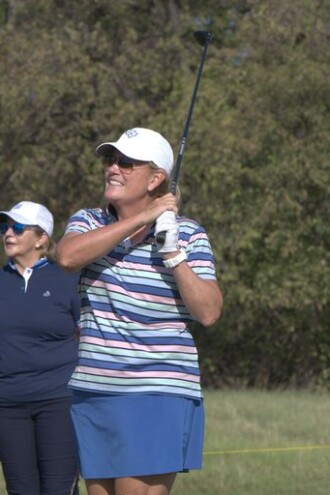 We finished the front nine with another birdie to log 6-under at the turn. Our team was locked in, and I asked Butler about her most memorable rounds.
"I've shot 72 a few times," she says. "I just get into this zone that is impenetrable. My putting can catch fire, my chipping is spot on, and there are days where I just don't hit any bad shots."
For the back nine, we played alongside LPGA Tour winner Nanna Koerstz Madsen, who shot a 1-under for the tournament weekend, placing T39th. Our scramble team started the back half with two consecutive pars.
Butler tries to bring the same approach to golf as she brings to leadership: Consistency. But in 1998, her toughest challenge ripped through her work, her leadership, and her entire life.
"I was diagnosed with stage-three breast cancer," she says. "But I just tried to approach it like any other challenge in life, but it was definitely daunting. I'm a very competitive person and I was determined to beat it. I had to stay resilient and even through it all, I worked everyday for our employees to try make them feel at ease and unworried about my situation. I had to let them know, I was going to stick around."
On the 12th and 13th holes, we managed two straight birdies on a 394-yard par 4 and 551-yard par 5.
These days, Butler is working as a development and investment consultant. Most recently she helped Wilks Development land the development for the mixed-use Firefly Park coming to Frisco, which primarily develops projects in West Texas. Next up, she is working on a yet-to-be-announced mixed-use development in McKinney.
Butler has stayed busy, even while mulling retirement. "I just love real estate so much," she says as we walk down the left side of the lush fairway on 14. "I know I can only play so much golf in retirement and I just know I am going to miss the people and the industry way too much."
In January 2021, Butler's former baby BBG sold to Incline Investment Partners, a private equity firm based in Pittsburgh, Pennsylvania, which invests in companies that have up to $450 million of enterprise value. Butler is still applauding from a distance; the company's current CEO, Chris Roach, is someone she recruited right out of college from Texas Tech.
I'm determined to get the LPGA up to the same standard as the PGA. It is just ridiculous that women make 10 percent of what the men make. We have to grow it to a better place.

Diane Butler
Butler is also hands-on with the LPGA. She helped moved the Ascendant from Las Colinas to Old American—a course developed by DFW real estate savant Jack Matthews—and is working to decrease the gender pay gap. "I'm determined to get the LPGA up to the same standard as the PGA," she says. "It is just ridiculous that women make 10 percent of what the men make, and that is why I'm so passionate about uplifting the LPGA. We have to grow it to a better place. Women's tennis did it, women's soccer is doing it, so women's golf has a high ceiling."
From the 14th to 18th hole, we alternated pars and birdies to card a 10-under, 61, for the day. Not too shabby, in my opinion, but Butler has certainly been a part of better scramble scores.
In a couple of years, Butler plans to spend much of her time in the golf mecca of Palm Springs, where she's currently building a home. But, for now, she still sees plenty of opportunities in the Dallas real estate market.
"Interest rates have put a brake on things, but even still, North Texas is poised to continue growing because of all the demand generators that are here due to corporate relocations," Butler says. "With the continued migration, I'd say I'm pretty bullish."
Get the D CEO Newsletter
Stay up to speed on DFW's fast-moving business community with weekly news reports, interviews, and insights.
Author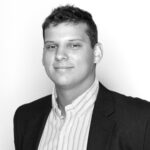 Ben Swanger is the managing editor for D CEO, the business title for D Magazine. Ben manages the Dallas 500, monthly…