The Downtown Dallas office market is on the verge of a huge transformation. What was once the center of business for Dallas in the 1980s, with a 16% vacancy in its heyday, has slowly eroded throughout the 1990s and early 2000s as newer developments in Uptown brought ample parking and a vibrant restaurant scene that catered to the young professionals who worked in the Dallas market. Dallas likes new, as it is often said, and Uptown has been offering up a seemingly never-ending supply of new options for close to 30 years. Native Dallasites have all but written off the Downtown core as a premier office destination, citing challenges like limited parking, public safety, and a lack of desirable amenities.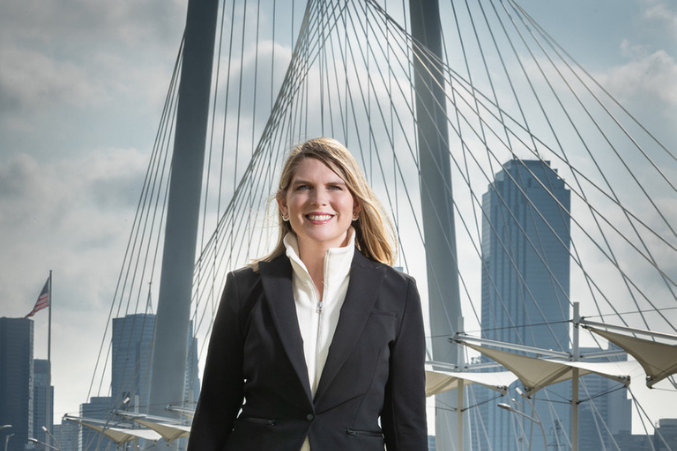 So, it may seem strange to some to hear that I believe that Downtown Dallas is on the verge of a transformation, and there are three critical indicators that are historical predictors of the future health of an office submarket: Residents, Recreation, and Rents. The investment in our downtown core over the past decade has supported healthy growth in all of these categories, and if you haven't been downtown in a while, you might be surprised at everything that is happening. 
Residents
Twenty years ago, Downtown Dallas had only 200 residents, which meant that at 5 p.m., the city center emptied out, and it became a bit of a ghost town. Today, we have more than 15,000 residents living in the city center, which is bordered by Klyde Warren Park to the north and I-30 to the south.  This growing residential population means that a larger number of people who work downtown have the option to walk to work than ever before. The growth of the downtown residential population continues to fuel increased demand for new multifamily options, which currently sits at around 10% vacancy.
To meet the demand for more multifamily rentals, many downtown office building owners are getting creative, and we are beginning to see a trend of conversion from office space to multifamily to solve for some of the large blocks of office space that have been lingering for years. Speed to market is critical when you have a supply and demand imbalance, and conversions are less costly and faster than new construction. Over the past 24 months, we've seen an increase of 23% in the total number of units, while absorption continues to outpace deliveries, with vacancy falling from 17% to 10% over the same period.
Recreation
With the exponential growth in the downtown resident population, we are also seeing an increasing demand for recreational spaces. Restaurants, entertainment, and outdoor spaces make up the bulk of this demand, and over the past 24 months, we've seen the addition of more than 10 acres of new parks in the city center, with the largest being the 6-acre Carpenter Park that opened earlier this year and taking the total green space in downtown from 52 acres to 87 acres.
In addition to park and green space, the brand-new AT&T Discovery District opened in 2021 and quickly became one of the most visited destinations in Dallas, with more than 2 million visitors last year. More than a dozen dining options opened within the Discovery District, which serves the thousands of daytime office workers, hotel guests, and downtown residents from morning to night, seven days a week.
Ask any commercial real estate professional what the number one requested amenity is today, and they'll tell you it is outdoor space. Downtown's abundance of park space, more than 200 restaurants, and an average walk score of 97, make it the most walkable destination in the city.
Rents
It is no secret that office rental rates have been on a steady climb for more than a decade across the city. Uptown has long been considered the preferred office submarket because of its proximity to the Park Cities and the seemingly never-ending supply of new construction. Throughout the 90s and early 2000s, rental rates remained steady and only slightly higher than the rates one might pay at an iconic downtown office tower, which cannibalized the downtown tenant base in favor of newer office buildings in Uptown. When the rent delta was only 20% higher in Uptown, it was an easy decision for businesses to choose new construction with plenty of parking and a growing resident population.
Today, choosing to office in Uptown means you are paying, on average, a premium of nearly 200% compared to average Class A rent Downtown, and most companies are looking to reduce the size of their footprint to help offset that cost. And with a constricted supply of multi-family options, many of the targeted demographic of young professionals have begun to seek new housing options in areas with access to more public outdoor space and a thriving restaurant scene.  Downtown delivers on this in spades. 
Outlook
Due to these indicators, there is a growing interest in downtown office space, and with the success of many repositioned office buildings in Downtown Dallas, other building owners are looking to capitalize on this trend as well. With the conversion of several large blocks of vacant office space to multifamily, we'll see an immediate adjustment to the overall downtown vacancy, and the growing demand will likely bring this market back to market stabilization quickly.  For savvy business owners and corporate real estate decision-makers, downtown Dallas is on the precipice of an inflection point that will reclaim its position as the center of gravity for the entire metroplex.
---
Sara Terry is an executive vice president and director for the office agency leasing group at Colliers Dallas-Fort Worth.
Get the D CEO Real Estate Newsletter
Get weekly updates on breaking commercial real estate news and relevant industry reports.