Think back to Spring 2020. Your offices and workspaces were empty, desks collecting dust. Face-to-face meetings turned into boxes on a screen. Everything was shut down – office or elsewhere – and we were in virtual isolation. In those moments of stillness, (or let's be honest, boredom) stuck in the house, where were the places you missed the most? Maybe you had to miss seeing your favorite artist in concert. Maybe a wedding that had to be postponed. Or maybe you were waiting for the day you could sit down in a restaurant or bar again. Regardless, it's safe to guess that the office was probably not very high on that list.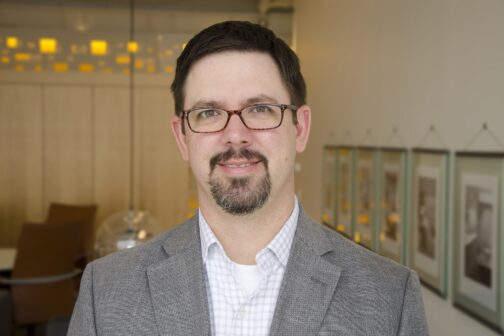 But, why? What was missing from the workplace that lacked the allure those other places have? Or a better question could be: what do all those places have in common? The answer is the same for both—an element of hospitality.
I work as a part of a multidisciplinary team of workplace consultants, interior designers, architects, and brand experience creators — specializing in workplace solutions. We operate under the ideal that the workplace must be a compelling human experience as well as a headquarters for community and culture with an essence of hospitality. This paragon of thinking is more relevant than ever before. Humans crave meaningful experiences and the hospitality industry is a direct result of that longing.
In society, there are shifts in certain facets of culture that cycle back and forth from mere commodities to experiences. The experience of going shopping versus the commodity of online browsing. The experience of going to a restaurant versus the commodity of take-out or delivery. The experience of a wedding versus the commodity of a marriage license, and so on. Now we are at the precipice of something new—the experience of the workplace, rather than the commodity of sheer productivity.
We entered our recent engagement with Blackhawk Network with the intent of capturing the essence of hospitality and applying it to their new office in Dallas. The space was a blank canvas of possibilities to curate a holistic experience of work for their team. They wanted to use the office in a nontraditional way and transition away from individuals owning their workspace as they (like most companies) are now operating in a hybrid environment and need to prioritize collaborative and client entertainment spaces.
What better place to gather inspiration than from the hospitality industry which has seemed to crack the code of how to cultivate captivating settings that foster memorable moments. If we consider the elements of hospitality, it can be boiled down to this: user satisfaction is reciprocally reinforced by confirmation bias. User satisfaction involves the psychological impact our environment has on the feeling of well-being or gratification that results from obtaining what one expects or hopes for from a setting. If the design of a place is aesthetically pleasing, you're more likely to assume the level of service will reflect that. The root of hospitality stems from user experience, and there is a noticeable difference in spaces that make you feel both welcome and at home.
For Blackhawk Network, we tapped into the psychology and best practices of the hospitality industry to ensure the new office reflects the allure and experience of where people want to be.
For the new conference room, we created a seamless experience for employees and visitors by utilizing the hospitality industry's concept of "back of house" structure to keep the "front of house" professional and on-brand.
Throughout the office space, we prioritized adding sightlines toward natural lighting, visible from every workspace in the office. Intentional sightlines are a staple for the hospitality sector as it allows a space to feel "full" even if it is not at capacity. The idea is to avoid the potential empty feeling of open offices since in the hybrid world of flexible schedules, most offices won't reach maximum capacity on a daily basis.
Smaller conversational areas, such as one would see in a hotel lobby, evoke a feeling of personal space while being tied into the larger environment. We conjure this cozy atmosphere feeling by designing workspace "nooks."
After years of being remote, for many, the office is not nearly as appealing as it used to be. For workplace designers, the present challenge is creating a new wave of offices that draw people in, that facilitate collaboration and creativity, so the office will be a magnet, not a mandate. For workplaces to thrive, the key to that challenge is having a hospitality design mindset.
Marc Bellamy is a partner and principal with PDR, who leads the Dallas office and has 20 years of experience in interiors, base building design and real estate development.
Get the D CEO Real Estate Newsletter
Get weekly updates on breaking commercial real estate news and relevant industry reports.
Author