Dallas-based Hoque Global announced its newest property under development: the 270-acre University Hills project near the intersection of I-20 and Lancaster Road, and only a short drive from The University of North Texas at Dallas.
Collectively with the city of Dallas and other community stakeholders, Hoque Global plans to transform the undeveloped land into a large-scale mixed-use community. Surrounding a large town center, University Hills plans hundreds of single-family homes, 1,500 multifamily units, millions of square feet of commercial space, and more than 50 acres of green space.
According to a release, Hoque Global makes it a point to place a special focus on investing and developing in projects that benefit underserved communities. In adhering to this mission, this newest development plan in southern Dallas would not only be one of the first in the area, but also has the potential to encourage future growth, says Mike Hoque, CEO of Hoque Global.
"A large scale, mixed-use, multi-phase development in this location will re-write perceptions of investing in and moving to Southern Dallas," Hoque said. "We hope University Hills will be the first of many community-driven and neighborhood-building developments bringing much-needed quality jobs and housing for the area to grow."
Molson Coors Groundbreaking in Fort Worth
Molson Coors Beverage Company broke ground on its newest variety packing warehouse in Fort Worth. With a completion date set for later this year, the $65 million project includes an approximately 200,000-square-foot warehouse.
In addition to packaging up to six flavors in 12 or 24-pack configurations, the new warehouse's variety pack system can repack up to 1.5 million barrels annually, according to the announcement. Coupled with its ability to eliminate Fort Worth Brewery's third-party vendors for final pack assembly, Molson Coors expects faster time to market and lower shipping costs as a result of the development.
Among Molson Coors' motivations for the new investment are prospective capability growth for the Fort Worth Brewery, improved efficiency, and an expanded portfolio through an increase of their in-house hard seltzer production.
According to Jim Crawford, vice president, and plant manager at Molson Coors: "This expansion truly represents the next step toward strengthening our in-house hard seltzer capabilities, as its one of many recent investments we made at Fort Worth aimed at growing our above premium portfolio and transforming the company's offerings to meet consumers' changing preferences."
Majestic Realty Expanding at Fort Worth South Business Park
In the next 14 months, Majestic Realty plans to deliver 2.3 million square feet of manufacturing, warehouse, and distribution space to Fort Worth's west and south markets, as part of its newest project, Majestic Silver Creek Business Park, as well as its ongoing growth and large-scale development projects at Majestic Fort Worth South Business Park.
The newest 520-acre Majestic Silver Creek Business Park is located west of Loop 820 at Silver Creek Road. As the first major development in the area, the company's senior vice president, Kyle Valley described it as a "monster project to the west that signifies the true opening of a new submarket."
"At a time when some are choosing to pump the brakes a bit, we're going full throttle," said Valley.
At full build-out, Majestic Silver Creek Business Park will hold 6.5 million square feet, and construction has already begun. Phase I will see the speculative construction of a 1.1 million-square-foot building—the first and largest of the new park—which is set to be completed by mid-2023. Furthermore, preparations have begun for a neighboring 732,284-square-foot building.
"Our long-term vision and steadfast commitment to west Fort Worth is coming to fruition as we pioneer this new submarket," said Valley. "We look forward to working alongside the Chamber as partners to continue to make the City of Fort Worth a desirable place to grow your business."
Additionally, Majestic Realty sees continued growth at its Fort Worth South Business Park. Majestic Fort Worth South continues to expand with plans to deliver two more Phase I buildings in July and has begun construction on Phase II of the 320-acre business park: the first of five buildings is expected to deliver in the second quarter of 2023.
N5B Capital Headquarters Relocating to Granite Place II Southlake Town Square
N5B Capital has joined real estate investment, development, and management company Granite Properties as its joint venture equity partner at the newest major development Granite Place II. According to a release, N5B Capital will also be relocating its headquarters to the building.
"We are extremely excited to be partnering with Granite Properties on this transaction," said Mark Jones, managing director and chief executive officer of N5B Capital. "Southlake Town Square will provide an amenity-rich environment for the tenants of Granite Place II, adding much needed commercial real estate capacity to Southlake, TX. We are delighted to locate our headquarters in Granite Place II."
Adding to Granite Properties' 11 million square feet of high-quality office space across the nation, this newest project will sit adjacent to Granite Place I and according to Will Hendrickson, Granite Properties' senior managing director, the location's success is clear: "Granite Place II has already generated a lot of interest from companies drawn to Southlake," and, he says, "Granite Place I has been in incredibly high demand and is currently 100% leased."
With completion expected in March 2023, Granite Place II will be located at Southlake Town Square in the heart of Southlake, Texas at 601 State Street. The 5-story, Class-AA, 143,500-square-foot office building is planned to boast various modern amenities such as outdoor work and meeting space, a fitness center, quick food services, and a corporate living room.
"We're happy to have the opportunity to partner with N5B Capital and provide them with their new headquarters. We look forward to working together to deliver this high-quality office environment in Southlake," said Henrickson.
Four New Dining and Retail Concepts Coming to Parkside at Alliance Town Center
As part of AllianceTexas' 900-acre mixed-use development Alliance Town Center, the 30,000-square-foot food and entertainment destination, Parkside at Alliance Center is currently undergoing the development of four new dining and retail concepts: Torchy's Tacos, CAVA, Black Rifle Coffee Company, and Dash Nail Spa.
"Parkside at Alliance Town Center continues to be a destination for the region and I'm excited to welcome some new additions to serve our growing community," said Mark Miller, senior vice president of retail development at Hillwood. "Torchy's, CAVA, Black Rifle and Dash Nail Spa diversify our existing retail, restaurant, and entertainment options, promoting strong community engagement and building upon Alliance Town Center's vibrant atmosphere."
Planned to open in early 2023, the four new additions will be located to the east of Hillwood Parkway on 14 acres just north of Heritage Trace and adjacent to Bluestem Park. These newest extensions will join Parkside's already expansive list of dining options and retail. Following these additions, Parkside at Alliance Town Center is nearly at full capacity with less than 3,000 square feet of retail space remaining.
Three Additional Tenants Will Arrive at The Star District by Fall 2022
In partnership with the City of Frisco, Frisco ISD, and the Dallas Cowboys, The Star development is a 91-acre campus home to the Dallas Cowboys World Headquarters and training facility. At the heart of it sits The Star District, a rapidly growing dining, shopping, and entertainment district.
This week, The Star District has announced plans to welcome three new tenants to its Frisco, Texas base. Two new retailers and a dining option will join in this year's additions and are set to be moved in by fall of this year.
This summer and fall, The Star District will welcome Tricky Fish, a fast-casual southern seafood eatery; Monkee's of Frisco, a women's boutique featuring a variety of notable shoe, clothing, and accessory brands; as well as the Shreve Fine Art Gallery, which is set to showcase the work of Dallas area international award-winning professional artist Robert Shreve, who specializes in fine art landscape photography.
Over the past year, from July 2021 to June 2022, The Star District has leased more than 55,000 square feet of space to North-Texas based tenants. This year alone, in conjunction with the three newest retail tenants and five previously announced tenants last December, a total of eight new additions have been announced.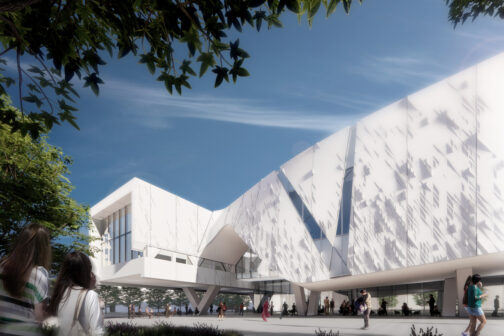 Morphosis-Designed University Cultural District Coming to UT Dallas
A major expansion for the University of Texas at Dallas' art program will be coming to Dallas in 2025: the new Edith and Peter O'Donnel Jr. Athenaeum, a 12-acre cultural district.
Los Angeles-based architecture firm Morphosis was selected for the design of the 3-building Athenaeum. The leader in sustainable design, Buro Happold has been tapped for the mechanical, electrical, and plumbing engineering of the project as well as LEED and sustainability consulting.
Known for work such as the Perot Museum, Morphosis' master plan for the Athenaeum includes a performance hall, a museum for the traditional arts of the Americas, a new parking structure, a central plaza in the heart of the project, and a second location of the Crow Museum of Asian Arts.
Thanks to a $32 million gift from the O'Donnell Foundation, groundbreaking began on the project in mid-May and Morphosis has, "created a cohesive vision and masterplan for the Athenæum, where architecture and landscape combine to form a dynamic new district with a distinct identity that establishes UT Dallas as a cultural hub," according to UT Dallas. "The heart of the project is defined by a two-acre plaza, flanked by new buildings on the east and west sides, that will feature landscaped gardens, tree-lined walkways, paved open spaces with benches and water features, an amphitheater, and contemporary sculpture from the Crow Museum's collection."
UT Dallas prides itself on prioritizing the role that the arts play in enhancing the University's academic experience, according to UT Dallas President Richard C. Benson. "To ensure that UT Dallas develops versatile individuals, we must integrate the arts fully into our vision and the experience of our students," he said.
And this new cultural district will be a sure destination for promoting involvement in the arts for students, faculty, and the Dallas community, as well as serving as "a new gateway to the university," according to UT Dallas.
Get the D CEO Newsletter
Stay up to speed on DFW's fast-moving business community with weekly news reports, interviews, and insights.
Author