The Turtle Creek neighborhood is seeing a spark of new development, including a 240-room Four Seasons Turtle Creek high-rise by Carpenter & Co. It will include as many as 120 luxury condominiums on the upper floors, as well as 100,000 square feet of office space, which will be co-developed by Hillwood.
The land, on Turtle Creek Boulevard between Cedar Springs Road and Dickason Avenue, is owned by Hillwood Chairman Ross Perot Jr. and his sisters, who will be investors in the new project. About five years ago, Hillwood opened a spectacular 180,000-square-foot headquarters across the boulevard.
Ongoing growth and activity in the corridor have amplified the importance of the Turtle Creek Association, which was founded in 1984 to preserve, protect, and enhance the natural beauty of the creek. It's led by president and CEO J.D. Trueblood.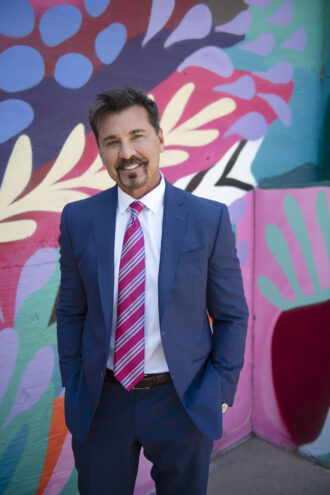 D CEO recently sat down with Trueblood to talk about the association's master plans for the corridor, including ongoing dredging efforts to keep pollutants out of the water and a recently completed mural project by local artist Lauren Lewchuk. The efforts aim is to beautify the neighborhood so residents—and incoming businesses—can better enjoy the joyful energy of the neighborhood.
D CEO: For those who are not familiar with the TCA, what is your organization's mission?
J.D. TRUEBLOOD: "The Turtle Creek Association was founded in the mid-1980s by residents who were concerned for the area. They organized a nonprofit to partner with the city's Park and Rec department. As an example of our partnership, we just redid all the azalea beds. The Turtle Creek Association paid for the flowers and plant materials, but the City of Dallas provided the labor. It truly is a partnership for the betterment of the Turtle Creek corridor."
D CEO: How did you personally become involved with the association?
TRUEBLOOD: "I joined in 2019. I had retired from State Farm, and one of the association's board members is a friend of mine. She and I were having dinner one night and she asked if I'd come on board to inject some new life into the organization. I love nature. I love this area. I have a lot of passion for Turtle Creek. So, obviously, I jumped on board and asked what I could do to help."
D CEO: In terms of geographic area, what is considered part of the Turtle Creek corridor?
TRUEBLOOD: "The Turtle Creek corridor is 90 acres bounded by Avondale Avenue to the north and Maple Avenue to the south. Oak Lawn Avenue is our west border, and then there is the Katy Trail to the east. There are wonderful acres of forests and, of course, Turtle Creek runs through it."
D CEO: How have you seen the Turtle Creek corridor evolve in the past 10 years?
TRUEBLOOD: "What we're seeing is a blending of both commercial and residential growth. There are two new towers proposed on the corner of Maple Avenue and Turtle Creek Boulevard, and what you're seeing are condos built on top of retail. How do you keep your residents satisfied? How do you keep the area attractive for businesses to want to establish a presence? How do you mesh all of this together to be a cohesive neighborhood with a sense of place? That's been the focus of the Turtle Creek Association for at least the last three years."
D CEO: Can you talk about the current Turtle Creek cleanup initiatives and why they're so important?
TRUEBLOOD: "When I became CEO, I challenged the organization to take a deep dive to preserve and protect the corridor. We have always done a great job of putting on home tours and planting beautiful flowers in the medians—but what were we doing to protect the creek from pollutants? The board 100 percent said, 'We've got to be doing more as an organization.'
"And so, we created a master plan—I call it the three-legged stool—on the things we'd address as an organization. We're going to help with creek; that's our No. 1 priority. Addressing urban decay is No. 2. And finally, we'd love to see the corridor become its own destination within the city."
D CEO:  Tell me more about this master plan.
TRUEBLOOD: "We had a master plan that was completed in 2003, and it needed to be updated. It was very aspirational and was going to cost about $50 million. We updated the plan to be more realistic to focus on what we can truly accomplish in five years. I'm very excited to share with you that the Lyda Hill Philanthropies has fully funded the update of that plan, which includes having engineers come in and analyze the creek to help us identify the areas that need bank stabilization.
"People forget that Turtle Creek is a flood reservoir. When we get a lot of rain, rubbish from U.S. 75 is washed into the creek. So, we act as the voice to the city to ensure we are maintaining beautiful parks in the neighborhood. More than that, we want to make sure that we continue to be the voice of the residents who live here. And we want to be the voice for businesses that choose to make Turtle Creek its home, too."
D CEO: Can you talk about the recently completed art installations that the association is adding?
TRUEBLOOD: "It is a mural project under the Lemmon Avenue bridge. It was graffiti-filled. There wasn't a lot of lighting. And, frankly, a lot of people were afraid to go under there. So, our goal as an organization was to help people use the walkway. We commissioned Fort Worth artist Lauren Lewchuk to do a bright and energetic design to capture the vitality of the area. I was at the site last weekend and there was a mother with two daughters walking by, and she told me how already she feels safe to come down there because the mural is bright and happy. Both her daughters wanted to see what had been painted."
D CEO: If people are interested, how can they get involved with the Turtle Creek Association?
TRUEBLOOD: "We are a membership-based nonprofit, and we are always looking for input and help with our mission to create a more highly engaged neighborhood. It's easy to join—there's information on our website.
"I'm excited about the buzz going on in the Turtle Creek corridor. In the last year, our membership grew 60 percent, and our donations increased 52 percent during the pandemic. People are recognizing that this area is about to explode, and they want to be engaged and have a place at the table. We're giving them that vehicle through the TCA."
Get the D CEO Real Estate Newsletter
Get weekly updates on breaking commercial real estate news and relevant industry reports.
Author
Brandon J. Call is the executive editor for D CEO magazine. An award-winning business and data journalist, Call previously served…