A new lease has been announced by Harwood International at its newest office tower, Harwood No. 14. Expanding its office footprint, O'Melveny & Myers, an international law firm, has signed a lease to triple its office space.
Set to occupy 75,000 square feet, O'Melveny will be joining Haynes and Boone and S2 Capital in Harwood International's tallest tower, in the heart of the 19-city block Harwood District.
"We go where our clients need us, and right now, that is Texas," said Teresa Doremus, the managing director of global operations and real estate at O'Melveny & Myers LLP. "We are confident that Harwood No. 14 will be the perfect fit for our lawyers and staff as we continue to grow in Dallas."
Despite breaking ground just over a year ago, the 27-story Harwood No. 14 tower is now approximately 70 percent pre-leased ahead of its completion in 2023, according to a release. And, Harwood International continues its growth trend in 2022 with more than 122,000 square feet of leases signed since the start of the year.
Accrediting this success to high-quality customer service and prime location, Kelly Whaley of Harwood International said: "We pride ourselves on an over 90 percent tenant retention rate due to our ability to provide room for growth and our exceptional level of service."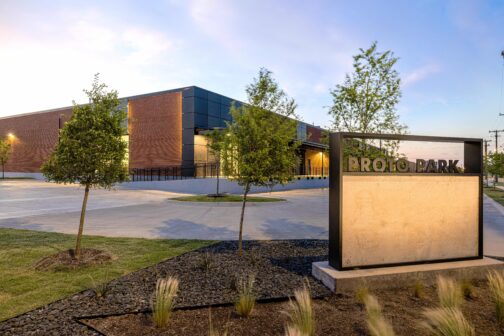 Construction Begins on PROTO Park
North Texas-based real estate investment and development company M2G Ventures announced the start of construction on two of its tenants, Dynasty Spirits and Taxila Stone, at its urban industrial redevelopment, PROTO Park. In total, these tenants account for 136,020 square feet of distribution and showroom space out of the 250,000-square-foot building.
PROTO Park is located at 3200 Irving Blvd. in Dallas.
"We are thrilled that Dynasty Spirits and Taxila Stone have chosen PROTO Park to be their major distribution and production facilities," said Jessica Miller Essl, co-founder of M2G Ventures. "Their discerning focus on design and desire to be in a centrally located urban facility with high design and modern amenities made them an ideal fit for the project."
Downtown High-Rise, Ross Tower, Is the New Home to Four Law Firms in Dallas
Four law firms including Godwin Bowman, Kessler Collins, McGinnis Lochridge, and Steptoe & Johnson have signed office leases at Ross Tower, located at 500 N. Akard Street.
The firms are set to occupy nearly 60,000 square feet of the downtown high-rise across four floors, according to an announcement from HPI Real Estate Services & Investments. The landlord was represented by HPI Real Estate Services & Investments' Dallas Partner Hunter Lee, Vice President Ben Cuzen, and Leasing Agent Luke Aviles in lease negotiations for each deal.
McGinnis Lochridge LLP signed on to expand its current space in Ross Tower, doubling its space on the 22nd floor to more than 7,000 square feet. Meanwhile, Kessler Collins, Godwin Bowman, and Steptoe & Johnson PLLC will be relocating or opening new office spaces in the Tower.
"We are thrilled to be in our new suite in Ross Tower," said Elizabeth Cromwell, managing member at Steptoe & Johnson PLLC. "The location, amenities, and modern aesthetic of our space will be a wonderful way to welcome clients to our Dallas office."
Jackson-Shaw Announces Development of Two New Urban Industrial Parks in Houston
Jackson-Shaw, a national real estate development company with headquarters in North Texas, has announced the development of two new urban industrial parks in Houston.
The 43-acre Post Oak Logistics Park in Houston's southwest submarket was the first of these to be announced. It is located near the south side of U.S Highway 90 Alternate, slightly west of the intersection of South Post Oak Boulevard. Set to boast two buildings totaling 536,992 square feet, completion is expected mid-2023, according to the release.
In Houston's northeast submarket, the development of the Northeast Crossing urban industrial park has also recently been announced by Jackson-Shaw. With completion also expected mid-2023, the urban park will include one 424,404-square-foot building on a total of 27.45 acres.
Dental Company Expands Headquarters Footprint in North Dallas
Dallas-based DECA Dental Group has signed an 18,730-square-foot lease at Park Central 7 in North Dallas. Facilitated by Cushman & Wakefield, DECA Dental Group continues to expand its footprint in North Dallas with the lease.
DECA Dental Group's headquarters were previously located in Park Central 8. After relocation, the operation will now be anchored at the intersection of US-75 and LBJ Freeway.
Representing the tenant in lease negotiations was Ryan Hoopes of Cushman & Wakefield. Blake Shipley and Ahnie Sheehy of JLL represented the landlord.
H-E-B's Fourth DFW Location in Allen
H-E-B continues its expansion into North Texas with construction officially underway at a new store site in Allen. Located at the northwest corner of Exchange Parkway and Greenville Avenue, the new store will open in late summer 2023. The store marks the growing presence of H-E-B in the Dallas-Fort Worth metro as its fourth location in the area, following announced locations in Plano and Frisco (opening later this year) and McKinney (opening in 2023).
"We have been welcomed with open arms into the Collin County community," said Juan-Carlos Rück, H-E-B's executive vice president, Northwest Food/Drug Division. "We're excited to become neighbors in another dynamic and growing North Texas city. We look forward to providing an outstanding shopping experience in Allen with the best H-E-B has to offer."
The 117,000 square-foot store will include H-E-B Curbside Home and Delivery services, a True Texas BBQ restaurant, a full-service H-E-B pharmacy, and—most notably—a H-E-B Wellness Primary Care clinic.
Bringing a coordinated approach to healthcare, the H-E-B Wellness Primary Care clinic will offer full-service primary care, physical therapy, nutrition coaching, clinical pharmacists, and more. The newest Allen location will be the first H-E-B in North Dallas to include the clinic.
Retail Roundup
Massage Therapy Spa signed a 1,156-square-foot lease at 111 E. University Drive in Denton. David Zoller with Weitzman handled lease negotiations for the landlord.
Hand & Stone Massage and Facial Spa leased 3,080 square feet of retail space in The Plaza at Rockwall, located at 995 E. Interstate-30 in Rockwall. Gretchen Miller and Stephen Wise with Weitzman handled negotiations for the shopping center. Silver Oak Commercial Realty represented the tenant.
Pure Hockey signed a lease for 7,087 square feet of retail space in Gateway Plaza (2956 E. Southlake Blvd.) in Southlake. David Levinson and Thad Beckner of The Retail Connection represented the landlord in the transaction. Bryson Battle of Quoin Commercial represented the tenant.
Texas Health Breeze Urgent Care leased 4,000 square feet of space in the Pleasant Run shopping center in Cedar Hill. David Levinson and Thad Beckner of The Retail Connection represented Kite Realty, the landlord, in the transaction. Rob Franks of JLL represented the tenant.
Batteries Plus will occupy 1,930 square feet of retail space in the Denton Crossing shopping center, located at 1732 Loop 288 in Denton. David Levinson and Thad Beckner of The Retail Connection represented Kite Realty, the landlord, and the tenant in the transaction.
Resort Nail and Spa has leased 3,000 square feet at the Shops at Debbie Lane in Arlington. Chris Flesner and Brian Sladek of RESOLUT RE represented the landlord. Rose Meza of JLL represented the tenant.
Get the D CEO Real Estate Newsletter
Get weekly updates on breaking commercial real estate news and relevant industry reports.