Ever wonder if a little morning rush hour traffic on the Dallas North Tollway traffic could spark joy? Well, it can if your life's work revolves around people actually using their workplaces. Double that joy if your spouse also happens to make his living in the commercial real estate business. I am sure those of us in DFW have taken notice, the traffic has picked up—a byproduct of the return to our commercial districts and the continued bold investment in the future of the office.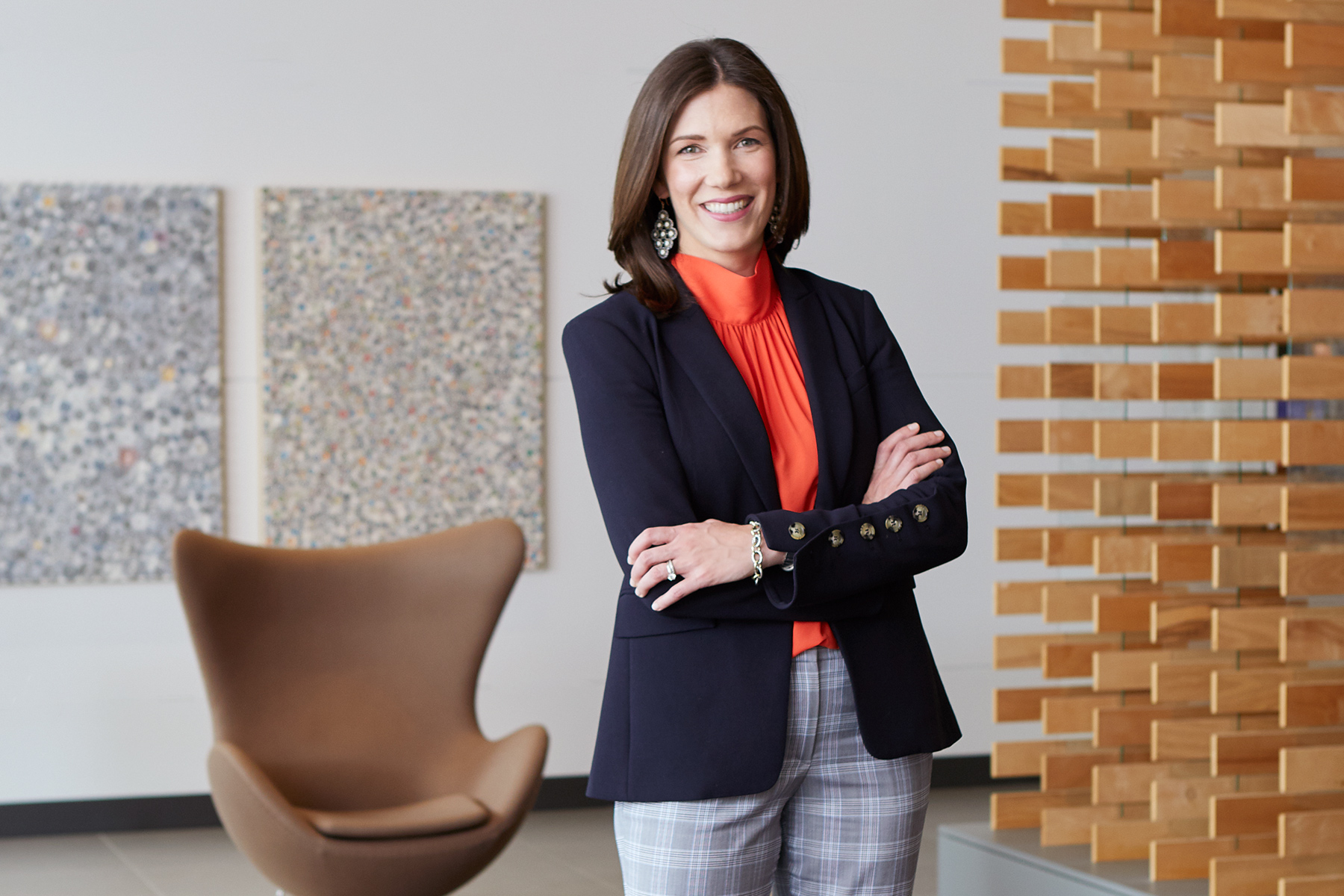 Turns out there was never going to be a national 'return to the office day' clearly denoted on the calendar. Rather, the return has been regional, gradual, and largely led by client service businesses, field-driven organizations and mid-size businesses. But it is happening, and North Texas appears to be all in—but with a fresh lens through which to view our workplaces and their impact on our organizations and employees.
Rather than focus on what's different in one particular workplace or another, I thought I would tell you about the biggest change that our teams are seeing. It isn't a 'zoom room' or new food offering (although both are proving popular), it is the level of engagement from the C-suite in workplace strategy. What do I mean by that? We are consistently seeing CEOs, Chief Human Resource Officers and Chief Marketing Officers deeply engaged in creating the vision for how their workplaces will support their employees and their business goals in the future. Don't get me wrong, CEOs have long since set the 'vision' for the workplace, but then traditionally left that vision to be executed by a core project team. Recently, though, some of the biggest names in North Texas business are rolling up their sleeves alongside their HR counterparts to reimagine the office experience with culture and employees in mind. The result? Something that gets me even more excited than traffic—workplaces that meet the moment and the unique needs of an organization and that are only possible through more thoughtful engagement, connection to the workforce, and openness to change.
Here are the top three things CEOs and CHROs are thinking about and that you should too:
Determine the role of your office
"We want our employees to want to be here." That is the most common refrain I hear from executive leaders right now. Think about that. In that statement, lies the real shift. How do we move from having to be somewhere to wanting to be somewhere? Organizations want to create places where the environment, tools, technology and amenities work together to create the kind of energy that attracts and supports people. The goal is to set the stage to inspire sustainable engagement, where people feel not only productive, but fulfilled and energized. And then, dare I say, you create a little office FOMO.
The office is more than a desk, but when you're fighting for a quiet place to work among roommates or toddlers, a quiet place to work can be pretty attractive. It's about access to the people and resources that make our work easier, faster, and even more enjoyable. And while virtual tools have helped facilitate some kinds of work, for many it can't replicate that ease and effectiveness of being in the office—that signals and primes us for work and that is uniquely and powerfully designed to facilitate our best version of it.
But the office isn't just about maximizing productivity and effectiveness. It never was. Say that again, it never was. The office is also about the after-meeting meeting, breakfast tacos and breakroom donuts (free food!!), mentorship, inside jokes, and hard conversations—it's about the people. It's about the magic that happens in the in-between. It's also where we go to find a sense of accomplishment, take a break from the long list of to-dos at home, grow our social network, and ignite that part of our brain when we come up with a good idea or solve a really tough problem. It's about how the people and culture make us feel.
Leaders are more willing to talk about not just what their culture was pre-pandemic or what it is right now but what is the vision for the future and the role of the workplace in that culture. From there, we can identify the risks to policy, place change, and how to pair design with change management communication strategies.
Define, communicate and roll-out flexible work policies
Now about where and when we work. The importance of language has never been more front and center. Perhaps the collective 'we' didn't do ourselves any favors when the word "hybrid" became a mainstream term to describe a mode of working. In our experience, hybrid work best defines a meeting or collaboration type, not a policy. We believe hybrid work defines a situation where some participants are gathered as a group in one location and other participants are joining virtually. Flexible work is what most organizations are actually trying to define and incorporate. It is critical to first set intention around the degree of flexibility in when and where people work – – before you design a place to support that policy. Along this journey, many leaders are realizing how tightly flexibility is intertwined with setting boundaries. Some organizations are finding that returning to the office can help restore some boundaries we may have lost in the past few years. It's complicated and determining the workplace flexibility policy is critical to sizing and designing the workplace to support it. Hybrid is a mode of working flexibly – – it's not really a policy.
High quality experiences
Quality is the facet of the new office conversation that has surprised me the most, and I believe when we look back will be the biggest fork in the road in DFW. This lens of quality is twofold, high-quality office spaces that support a great quality of life for employees. The concept I mentioned earlier of creating the desire to be in our workplaces – -that notion is nudging leaders to select neighborhoods, developments and buildings that are attractive to employees. The larger sense of place draws people to come to (and to stay at) the office. The proof is in the lack of availability of large blocks of premium space ready for interior construction right now. And further supported by the announcements of new building starts, like Granite's 23Springs and Stream Realty's "The Quad", with more Class AA starts ready to very quickly follow. And yes, I know, there is space available . . . we've read many articles right here about the glut of sublease and Class B space. It is sitting around for a reason: a misalignment with what many people want –vibrant, amenity-rich neighborhoods, close to where people aspire to live. There was a time that 'walkability' and 'Dallas' didn't exist in the same sentence in a positive way, and now, walkability is a defining factor of our hottest districts–big, small, time-tested, emerging, urban and suburban: Uptown, Design District, Deep Ellum, East Quarter, Legacy. All touting restaurants, multi-family, boutique fitness, and lifestyle amenities that are walkable from their developments–this is the quality that leads to the places people want to be right now.
Lindsay Wilson is the president of Corgan.
D CEO Real Estate Newsletter
Get weekly updates on breaking commercial real estate news and relevant industry reports.