Attention, Parrotheads! Jimmy Buffett's lifestyle brand Margaritaville and Tampa Bay-based developer Minto Communities USA announced this week that it is expanding into Texas with three new over-55 communities. Inspired by Buffett's famous songs, Latitude Margaritaville developments are in the works for Houston, Austin, and Dallas markets.
Industry veteran Scott Rogers will lead acquisition and development efforts in Texas. "Latitude Margaritaville has redefined how pre-and-active retirement living is viewed forever with a combination of world-class amenities and island-inspired villa, single-family and cottage homes," he said in a statement. "I am impressed by the innovative placemaking and vision of the Latitude Margaritaville brand. Locations are carefully considered and must meet specific criteria to be selected for a community, including sufficient land; a temperate climate; proximity to an airport; convenient retail and service businesses, and nearby medical offices and hospitals. Another very important factor is convenient access to outstanding leisure-time activities in the surrounding area. Dallas, Austin, and Houston definitely meet these criteria."
There are currently three Latitude Margaritaville communities in Daytona Beach and Panama City Beach, Florida, and Hilton Head, South Carolina.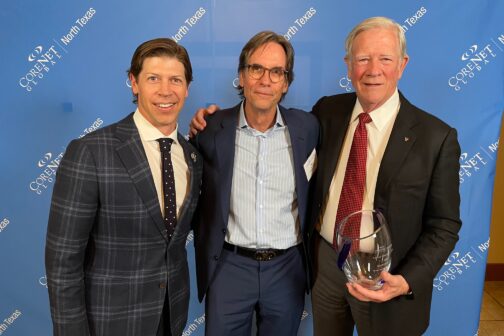 John Scovell Honored at CoreNet's 2022 BWB Awards
CoreNet Global's 2022 Black White & Blue Corporate Real Estate Awards of Excellence attracted a sold-out crowd April 7 at Union Station in Dallas. At the program, Woodbine Development Corp.'s John Scovell was presented with the Lifetime Achievement Award.
Scovell, who co-founded Woodbine in 1973 with Ray L. Hunt and currently serves as chairman, has been a driving force behind several iconic North Texas projects, including the company's first—the Reunion complex, which includes Union Station, Hyatt Regency Dallas, and Reunion Tower. After Cawley Partners CEO Bill Cawley introduced Scovell, the honoree's son, Dupree Scovell said a few words on his father's behalf before his dad gave the shortest acceptance speech in history, saying, simply: "Thanks."
Also recognized at the CoreNet event: Weir's Plaza (GFF and Four Rivers Capital), First United Bank Sherman (Gensler), April Desabrais of Cushman & Wakefield, Pegasus Park (GFF, J. Small Investments, Lyda Hill Philanthropies), Corgan, Allison Frizzo of Hart Commercial, Kimball Showroom (Perkins+Will), Makers Gym Frisco Studio (IA), Rachel Simon of AT&T Dine, Michaels Stores headquarters (Entos), American Airlines Credit Union (Corgan), and Arvind Kumar of NTT Sourcing.
CoreNet Global is a nonprofit that represents about 10,000 corporate real estate leaders in 50 countries. The North Texas chapter's current president is Jim Rainbolt-Bailey of Loftwall.
Big Deals: Pratt Industries and Samsung
North Texas continues to win large commitments from industrial mega-users. Cedar Hill's City Council recently approved an agreement with Pratt Industries to add a regional manufacturing and innovation center at Hillwood's High Point 67 on U.S. 67 south of Mount Lebanon Road. One of the biggest players in the corrugated packaging industry, which has been seeing rapid growth due to the ongoing popularity of e-commerce, will occupy 1 million square feet in the park, invest more than $200 million in equipment and improvements, and employ about 150 people. Pratt also plans to sponsor training and development programs in partnership with the city and school district. Michael Swaldi, Jonathan Carrier, and Elizabeth Jones of JLL provided tenant representation services.
In Coppell, Samsung inked a renewal for 815,850 square feet with Duke Realty at Point West 400. The developer's Matt Hyman negotiated the transaction with Mark Becker and Jay Benner of Cushman and Wakefield. Demand for industrial space has taken Duke's 23 million-square-foot portfolio to 100 percent leased. The company has a 24-acre site at Sunridge Business Park in Wilmer than can accommodate a build-to-suit of more than 450,000 square feet.
City of Richardson's New RFP
The City of Richardson and Cushman & Wakefield have issued an RFP for a master developer for an 14.47-acre site, located in the 1000 block of North Greenville Avenue, just south of Arapahoe Road and east of U.S. 75. The RFP is seeking a high-density, mixed-use project to be a major entry point for Richardson's Innovation Quarter. It is a transit-oriented development opportunity with close proximity to DART's Arapahoe station.
"The City of Richardson previously worked closely with the development community on successful transit-oriented development projects at the CityLine, Galatyn Park, Spring Valley, and UT Dallas light rail stations," said Richardson Mayor Paul Voelker in a statement. "Now we have a once-in-a-lifetime opportunity to realize our vision for Richardson's last remaining light rail station, right at the entry to our innovation district. That is why we have been thoughtfully, actively preparing the site over the past five years, working closely with property owners and nearby stakeholders while removing barriers for the development community. We cannot wait to hear from master developers who can help us fully realize our ambitions."
New Large-Scale Art Installation in Downtown Dallas
Goddard Investment Group recently unveiled its eight-story tall commissioned artwork at Fountain Place. Featuring several Dallas icons and created by renowned artist Steve Penley, the piece can be seen on the building's parking structure, viewable from Field Street in downtown Dallas.
"Like so many others, we have been an admirer of Penley's work, so when we came up with this idea for an installation, we sought him out specifically to commission this new piece," said Jim Wilson, partner at Goddard Investment Group. "We are extremely thankful to him for his talents and capturing our vision, and we can't wait for North Texans to view the art for themselves."
The 58-story Dallas landmark was designed by I.M. Pei and Harry Cobb of I.M. Pei Partners and built in 1986. A recently completed $120 million renovation updated Fountain Place's interiors to match the iconic exterior of the glass-prism building.
The redo won Goddard a 2020 D CEO Commercial Real Estate Award for Best Redevelopment. The firm was lauded for "showing great respect for the 58-story landmark while embracing the future. Signature fountains were restored, and a dramatic new two-story lobby —featuring a stunning installation of frameless glass walls—was created."
Get the D CEO Real Estate Newsletter
Get weekly updates on breaking commercial real estate news and relevant industry reports.
Author
Brandon J. Call is the executive editor for D CEO magazine. An award-winning business and data journalist, Call previously served…