After a long career in the retail division of the former Staubach Co., Lynn Dowdle, the president of Dowdle Real Estate, went off on her own in 2011 to forge a new area of specialization: hotel site selection. The pandemic's impact on the industry has proven a tough challenge, but rising from the downturn, Dowdle has a new lease on leadership. "During the last year we were all reminded that we could do hard things," she says.
Birthplace: Indianapolis, Indiana
Education: The University of Texas at Austin (BS-Early Childhood Development)
Best Advice: "'No one else knows what they're doing either.'"
Dinner Party: "I'd love to have a meal with Betsy Price. We have met briefly but I have never had the privilege of knowing her. I know she is a very strong leader, a graceful woman, and a fellow outdoors woman. I have met Ray Washburne but I'd love to sit down with him to learn more about how he sees our future. He is a man of vision."
Destinations of Choice: "Whitefish, Montana. I love nature and the beauty is beyond compare! I was also fortunate to experience Albany, The Bahamas. 600 acres of one of the world's most exclusive resort communities. World class architecture—perfection—and very private."
Dream Car: "A convertible Bentley—it has to be white with a tan interior."
Second Home: "My family has a home on Marco Island, Florida. The white sand beaches are beyond compare and the island is it's own little Pleasantville. Always peaceful, it's dear to my heart."
Proud Moment: "Making it through the pandemic. We specialize in hotel site selection so it wasn't easy.  However, it was a good reminder that this industry has it's ups and downs. Slow and steady wins the race every time."
Future Forecast: "Not knowing what is around the corner excites me. Life is full of surprises which makes it very exciting to me. I've been blessed in this life and have faith that great things are coming."
Walk-up Song: "During the pandemic I would have said Rocky's theme song. But seriously I would say 'What a Wonderful World'—because it is. Gratitude keeps us all going in the right direction."
Hobbies/Passions: "I love to shoot my shotgun and often participate in sporting clay fund raisers with a group of ladies who are a hoot and dear friends. I have been painting some—I like to use oils. Besides actual hobbies I love spending time with family. I am hopeful I will leave an imprint on my grand babies."
Local Fare: "I am a big Nick & Sam's fan. I could live on their Sushi."
A Better DFW: "I would like for Dallas to re-evaluate our parking requirements based on today's needs. With Uber and shared rides, the current parking codes can stand in the way of new projects due to traditional codes. This should include repurposing existing and future structures."
Under the Radar: "I'm absolutely in love with Celina as an up and coming 'Frisco.'  The city officials are extremely growth oriented so we're reading about it now. I look forward to seeing Celina in 10 years!"
Get the D CEO Real Estate Newsletter
Get weekly updates on breaking commercial real estate news and relevant industry reports.
Author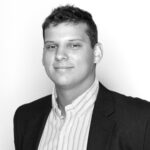 Ben Swanger is the managing editor for D CEO, the business title for D Magazine. Ben manages the Dallas 500, monthly…