David Craig and Craig International have been behind some of the biggest projects in Collin County. Among the McKinney real estate executive's achievements: developing District 121 as the doorway to his Craig Ranch—and bringing the AT&T Byron Nelson tournament to the project. "By moving the AT&T Byron Nelson to TPC Craig Ranch, we brought the party back to Dallas when the city desperately needed it after COVID-19," the chairman and CEO said of the win.
Education: University of Nevada-Reno
Birthplace: Las Vegas, Nevada
First Job: "I had a paper route in 6th grade. I started early in the morning. It taught me hard work and the importance of relationships."
Best Advice: "In 1987, during the savings and loan scandal, the whole state of Texas was blacklisted for any real estate loans and many were filing bankruptcy. I had a large office at Lincoln Center and told my dad we could walk away from the lease. My dad said, 'Son, you decided to put the family name on this company. You will pay every loan and every amount. If it takes the rest of your life to do it, you will honor your commitments.' He instilled integrity in me and that quitting is never an option, no matter how hard you have to work to accomplish something."
Dinner Party: "I would choose to have dinner with two of my very close friends–Emmitt Smith and Andy Beal. They are both fascinating, and we've never had a chance to all sit down together."
Destination of Choice: "The Greek Islands are magical and absolutely gorgeous."
Nonprofit Cause: "I served on the national board, western region of the Boys & Girls Club of America. My first experience with that organization was when I was 6 years old. I was living with my grandmother at the time and needed a safe place like that to go and be with other young boys and have someone mentor me. I was honored to have the opportunity to give back by serving on the board."
Gift Giving: "If I could give any gift, it would be the gift of health to two people: my dear friend Tom Weiskoph and my father, both of whom are battling cancer. My prayer for both is that they will live the balance of their days happy and pain free."
Hobbies/Passions: "Playing golf with my buddies and traveling with them."
Local Fare: "I enjoy Yao Fuzi's Shanghainese restaurant in Plano. I order Maeo Tofu, a popular Chinese dish from the Sichuan province and the soup dumplings. The owner's mother makes them by hand every day."
Fun Fact: "I drive to my church every morning and pray. It's important to me to give thanks to God for all that He's given me and I am extremely grateful."
Dream Car: "A red 246GT Dino Ferrari Coupe. My employer owned one at one of my jobs in college. He let me have it for a day and I've always thought about owning one."
Toughest Challenges: "One was the 1987 savings and loan crisis and the Great Recession in 2008. Both were very difficult times because no transactions were occurring which means no cash flow and no return on investment for my capital partners. A lesson I learned from my father is you can't just walk away. You have to find a way to make revenue and honor commitments."
Second Home: "I don't have a second home. I appreciate that my many friends have second homes that I'm able to visit as often as I like and I'm grateful for that."
Proud Moments: "There are three that are lifetime achievements for me. The eight-story, 200,000-square-foot, Class-A, speculative office building currently under construction in a partnership between Kaizen Development Partners as an anchor for District 121, which makes the project's retail and restaurants viable. The second is a transaction with Independent Financial to expand its corporate campus by an additional 16+ acres at McKinney Corporate Center Craig Ranch. We've waited many years to see MCCCR come into its own. And the third is securing TPC Craig Ranch as the host location of the 2021 AT&T Byron Nelson golf tournament this past May. That was a dream come true for me."
A Better DFW: "What I'd really like to see throughout DFW is an expanded mass transit system that truly reaches all communities and all cities in North Texas."
Walk-Up Song: "'We are the Champions,' by Queen. I love that song!"
Must-Read: "The Bible. I think it speaks for itself."
Biggest Risk: "Parachuting outside of Reno, because I'm afraid of heights."
Bucket List: "I'd like to visit Iceland in the summer."
Future Forecast: "District 121 excites me because it is a 17.5-acre site that will ultimately have 500,000 square feet of office, restaurants, a boutique hotel and nearly an acre urban park. It's at the doorway of Craig Ranch at a major portal at Alma and the Sam Rayburn Toll Road. It's taken many years to get the density to the level that it currently is to make this corner viable."
Hiring Strategies: "I value integrity, hard work, and determination. It's also important to be a relationship-builder. That is what real estate is all about."
Get the D CEO Real Estate Newsletter
Get weekly updates on breaking commercial real estate news and relevant industry reports.
Author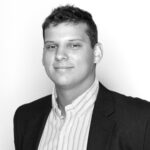 Ben Swanger is the managing editor for D CEO, the business title for D Magazine. Ben manages the Dallas 500, monthly…