After being cooped up at home for 18 months during the global pandemic, I was ecstatic to road trip across the American West. I spent weeks planning a trip where my partner and I could camp in the highly sought-after sites in national parks and experience the natural wonders the west has to offer.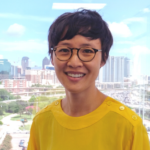 However, a week before departure day, record-breaking temperatures hit the southwest, and Utah, where we were headed, recorded its highest temperature in 147 years. NOAA also confirmed June reached its highest temperature on record for the contiguous United States.
Angels Landing ascends 1,500 feet over 2.5 miles to a majestic viewpoint which gives the hike its name. Meticulous planning is a must since it's one of the most popular hikes in the U.S. in a national park where visitors rely on a shuttle system instead of cars. So I prepared by researching the best time of day to avoid lines, travel time, and even where we'd have dinner. Little did I know this resilience planner was going to be in the middle of what I help clients do every day — withstand an extreme weather event.
Having lived in Texas, I was no stranger to triple-digit temperatures. In Dallas, we already experience an average of 18 days above 100 degrees per year (during the drought in 2011, North Texas had 71 days). Being active for prolonged periods of time outdoors in those temperatures is a whole other story.
Until hearing the news of the record-breaking heat out west, I never considered packing gloves to hold onto the hot chains that enable safe ascent up the narrow and treacherous cliffsides, whether my phone or tablet would be vulnerable due to heat while I was hiking or whether storing propane and bear spray was safe in the heat.
At 100 degrees, a car may reach an internal temperature of 143 degrees within an hour. iPhones were not designed to operate safely at temperatures above 113 degrees, and a tank of propane should not be exposed to temperatures above 120 degrees. You can see the problem here.
In the end, the heat began to lower a few days before our arrival in Utah, and we ascended to Angels Landing, which was truly breathtaking. That afternoon thunderstorms rolled in. While we welcomed the cooler weather each time we looked out from our ten, the roads grew into larger flowing streams of red water—and then the sound of sirens pierced through the rain. I later learned that in just one hour, the park received an inch of rain.
To give you some perspective, the area receives just 0.3 inches in an average month in June. The thunderstorm led to flash floods and mudslides which buried cars in parking lots, tore through roads and bridges, and blocked the main entrance to the park. Emergency vehicles were on the scene all night trying to clear the debris and open the roads again. Utah was already experiencing one of the worst droughts on record and dry soils make mudslides more likely when a large rain event happens.
In those two weeks out west, I experienced a dangerous heat wave, a flash flood, a mudslide, and was close to a wildfire. Yet, I was one of the lucky ones, safe and out of harm's way. Across the world, many others are not so fortunate, including those who lost their lives, property, and livelihoods to floods in Germany and Tennessee, to wildfires that are still burning across the west, and to an unprecedented heatwave in the pacific northwest.
In August, the United Nation's Intergovernmental Panel on Climate Change (IPCC) released its latest report, which incorporates findings from over 14,000 studies on climate change. The message couldn't be clearer to me:
What we experienced this summer were not rare events, and they will only continue to get worse.
It's now unequivocal that humans are responsible.
Although we've passed the point where irreversible damage is inevitable, it's not too late to act. Swift and stringent action is needed.
We recently partnered with SMU students to see which City of Dallas recreation centers could be turned into resilience hubs or safe places for the community during extreme events. And, we just released our Sustainable Legacies: COP26 Report that focuses on priority actions in the fight against climate change.
What my experience this summer confirmed was that having backup plans and protocols in place for different scenarios is not just what I do for work. Climate change is impacting every aspect of our lives, and to adapt, we must plan and prepare.
Tatum Lau is a Senior Associate and Resilience Planner at AECOM.
Get the D CEO Real Estate Newsletter
Get weekly updates on breaking commercial real estate news and relevant industry reports.