Brad Pritchett and Terry Loftis, co-chairs of the nation's largest LGBTQ fundraiser dinner, knew they wanted to make the 40th annual Black Tie Dinner something special. And on Nov. 15, they pulled out all the stops at the Sheraton Hotel in downtown Dallas, returning to what was previously an in-person event that attracted about 2,500, following a virtual program in 2020.
Pritchett described it as a "special, memorable, and magical night filled with empowerment, education, and entertainment." Since 1982, Black Tie Dinner has raised more than $26 million to support the North Texas LGBTQ community.
This year's program opened with D.J. "Shangela" Pierce, known for starring in RuPaul's Drag Race and the HBO series We're Here. Pierce was honored later in the evening with the Vanguard Award for his contributions to the LBGTQ community. Another Drag Race star, Michelle Visage, was the winner of an honor renamed this year as the Dale Hansen Ally for Equality Award. Hansen himself drew loud applause and a standing ovation for his comments from the stage recounting a ground-breaking commentary he gave on gay NFL player Michael Sam in 2014.
The annual Kuchling Humanitarian Award was presented to Veletta Lill and Chris Luna, both of whom fought for LGBTQ+ rights as members of the Dallas City Council. "Veletta and Chris are local heroes and have helped shape Dallas into a city where minority voices have standing," said co-chair Loftis.
Also recognized were Visibility Award recipient Josie Totah, who came out as transgender in 2018 and currently plays a cheerleader on a Saved by the Bell reboot, and the late Jon Erdos, who received the Richard Weaver Volunteer Award.
Queer Eye star Bobby Berk was on hand to accept the Media Award, given to an individual who brings public and media attention to LGBTQ issues. And Emmy Award winner Niecy Nash, of Reno 911!, Claws,and other programs, was honored with the Elizabeth Birth Equality Award. In accepting the honor, she shared some advice her mother once gave her on surviving tough times: "Pull up, push through, and never look like what you're going through."
Popular singer, songwriter, and choreographer Todrick Hall closed out the program. The lead sponsor of the 2021 Black Tie Dinner was PNC Bank, led locally by Regional President Brendan McGuire. The total amount raised will be revealed at a wrap party presented by Lexus on Nov. 16.—Christine Perez
Craig and Kathryn Hall honored for visionary leadership
North Texas business leaders Craig and Kathryn Walt Hall were honored by the World Affairs Council with its 2021 H. Neil Mallon Award. The power couple was lauded as "visionaries whose accomplishments in business, diplomacy, and humanitarian service have enriched our world."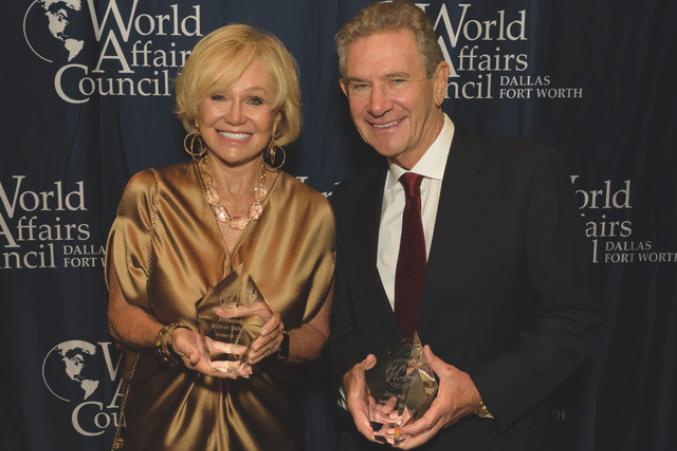 The couple is best known locally for their civic engagement, philanthropy, amazing wine, and real estate developments, such as the Hall Arts hotel in the Dallas Arts District and Hall Park in Frisco—which is beginning a big multi-million-dollar refresh.
The Mallon Award is presented annually to individuals who've excelled at promoting an international focus and increasing the international standing of North Texas. The award's namesake, H. Neil Mallon, the late chairman of Dresser Industries, was the founder of the Dallas Council on World Affairs.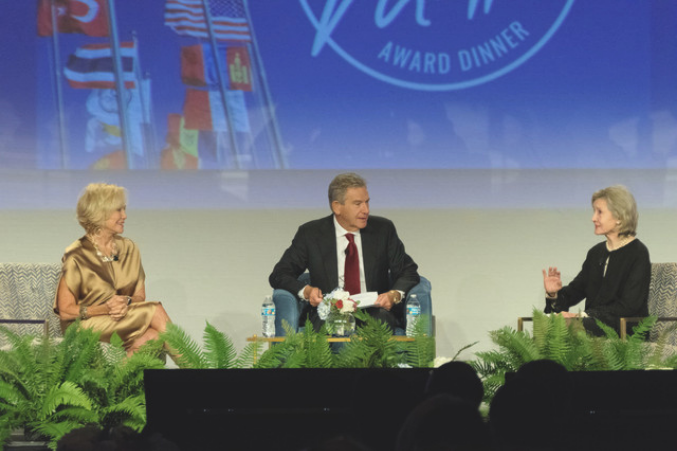 As part of her work as the United States Ambassador to Austria, Kathryn Hall played an integral role in releasing properties that had been Aryanized by Nazis to the rightful owners. She also was a part of negotiations with the Austrians and Central Europe to develop a restitution fund that provided a measure of justice for the descendants of the victims of the Holocaust.
Presenting the award, real estate developer Lucy Billingsly profoundly thanked the Halls for their contributions, saying "Thanks for all the contributions in Austria. Thanks for being politically engaged and sensitive to addressing the issues that we're discussing today. Thanks for all the businesses you've created, and for maintaining the utmost integrity in business. Thanks for the leadership that you've given us and entrepreneurs, and ensuring that entrepreneurship can thrive and continue to thrive and grow in America. And lastly, for me, thanks for your massive gifts to the arts throughout all your development, but also your contributions to the pivotal institutions in our city."—Bianca R. Montes
---
North Texas Business Leaders Impress at Dallas CASA Classic
While the Dallas CASA Classic was postponed this year from spring to October, the annual fundraiser brought in $1.5 million for the local nonprofit. Hosted by Goldman Sachs, Pioneer Natural Resources, AT&T, and the Dallas CASA Young Professionals, the tournament is the largest single-day, non-PGA-sponsored golf tournament in the nation.
The four groups, which drew nearly 600 golfers from across the country, played at the Four Seasons Resort and Club Dallas at Las Colinas and Cowboys Golf Club.
The tournament was founded by Archon/Goldman Sachs. Pioneer Natural Resources joined in 2012, followed a year later by AT&T, which significantly expanded the tournament's impact on Dallas CASA. When the tournament began, Dallas CASA was serving 407 children. Today, the agency serves more than 3,300 children annually.
"The golf tournament means that we can have an impact on the community where we work and live, and be invested in the lives and futures of vulnerable children," said Chance Monroe, managing director of Goldman Sachs and a Dallas CASA board member. "We want children to have the best possible chance at future success."
The tournament has raised more than $22.1 million over the past 24 years.
"Pioneer's partnership with Dallas CASA began more than 14 years ago and is one of the pillars of our corporate giving strategy," said Pioneer Executive Vice President Mark S. Berg, who also serves on the Dallas CASA board of directors and is a former board chair. "Many of our employees support the organization by volunteering their time or contributing to CASA through our employee match program. Pioneer is proud to work together with other host corporations and with our business partners to support the tournament, providing financial support for CASA's mission, which plays such a critical role in serving the children in protective care in Dallas County."
Dallas CASA Board Chair and AT&T Senior Vice President and Chief Diversity and Development Officer Corey Anthony, who also serves as a Dallas CASA volunteer advocate added, "I've seen firsthand what having an advocate can mean for children navigating an overwhelmed child welfare system. Children don't forget the people who show up in their lives."—Bianca R. Montes
---
Six Historic and Influential Texas Women Inducted into 2021 Hall of Fame
The office of Governor Greg Abbott, Texas first lady Cecilia Abbott, and the Texas Commission for Women hosted the annual Texas Women's Hall of Fame Induction at Texas Woman's University in Denton.
The ceremony celebrated the achievements of: Lauren Anderson, a Houston Ballet dancer who held many leading roles during her career from 1983 to 2006; Charlye Ola Farris, who was sworn in as the first African American lawyer licensed to practice in Texas in 1953; Major General (Ret.) Dawn Ferrell, the first woman to be appointed a general in the Texas Air National Guard; Kendra Scott, whose Austin-based jewelry business is valued at $1 billion; Elaine Stolte, who was executive director of The Children's Assessment Center in Houston, the largest children's advocacy center in the United States; and Ofelia Vasquez Philo, who co-founded the Centro Cultural Hispano de San Marcos.
The event opened with an address from Cecelia Abbott, then each inductee was recognized and gave remarks (or a representative spoke on their behalf).
"Perseverance and success are truly a testament to the power of passion and hard work. By your example, we know it doesn't matter what shoes we wear. Whether ballet slippers, or high heels, or combat boots, or sensible shoes, in the dance of life, it is women who lead," Abbott said.—Kelsey Vanderschoot
---
Nomi Network Raises More than $300,000 for Human Trafficking Survivors
Nomi Network, a nonprofit aimed at helping human trafficking survivors through workforce development training, recently held its 11th Amplified gala at Café 43 in the Bush Center. The gala was a fundraiser for Nomi Network and its new partnership with Letot Juvenile Detention Center in North Dallas, which launched earlier this year.
The gala also recognized Nomi Network's six annual award winners: Anti-human trafficking advocate Evelyn Chumbow of New York, the Moody Foundation, the Long Family Foundation, Margery Kraus, executive chairman of APCO Worldwide, Peter Kim, leader of nonprofit Golden Circle Group, and Dallas' own Roslyn Dawson Thompson, leader of Texas Women's Foundation.
It also featured a panel on the power of women in the workforce, moderated by Lisa Jennett with speakers including former Miss Florida and owner of clothing brand Yellow the Label Mary Catherine Black, and Southwest Airlines' Vice President of Inflight Operations, Sonya Lacore.
Panelists touched on the importance of mentorship and helping women who cannot yet see their full potential to notice their own strengths and value, so they can grow.
"For me, I had that feeling [of low self-esteem] myself, and I overcame it. Then, I was able to identify it in others," Lacore said. "You have to be able to listen, and pay attention, and look people in the eye and see that they may have a secret pain that you can try to pull out of them."
The gala also featured an address from Dr. Nissi Hamilton, a human trafficking survivor, navy veteran, and sexual abuse counselor from Houston who shared her experiences with being trafficked, advocating for legislative changes around the issue, and the importance of nonprofits such as Nomi.
"I went through the foster care to trafficking pipeline, so I had absolutely no support," Hamilton said. "But who would have imagined the type of person I would have turned out to be, had I had the Nomi Network in 2003."
In total, the gala raised $323,498 and proceeds will be used to expand workforce services to survivors in Dallas and Nomi Network's other program sites in 2022.—Kelsey Vanderschoot
---
ON VIEW
NorthPark Features Wipe Out Kids' Cancer "When I Grow Up" Portrait Exhibit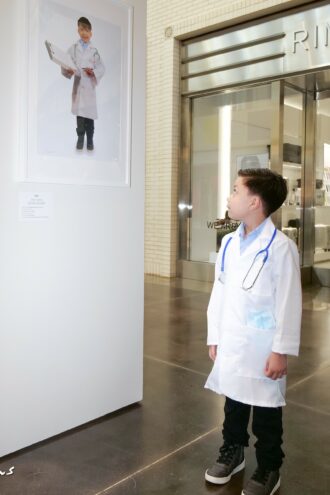 A curated collection of portraits and stories of pediatric cancer patients are on display through Nov. 21 at NorthPark Center, between Neiman Marcus and Nordstrom on the first floor.
The art exhibit features images of what the children dream of being when they grow up.
Exhibition Chair Karee Sampson, who also sits on the nonprofit's board and serves as U.S. Capital Advisors' Managing Director, says curating the "warriors" costumes and seeing the hope and joy in their innocent faces as they dressed for their future and posed for the camera has been a privilege.
Spanning four decades and led by Cindy Brinker Simmons, WOKC has significantly impacted innovative, cutting-edge novel pediatric cancer research and has achieved excellent outcomes battling pediatric cancer and increasing survival rates.
"The genesis of this project was to encourage the hopes and dreams of these courageous, young cancer patients by seeing themselves as they want to be when they grow up," said Sampson.
"This exhibit symbolizes the hope Wipe Out Kids' Cancer has provided to these inspiring warriors and their families for over 40 years. We are especially grateful to the team at NorthPark Center for their support and generosity helping us raise awareness about children with cancer and their hope for the future. NorthPark Center's ongoing dedication and unwavering support of so many worthy charitable endeavors all year in an effort to highlight the philanthropic needs in our community is unrivaled. We are also thankful to Marc Robins for his donation of photography services. Each child will have their portrait to hang on their bedroom wall to continually inspire their dreams."—Bianca R. Montes
Get the D CEO Newsletter
Stay up to speed on DFW's fast-moving business community with weekly news reports, interviews, and insights.