It's been a project nearly seven years in the making—and under construction the past two and a half—but as the Weir's Plaza inches closer to completion, so do details about the interiors of the $155 million renovation.
Driving past the project in Dallas' Knox Street neighborhood, it is easy to tell that construction is coming to a close. The large fence that once surrounded the property has been muted so that passerby can see the final touches.
"A lot of the work … you can't see anymore, but there is still quite a bit getting topped off inside," says Justin Schoellkopf, who is developing the project through his firm Four Rivers Capital.
In our exclusive third video reveal of the project's four-part documentary series, Schoellkopf walks the 300,000 square foot site with his brother Will Schoellkopf, who is fabricating and installing countertops inside amenity areas.
The brothers give our viewers a first look at what will be a 3,000 square foot tenant lounge—complete with a fully functioning bar. The Goodall Distributors president says the idea for the large grey and white onyx finish was to create a dramatic focal point.
"We are proud that our countertop work is such a prominent and dramatic feature within the key differentiators that make Weir's Plaza so unique," Will Schoellkopf says.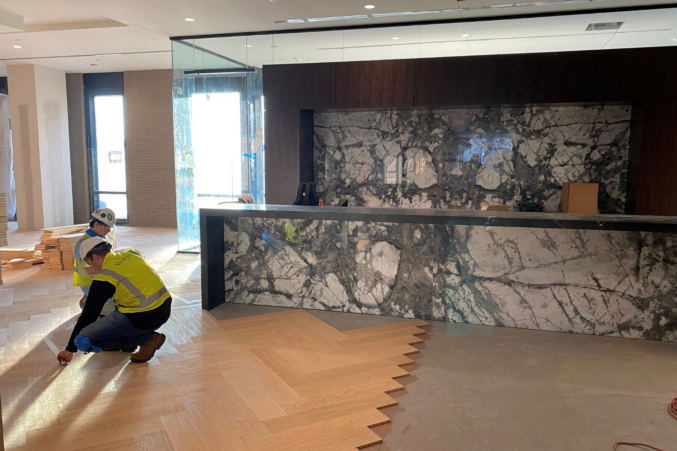 Designed to be more like a hotel lounge, the area will mimic a living room—a costly living room with a fireplace—and also have wine and spirit storage lockers for all tenants.
"The cost behind the project at large and some of these finishes, we want it to feel like you are at a five-star hotel every day," Justin Schoellkopf tells D CEO. "It's going to be exciting for it to come to life. It's been a joy of mine to work side-by-side with my brother as we put this project together. Just another special part of the Weir's Plaza story."
In March 2020, we told you about a documentary the developers were filming about the project. (You can click here to read the article and watch the first video delivered in the series). The documentary starts with the background on how Weir's furniture store came to a neighborhood that was once considered the Appliance Captial of the World–spoiler alert: it took several pushes for a hesitant J. Ray Weir to open the store.
In the second part, the story walks viewers through the first day that concrete was poured at the job site and shares details about how they and designers GFF implemented the 110-year-old Highland Park Soda Fountain walls into the rebuild.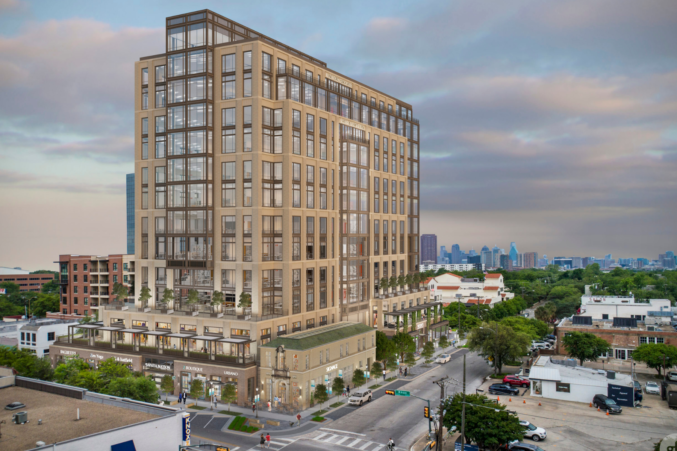 In addition to highlighting some of the building's interiors, viewers also get a closer look at the soon-to-be-filled office and retail space.
From the edge of a blue crane overlooking the Knox Street neighborhood into downtown Dallas, the third video in the documentary series provides a first look at what tenants will see. "We are going to have this great frame for our tenants to look southbound over downtown," Schoellkopf says about the unobstructed views.
Office space in the tower is already about 65 percent leased, with Kirkland & Ellis anchoring the building with 65,986 square feet and Fortress Investment Group taking 47,850 square feet.
Dee Brown Inc. (DBI) wrapped up masonry work on the project in mid-September, along with 4,000 square feet of restorative cleaning on the historic Highland Park Pharmacy.
The beloved soda fountain will be transformed into a restaurant space operated by a local group familiar with the significance of the Highland Park Pharmacy. In the second video in the documentary series, we learned that a highlight of the preservation was reopening bay windows filled in with brick back in the 1960s. "We've lasered every brick, we've numbered every brick, so we'll be able to totally recreate the original building back like it was in 1910," Justin  Schoellkopf says. Brick from the old eatery will be weaved into the redevelopment's design, and memorabilia from the restaurant (like the old cash register) will be incorporated into a yet-to-be-announced restaurant.
Another cool element in the former Highland Park Pharmacy space is that they opened the room back up to its originally intended 28 foot high ceilings and took architectural liberties to take a new skylight in.
"A lot of people have come into the doors of this building for over a century. Our hope and goal is to allow for this project to facilitate that happening for another century," Justin Schoellkopf says.
The entire retail space will be comprised of four tenants, three of which will be restaurants. A yet-to-be-named Los Angeles-based company will take up the middle bay, which will be wholly framed in glass on the outside when completed.
"We are trying to shake up hoW the storefronts land and present themselves," Justin Schoellkopf says, adding that they are close to announcing their new retail partners.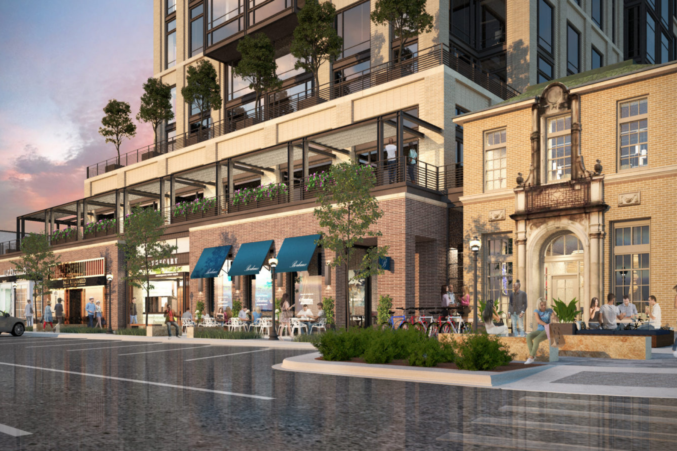 Weirs Furniture will reopen early next year as part of the retail section of the new building, spanning two floors along Travis Street.
"It will be exciting to see how it all comes together after years of work," Justin Schoellkopf says, adding that they are about two weeks out from installations. "It's been two years in the making. It's really right here at the finish line."
"It will be exciting to see how it all comes together after years of work," Justin Schoellkopf says, adding that they are about two weeks out from installations. "It's been two years in the making. It's really right here at the finish line."
Nearby, news also has been released about what Michael Dell plans for some of his properties on Travis Street. Working with Dallas developer Trammell Crow Co., the Austin billionaire's family investment firm, has plans to bring three new buildings along the Katy Trail.
Sources say the 4-acre project will include an Auberge Resorts Collection boutique hotel, an 18-story luxury condo, a six-story office building, a second residential building, about 90,000 square feet of retail space, and a park. The Retail Connection will also be a part of the big project.
Construction is set to start next year, and the project is scheduled to open in early 2025.
Get the D CEO Real Estate Newsletter
Get weekly updates on breaking commercial real estate news and relevant industry reports.