Hart Advisors has launched its newest commercial real estate platform, Hart Commercial, tapping Allison Johnston Frizzo to lead the group as managing director focused on growing Hart's landlord representation business.
"I've reached a phase in life where I want to make an even bigger impact in the Dallas Commercial Real Estate market and have decided to grow a brokerage firm with the help of my mentor and founder of Hart Advisors, Tanya Hart Little," said Frizzo. "As a firm founded and led by women, our goal is to create a more diverse brokerage firm that cultivates and encourages growth. What I have seen in landlord leasing is that companies are anticipating growth, and decision-makers of businesses are transitioning to the next generation. We want to connect with them by applying cutting-edge marketing and resources currently used by other industries that are not as prevalent in commercial real estate."
Frizzo brings ten years of office leasing experience to the firm, as well as design consulting, business development, construction management, and creating innovative ideas for repositioning assets and marketing spaces. She previously served as vice president of the Texas real estate portfolio at Gaedeke Group, where she leased over 1.8 million square feet of Class AA office space.
Frizzo also founded Ladies in CRE, an organization focused on cultivating relationships and providing mentorship for young women in the commercial real estate industry that has grown to over 700 members.
The team has brought in David Harris as the director of tenant representation for Hart Commercial. He previously served as associate vice president at Whitebox Real Estate.
Over the past nine years, Harris has represented office and industrial tenants, providing a creative and personalized approach with proven results. Since 2016, he has successfully negotiated more than 1.5 million square feet of leasing transactions.
"Allison and David are dynamic influencers in the industry who are bringing new energy and ideas that will help position Hart Commercial as a solid middle-market brokerage firm that offers flexibility, favorable compensation, and innovative marketing resources," said Hart Little. "Above all, they know that this is a relationship business, and I look forward to seeing the legacy they establish with the firm."
Colony's Grandscape Wins Global Award for Retail Innovation
Bringing the largest retail store in the U.S. to The Colony in 2012 put Grandscape on the map. Over the years, the $1.5 billion, 433-acre mixed-use development has racked up several accolades and has secured leases with first-to-market tenants like Indoor Karting & Games. It was recently named the most innovative project in the world by Global RLI Awards.
"While we are excited about what we have built, we are even more excited about what is to come with the future phases of this project," said Grandscape President Jeff Lind. "Grandscape is a one-of-a-kind destination, and we are just getting started."
In addition to Nebraska Furniture Mart, the development has 26 restaurants, a brewery, and a movie theater.
One of the development's newest
additions 
is 
a 
331,000 square-foot Scheel's 
sporting goods store, complete with a 65-foot-tall Ferris Wheel and a 16,000-gallon aquarium. 
When fully built, Grandscape will encompass three million square feet of retail, entertainment, dining, residential, office, and attractions.
Lifestyle Community Underway in Grand Prairie
After nearly three years in the making, Kalterra Capital Partners has broken ground on a 56-acre horizontal mixed-use development that will bring an urban, high-end sense of living to Grand Prairie—a concept the town has yet to see.
Located along Highway 161, Midtown GP will create a feel similar to other upscale mixed-use centers in DFW, blending retail, office, hospitality, residential, and multifamily. The project will be developed in phases, with the first phase expected to wrap up in 2023.
The Foundry is a part of the first phase of development in Midtown GP. The project includes 366 units over four buildings, that will serve as the residential hub for the master-planned development. Kalterra broke ground on the project in September of 2021.
McKinney Locals to Renovate Downtown Properties
Wells Group Founders Rick and Robin Wells have plans to renovate the Grand Hotel and Grand Masonic Lodge in downtown McKinney. The McKinney locals have been part of the Grand Hotel family for years as their restaurant, Rick's Chophouse, serves as its food and beverage partner.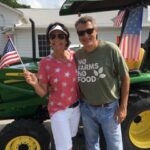 Falling in love with the Grand's charm and familial hospitality, Wells Group acquired the McKinney landmark from Wells' mentor and owner Don Day in June 2021. Wells Group plans to update the Grand Hotel experience through curated guest programs that embrace the essence of McKinney. Additionally, Wells Group has embarked on an extensive remodel to elevate amenities further while preserving the hotel as an iconic boutique destination in North Texas.
The second transition in the Wells Group portfolio is the relocation of Harvest Seasonal Kitchen. The community-to-table restaurant already has roots in Downtown McKinney and will soon expand to three floors at the nearby Masonic Lodge. Wells Group purchased the 121-year-old building on Kentucky Street, intending to renovate it to become Harvest's larger, permanent home and their nonprofit, the Seed Project Foundation, allowing them to grow their mission.
In its current location, Harvest spans 6,500 square feet. The move will expand the restaurant to 10,400 square feet across three floors.
"We're honored by the opportunity to own a piece of downtown McKinney, a community we love so dearly and are passionate about leaving it better for generations to come," said founder and owner of Wells Group, Rick Wells.
DFW Builder's Benefit House Raises 60K For American Heart Association
DFW-based Graham Hart Home Builder built a benefit home in the North Fort Worth Talon Hills community to support the American Heart Association through
Life Is Why™
, a cause marketing campaign benefitting the nonprofit.
The recent sale of the home, built with donated or discounted vendor expenses, resulted in a donation of $60,903 to the association. The money  raised will:


Fund research that can improve the health outcomes of heart and stroke patients;


Train more than 2.5 million high school students in CPR annually; and


Support the work of local entrepreneurs and organizations working to improve health outcomes in under-resourced communities.


"Graham Hart and our partners believe that every person should be able to live a healthy, long, high-quality life free from the devastating effects of cardiovascular disease or stroke," said Brandon Tatta, division president at Graham Hart. "This project was especially meaningful because while the home was under construction, the spouse of one of our team members suffered a heart attack. It hit close to home and solidified our determination to deliver a meaningful donation to the American Heart Association."
Get the D CEO Real Estate Newsletter
Get weekly updates on breaking commercial real estate news and relevant industry reports.