CRE Briefs: Buzzy Spa Resort Plans New Fort Worth Location
Plus: Crow Holdings raises $2.3 billion real estate fund; KDC brings 1.4 million square feet of office space to CityLine development; and more.
Premier health spa Canyon Ranch has unveiled plans for a first-of-its-kind wellness club in the forthcoming Crescent Fort Worth Development in the Cultural District in 2023. Said to be an "urban" extension of the famed brand, the retreat will include a massive 26,000-square foot spa and fitness center, as well as wellness guidance, health-focused programming, and a members' lounge.
A trailblazer in the space since 1979, Canyon Ranch previously moved its headquarters to Fort Worth when Goff Capital purchased the brand in 2017.
The new club will be located within the Crescent Fort Worth Development, which broke ground earlier this month. The mixed-use development will include a 200-room boutique hotel with a Dean Fearing concept restaurant. Additional amenities include a rooftop lounge and 170 residential units.
The Fort Worth location will be one of several Canyon Ranch Wellness Clubs opening in key markets around the U.S. Canyon Ranch currently operates award-winning resorts in Tucson, Arizona and Lenox, Massachusetts; a new wellness retreat in Woodside, California; and the largest day spa in North America at The Venetian Resort in Las Vegas.
Crow Holdings Secures its Largest Real Estate Fund to Date
Looking to target primarily industrial and multifamily, Dallas-based Crow Holdings has raised a $2.3 billion real estate fund—out-raising its target of $2 billion. The firm has already confirmed about 60 percent of the fund to properties, including manufactured housing, convenience and gas stores, self-storage, and student housing.
Developer KDC Adds 1.4 Million Square Feet of Office Space to Richardson Development
Dallas- based KDC has announced plans to develop three additional office towers at CityLine in Richardson. Named Five CityLine, Six CityLine, and Seven CityLine, the new buildings will add nearly 1.4 million square feet of space to the 204-acre transit-oriented development, home to State Farm's regional hub Raytheon's state-of-the-art office complex.
Designed by Dallas-based architecture firm Corgan and Associates, CityLine will link the three glass-clad buildings via an interconnecting sky bridge. A variety of glazing patterns and metal mullion placement will convey a sophisticated, contemporary character, while modern glass coatings and fritted glazing elements will ensure energy efficiency. The interior design incorporates technology to enhance occupant health and wellbeing, including state-of-the-art fresh air filtration systems and modern touchless fixtures.
CityLine now contains 2.6 million square feet of office space and more than 200,000 square feet of restaurant, retail, and entertainment space, including specialty grocer Whole Foods and CVS.
JLL's Dallas Healthcare Team Selected for Medical Community Development
Victory Real Estate Group has selected the Dallas JLL healthcare team to market two existing medical properties and five developments sites in the Dallas area. The announcement comes as JLL's 2021 Healthcare Outlook ranks the DFW area as the fourth most attractive emerging healthcare market based on population growth and affordability, offering opportunities to scale and attract healthcare companies. 
JLL's Ethan Garner, Austin Barrett, and Megan Andrew represent the owners. With existing properties located at 1801 N. Stonebridge Drive in McKinney and 3575 Victory Way in Frisco, the healthcare team will also market five additional development sites in Frisco, Fort Worth, and McKinney.
"This partnership gives us greater coverage in the golden umbrella that stretches across the growth ring in suburban DFW," said Victory Real Estate Group CEO and founder Tony Ramji. "We are confident that these developments will allow us to continue our mission of connecting providers to their patient base using best-in-class outpatient facilities that provide the highest standard of care."
Hillwood Opens Luxury Urban Living Apartments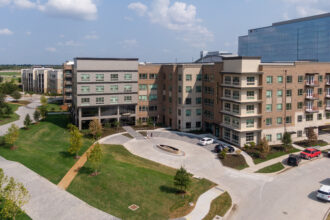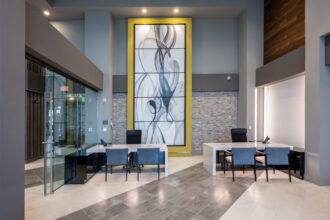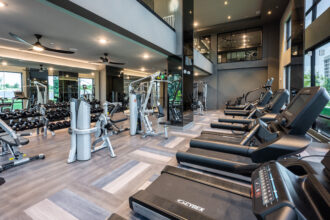 The Cadence at Frisco Station, a 322-unit luxury apartment home community located at 4160 Gridiron Road in Frisco, has opened. The Hillwood developed luxury project is complemented by completing phase two of the 30-acre programmed park system, Canyon East. This new phase of the linear park adds over one acre of additional urban trails and park connectivity to Frisco Station, a 242-acre mixed-use development.
From the press release:
The five-story, urban-style community brings a mix of one- and two-bedroom units and studio and townhome offerings. Each apartment home features a Dwelo smart home technology package, spacious open island kitchens with granite countertops, custom cabinetry, large walk-in closets, and designer plumbing and lighting fixtures, among other luxury elements. In addition, residents can enjoy a wide array of lifestyle amenities throughout the community, including a sophisticated resident lounge and coffee bar, co-working space with private offices and conference room, two-story state-of-the-art fitness center, a spacious outdoor courtyard with a resort-style pool, pool-side cabanas and courtyard lounge, secured bike storage, pet washing facility and electric car charging stations.
Weitzman Wins Big Award For Headquarters Building
Weitzman's headquarters building, 3102 Maple, was recently honored with the Distinguished Building Award from TEXO, The Construction Association. The TEXO Distinguished Building Awards, recognized as one of the most prestigious awards in the nation, were presented during a gala event at AT&T Stadium in Arlington.
The awards recognize the skill, commitment, and passion that TEXO Members have for construction. Weitzman and its general contractor, MAPP, won the award for the complete redevelopment of the building's interior, which created a new look with modern, clean-line architecture using an abundance of glass, light-toned millwork, and large-format porcelain tiles. The Weitzman headquarters lobby redesign includes a new grand staircase clad in quartz and glass.
Directing the vision and implementation of the new space was a team that, in addition to Fisher and Cleveland, includes Chief Operating Officer Weldon Simons, Executive Chairman Herb Weitzman, Executive Vice President Michelle Caplan, President and Chief Executive Officer Marshall Mills, and Vice President of Operations Michael Meyers.