With an emphasis on outdoor living taking over residential real estate in North Texas—and beyond—designers are getting more creative with their approach to the growing trend. We first saw Dallas-based investor Brent Jackson bring this to fruition at his West Dallas Lake | Flato designed project, Haciendas (
read more about that here
), and now with a sculpture park at his 707 Townhomes project nearby.
The Sylvan Thirty developer and Oaxaca Interest founder says he went into his 707 Townhomes project to let future homeowners leave their fingerprint on the property. "I wanted to turn the concept of an HOA on its head," he says.
As part of the HOA, residents of 707 Townhomes will serve on a panel each year to decide which local artist 
will have their design
installed in the development's private sculpture park designed by award-winning landscape architecture firm Hocker. 
The nominations come from Jackson's
 partnership with 
Sweet
Pass
Sculpture Park, a nonprofit developed by Tamara Johnson, a Waco-born sculptor and visiting lecturer at SMU, and her husband Trey Burns. The artist-run sculpture park is located in West Dallas' Tin District, an emerging creative arts enclave that has sprung up in the former metal fabrication yards near Trinity Groves.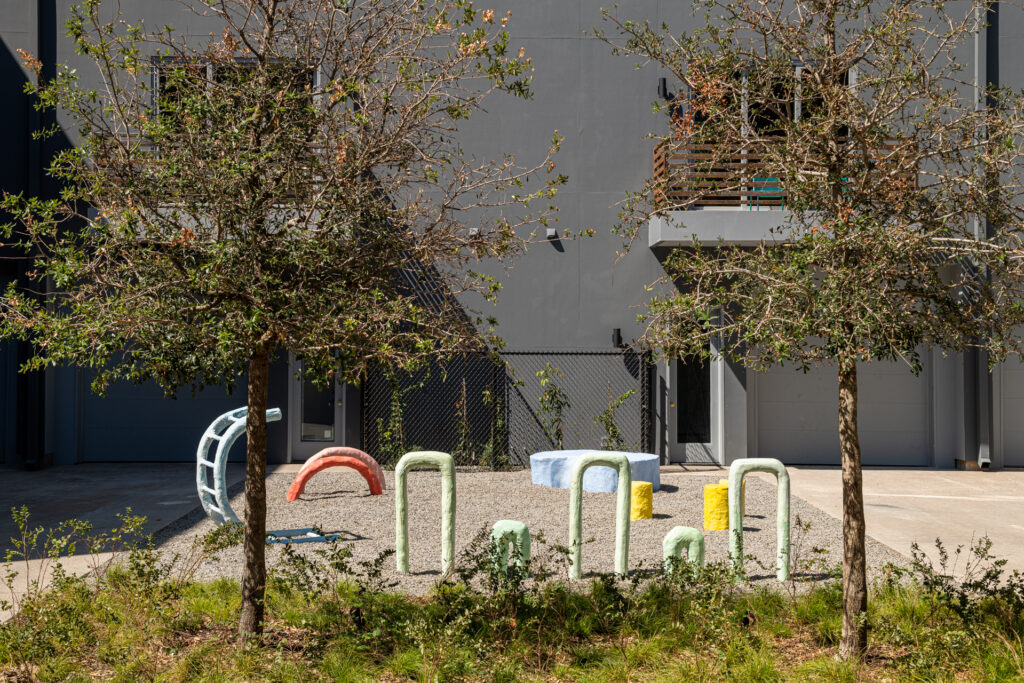 Dallas-based artist
Niva Parajuli
, an MFA candidate at SMU, will serve as the project's inaugural artist. His work,
Chin Chin & Muck Muck, 2021,
will be unveiled to the public at a reception this Friday from 5:30 to 7:30 p.m. at the property, located at 1212 W. Commerce St.
For The Love of Art
Although Jackson is a businessman, his roots are in art. He even received a Bachelor of Fine Arts degree from UT Austin. Jackson says he has been drawn to West Dallas as a developer because it is "where the art scene can come alive." 
His love for art also can be seen within 707 Townhomes, a 16-unit development that exudes a district urban and lofty feel. The 3-story homes designed by
Far + Dang
are deeply inspired by the surrounding creative community that has become ground zero for the city's emerging artists.
With high ceilings and open floor plans, Jackson created a space that is both
 contemporary and metropolitan, the look he was going for. 
"In my travels to different cities,
I stayed in true loft locations, and I wanted to explore that," says Jackson.
Jackson's main return on this development was for the resident to have a homeowner mentality and live in a place where they can see their work come to life. Each unit also will have single-line drawings designed by a
rtists including
Mariell Guzman
,
Alec DeJesus
, and
Mari Pohlman
, among others.
"So, when you are buying your home, you are also buying some art at the same time," says Jackson. This is an important aspect to 707 Townhomes and truly embodies how Jackson wants the residents to have their own fingerprint on the place.
Alongside that, Jackson also designed the murals on the exterior of the building, a colorful hawk painted by Michael McPheeters.
"I would feel honored if there was a sense of artistic integrity and artistic appreciation when they walked in,"
says Jackson. 
Get the D CEO Real Estate Newsletter
Get weekly updates on breaking commercial real estate news and relevant industry reports.