The morning of July 26 was a Monday like any other. Nothing indicated that the afternoon would unfold much differently than the nondescript way in which the day had started. Then, around 3:20 p.m., I lost my friend and business partner, Ken Dunn.
Editor's note: The Rainier Cos. co-founder, 62, was killed in a plane crash near Lake Tahoe while attempting to land at the Truckee-Tahoe Airport. At the time, Lovell released the following statement: "The Rainier family is deeply saddened by the loss of its co-founder, partner and friend. Our most heartfelt sympathies go to Ken's family during this unbelievably difficult time. He will be terribly missed." The investment firm has an operating portfolio valued at more than $1.6 billion and has closed more than $2.5 billion of investment assets to date across more than 200 transactions, such as the Aloft Hotel in Fort Worth, Baylor Medical Plaza in Heath and the Offices of Brookhollow in Arlington. Dunn was involved in more than $3 billion of real estate transactions throughout his career.
There are few words to describe the feeling of losing someone who has been such an integral part of your life. Since his semi-retirement in recent years, he had come to be the person I went to for advice and guidance – and to gut check my decision-making as our newly-appointed leader. Our Rainier family is still grappling with Ken's loss and will continue to feel his absence for months and years to come.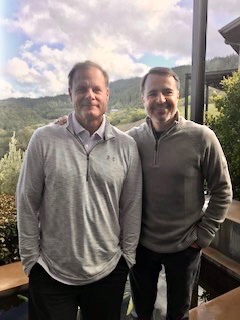 When I first met Ken through a mutual friend, I was not looking for a mentor. After moving to Dallas in 2002, I was working as a golf professional. I had reached out to some friends to raise money in an attempt to play golf professionally on the PGA Tour.
I approached Ken with the opportunity to be one of my sponsors, but instead of giving me cash, he offered me a free place to live at one of his multifamily properties. We became fast friends, and I would send him golf balls and other items as a "thanks" since his offer was better than cash. I had a place to hang my hat in Dallas when I wasn't on the road pursuing my dream of playing golf.
The world of professional golf is very competitive, and a few years into the journey, it became apparent that my dream of playing on the PGA Tour was not going to work out. I found myself thinking about the future and was without a plan for life after golf. At this point, Ken and his business partner Tim Nichols offered me a job at Rainier, the company they co-founded in 2003. Even though I knew nothing about real estate, in 2006, I found myself with a phone and phone book, working out of the conference room at Rainier.
Little did I know that their decision to give a kid a chance would be pivotal in my life and future career. Ken became a mentor – though he probably did not know it. The following are seven powerful lessons I learned from him throughout our years together:
Consciously care. Ken had a big personality and loved to engage people. Whether in an elevator or a meeting, he could talk to anyone and get to know them. He would break down walls by asking questions and was genuinely interested in others. This may be the lowest-hanging fruit opportunity on this list. Ken taught me how important it is to show concern and compassion, and care for everyone who crosses your path.
Communicate decisions. Ken was our external communicator, charged with delivering both good news and bad. He was the man for the job, whether it was a personnel decision or changing a supplier contract. When the information he delivered was negative, he would make it his issue and avoided blaming the other person or business. I learned the importance of being direct and honest while saving the relationship and walking away on good terms.
Network effectively. Ken went to lunch with someone seemingly every day. Sometimes it was a friend he knew in the business, sometimes people he had never met but wanted to get to know. He showed by example the importance of face-to-face interaction and its key to building trust. Making a personal connection with eye contact, a fist bump, or a handshake and solid conversation is still the most powerful networking tool. He knew that opportunities arise by being in front of people, business partners appear, and trust is garnered.
Be good at public speaking. While Ken was one of the best I have ever seen interacting one-on-one, he would be the first to admit that speaking before an audience was not his forte. No matter how prepared he was, he could freeze up on stage and forget his key points. This forced me to step out of my comfort zone and work on public speaking. It is an essential skill that seems easy on the surface but requires significant practice and confidence.
Share your vision. Starting at a new company can be intimidating and overwhelming, but Ken would make everyone feel welcome. In recent years, as Rainier began to grow and he stepped further out of the day-to-day, he would always meet with new hires during their first week. He wanted to learn about them and what brought them to Rainier. He also wanted to share his history, passion, and vision for where the company was headed. Ken showed them that Rainier was a special place with outstanding leadership and opportunities for growth.
Save your money. Ken taught me to be fiscally responsible in life and business. He was a prolific saver who preached the importance of saving your money and never living beyond your means. He also never let us sign any personal recourse. Ken did not want the company or us as individuals to get into financial trouble—a lesson I still uphold today.
Pay it forward. Ken taught me that sharing your knowledge and helping others is an integral part of leadership. He was a mentor without meaning to be one – making genuine connections and caring about people. He never hesitated to contribute his wit, humor, and insight and offer guidance to others.
Mentoring is the opportunity to learn firsthand. It is not a class. It is not, "I teach you, and then you're done." It's an experience, and the greatest lessons come from simply being in the presence of someone who possesses the qualities you hope to one day embody yourself.
There may be people in your life who are mentors without knowing it, just like Ken was to me. He helped me get started in the real estate business, imparting wisdom and knowledge along the way. Please take a moment to stop, recognize and thank anyone who has invested time and energy into passing along their knowledge and guiding you down the right path.
Danny Lovell is president and chief executive officer of The Rainier Cos.
Get the D CEO Real Estate Newsletter
Get weekly updates on breaking commercial real estate news and relevant industry reports.